This post may contain affiliate links, which means we may receive a small commission when you make a purchase at NO additional cost to you. Thank you for supporting our site in this way!
Disclosure: This blog is part of a promotional program with At Home and MomSelect. I agreed to participate because of my husband's love for this store and wanting to challenge my stifled inner designer. All ideas below are my own; I hope you enjoy!
Let's be real honest right off the bat: y'all know I'm not the biggest fan of decorating anything, much less my house. In fact, the last time I was in an At Home store, I made my husband push me around in a cart while I watched tennis on my phone.
But let's face it, houses don't decorate themselves. And after our recent move, I had somewhat of an epiphany…
For the past decade or so, I've always lived by the idea that you should keep a home as neutral as possible so that you don't have to do as much work when it comes to re-selling it (I know, not the healthiest of mentalities).
But when it came to putting our last house on the market, I found that all those things we wished we had done and decorated while we were living there but didn't, we actually HAD to do to sell the house.
In my mind, it was such a waste! We were finally making all the improvements and enhancements we wished we had done, but it was all for someone else to enjoy.
So in our new home, we're making a new step forward. We decided that we are going to make this OUR home from day 1.
But that's not easy for this budget-conscious girl, especially when so many stores with affordable home decor simply seem to be selling last year's cast-offs and overstock.
So when At Home – already my husband's favorite go-to decor store – approached me with an opportunity to explore the values their stores offer, I welcomed it with open arms.
While temped to shop with my husband for guidance, I truly wanted this to be a 'learning' experience for me. I've always relied on his taste and aesthetic when it comes to decorating and therefore haven't been able to iterate what style I truly like.
That's why I took my son, who is all-to-much like me in this area of life. I figured the two of us could approach the situation with new eyes and a fresh, open perspective.
You see, when someone gives me a gift card to spend (in this case $50), I typically try to get as many items possible with my money.
The problem this presents when decorating is that you end up with a lot of little "chochkies" (as my grandmother used to call them) scattered around your room collecting dust, but no true focal point.
And trust me, I could have found a TON of cute pieces in the At Home store for my $50. But instead, my son and I set out to find a focal point piece for his room, the smallest in our new home.
I'll admit, I did seek some advice from my husband before heading off into those aisles all by myself: he suggested looking for a piece of art or big wall clock we could build the room around. So as soon as we walked in to At Home (after marveling at our luck that we also landed there during their semi-annual sale – another great tip for getting the biggest bang for your buck!), we headed left to look for such a piece.
On our way, I found something I truly appreciated: in several areas of the At Home store, they had inspiration rooms set up. For those of use that consider a single throw pillow our nod to decorating a room, these scenarios were insanely helpful.
We came across this scene that embraced the colors of the African Savanna:
But this nautical and patriotic marriage was my absolute favorite:
I also love that if you know what you're looking for, they have a TON of options of each and every category, from greenery to vases (as pictured below) and everything in between:
In the end, we settled on the London phone-booth/bookshelf for $49.99. Ironically enough, our cashier (Jan) had not only just returned from London the day before, but she was actually from the UK! Once she found out my son was named after her homeland, a delightful conversation ensued that only further motivated his desire to take a trip "across the pond".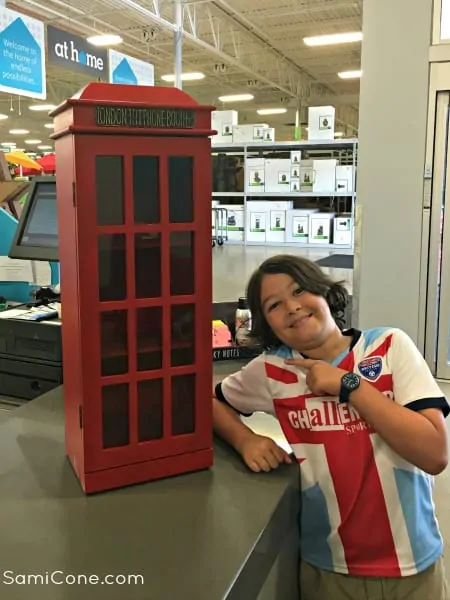 I can't wait to watch this piece become the focal point of his British-themed bedroom. He and I both learned something valuable that day that went far beyond the value of a dollar.
We learned to put aside pre-conceived notions and become a student of our surroundings.
We learned that just because you can buy a lot doesn't mean you should.
We learned that a focal point in a small space is more valuable than clutter.
And most of all, we learned that we can have fun together anywhere 🙂
So whether you're getting ready to send a child off to college for the first time or you're just wanting to re-decorate that room you've never known quite what to do with, why not consider giving At Home Stores a try? They offer endless possibilities at a great value for whatever project you might be toying with. And with over 100 stores across the U.S., chances are there's one not far from where you are right now.
No matter where you live, you can check out AtHome.com/BackToCampus for decor ideas and to get their 2016 Back to Campus checklist, because even small spaces can have huge style.
Who knows, the next great idea that happens within an At Home store might just be yours.