This post may contain affiliate links, which means we receive a small commission when you make a purchase at NO additional cost to you. Thank you for supporting our site in this way!
If you love to save on beauty brands that rarely go on sale, mark your calendars for these Macys VIP sale dates 2021. This Macy's sale only happens a couple of times each year, so get ready to get your Macy's VIP code to save big this weekend…
Macy's VIP Sale Dates 2021
Because the Macy's VIP Sale happens so rarely and offers such big savings, I wanted to give you a VIP sale schedule to help you track when you can maximize your savings.
The next Macy's VIP Sale begins Friday, March 26, 2021 and runs through Sunday, April 4, 2021.
Macy's 2020 VIP Sales
The Fall VIP sale was Friday, September 25, 2020 and ran through Sunday, October 4, 2020.
The other VIP sale in 2020 was March 20 -29. If history tells us anything, this will be the last VIP sale of this year.
2019 Macy's VIP Sale Dates
Similar to 2020, Macy's had two VIP sales in 2019:
September 13-22, 2019
March 17-26, 2019
Even though the VIP sale doesn't happen very often, at least it lasts longer than most Macy's sales.
Why I Love the Macy's VIP Sale
Similar to the Macy's Friends & Family Sale, the VIP sale is one of the few times a year you can actually save on beauty!
Macy's frequently has great beauty buys and free gifts, but you don't get to save on department store makeup very often. But it's not just makeup; you can save on fragrance and skincare too.
Macy's VIP Code
The Macy's VIP code is pretty simple: save 30% off sitewide (15% off beauty) with code VIP.
You'll also get free shipping with any order of $25 or more.
How to Save Over 50% off During the Sale
I haven't seen this savings combo before, so pay attention (and hopefully I did my math right!).
In addition to the 30% off sitewide at Macys.com, you can also get a $30 rebate from Savings.com when you spend $100 or more.
Let's say, for example, you wanted this Danielle Bernstein moto jacket created exclusively for Macy's to add to your fall wardrobe.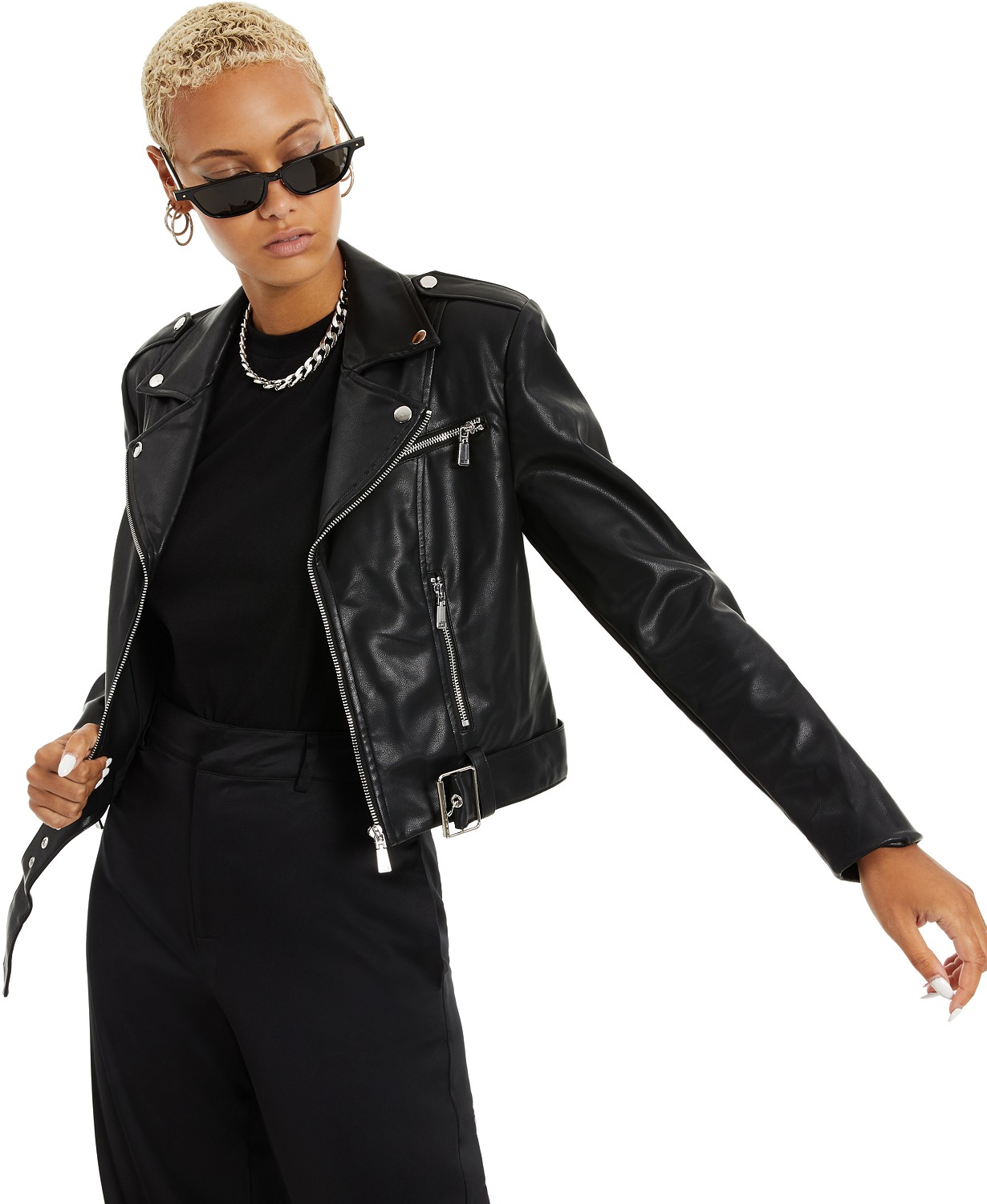 Regularly priced at $148, it would come down to just $103.60 with the VIP code. Once you apply the Savings.com rebate, your total cost would be just $73.60. That's over 50% off the original price!
Macy's VIP Sale Discount Code Details
Sale: Macy's VIP Sale March 2021
Where to Shop: Macys.com
When: 3/26-4/4/21
What You'll Save: up to 30% off sitewide + 15% off beauty, fragrance & skincare
Code to Use: VIP
Shipping: Free shipping on purchases $25+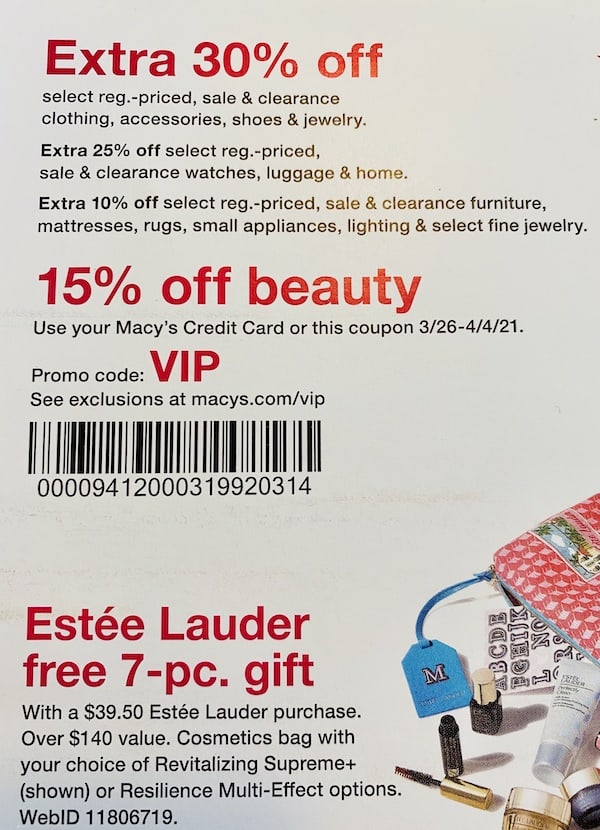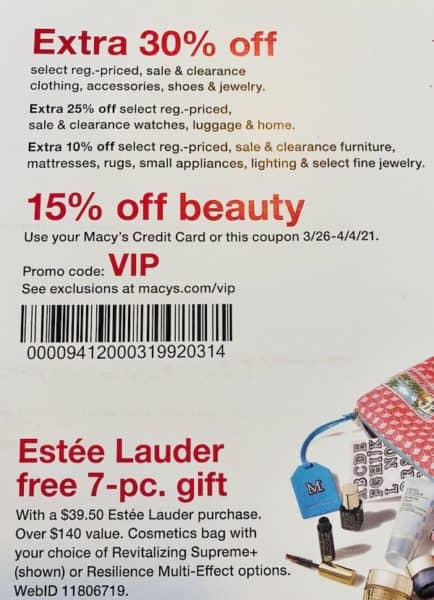 EXPIRED: Savings.com Rebate Details
What You'll Save: $30 off your purchase of $100+
Rebate Details: Spend $100 or more on Macys.com, and fill out the rebate form for a $30 rebate. Rebate only valid with orders made between 9/25 – 9/29 or while offer lasts.
Where to Shop: Purchases must be made through a Sivan Social Macy's affiliate link.
Click to get your Savings.com Rebate
CLOSED: Macy's VIP Sale Giveaway
Speaking of $100, how would you like to win a $100 Macy's Gift Card? Well now you can, thanks to the Macy's VIP Sale Giveaway.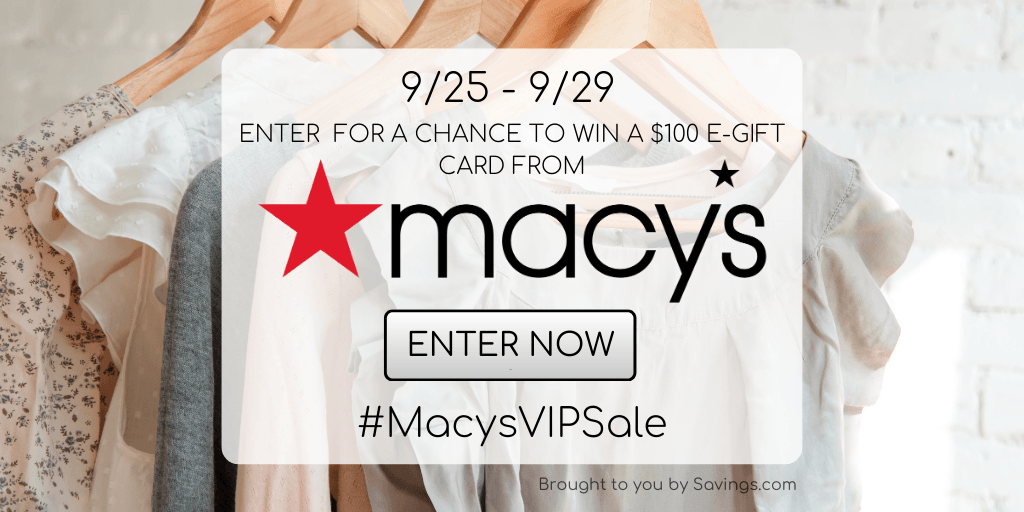 Five (5) winners will receive a $100 Visa e-gift card. Just enter the giveaway by heading to the Macy's merchant page on Savings.com and submitting your email address on the form on the page.
Enter between Friday, September 25th at 12:00 AM PT to Tuesday, September 29th at 11:59 PM PT. The winners will be chosen through a lottery drawing and notified on Wednesday, September 30th via the email address they used to enter.
See complete Official Rules for entry instructions, full prize descriptions, restrictions and other important details.
Other Macy's Sale Dates
If you are a Macy's fan like me, you may want to keep track of other Macy's sale dates. I update these posts weekly:
This post is sponsored by Sivan Social, but you already know I love Macy's, so all great tips are from my own personal shopping experience!