This post may contain affiliate links, which means we may receive a small commission when you make a purchase at NO additional cost to you. Thank you for supporting our site in this way!
I've created an exclusive Lilly Pulitzer gift with purchase 2023 guide. This extensive and chronological list is meant to help you know when to maximize your Lilly shopping.
I'm also hoping that tracking the Lilly Pulitzer free gifts will help us better anticipate when to expect them throughout the year.
Keep coming back because I update this list continuously.
Lilly Pulitzer Free Gift List
May 2023
May 24-30 – Free Printed Pouch
Get a free clear printed pouch with EVERY $100 you spend! (Limit of 3 per purchase)
The 3 prints include: Sound the Sirens, Havana Pink, or Seek and Sea.
May 4-7, 2023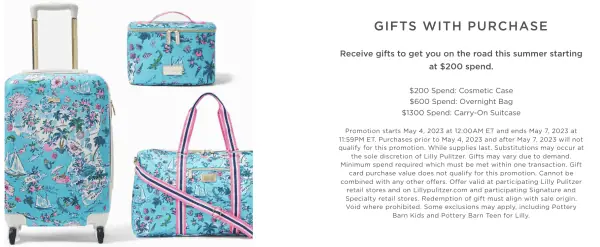 Lilly introduced 3 different gifts with purchase to get you ready for a summer in Lilly:
Cosmetic Case (with $200 spend)
Overnight Bag (with $600 spend)
Carry-On Suitcase (with $1500 spend)
April 2023
April 21-23
Get this colorful tote in time for Mother's Day! It could make the perfect gift for mom, or buy something for her and keep the tote for yourself 🙂
March 31 – April 2
Complete your Lilly Pulitzer look with sparkling spring accessories that can be yours free with a $200 spend.
March 2023
Typically Lilly Pulitzer gifts with purchase last for a weekend. But at the end of March 2023, Lilly offered a free weekender bag with any $800+ purchase between March 15-31, 2023.
March 25-26
I love when Lilly lets you get multiple gifts with purchase at a smaller spend level. The weekend of March 25-26, 2023, shoppers can choose a playful printed gift with every $200 they spend. Unfortunately, there is a limit of 2 per purchase.
March 18-19
I hate that I missed this one. On St. Patrick's Day weekend 2023, Lilly offered two different clutches. You could choose a colorful clutch with every $250 spend (limit 2 per purchase).
Free Colorful Clutch with every $250 spend.
March 18-19, 2023
For the first time during the 2022 Lilly Sunshine Sale, I saw them offer previous GWPs for sale. I scooped up the Party Like a Lobstar insulated beach tote and zip-top wallet I missed earlier in the year.
Speaking of Lilly Pulitzer gifts, have you joined Club Lilly yet? I wrote an entire blog post explaining the benefits of Lilly Pulitzer's new loyalty program if you want the 411.
Join CLUB LILLY for FREE!