This post may contain affiliate links, which means we may receive a small commission when you make a purchase at NO additional cost to you. Thank you for supporting our site in this way!
After camping for the first time as an adult this past weekend, I learned a lot of things. Luckily, our family camped with a group, so we were all able to share with and help each other. But if I had relied on my original checklist, I would have been in trouble! That's why I wanted to create this backyard camping checklist for you based on my experience…complete with some camping myths exposed.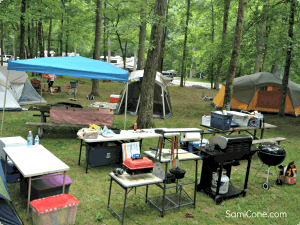 But personally, I wished I had taken on simple step before jumping into the weekend camping trip away: Camped out in my own backyard.
For someone like me who has never camped out before (besides with my Girl Scout troupe as a child!), there were a lot of things I wasn't aware of and didn't realized I needed. Here are a few tips you can learn from my experience so hopefully you won't make the same mistakes I made. Let me first debunk some "Camping Myths":
Myth #1: Camping is cheap
Truth: If you're not well-prepared, camping can be just as expensive as a traditional vacation.
You still need to make reservations and pay for many campsites. You also have to bring EVERYTHING with you, including personal goods like soap and toilet paper, not to mention your camping gear, food and activities.
Solution: Camping in your backyard will save you the fee associated with a campground
Myth #2: You don't need much food
Truth: When you're camping with kids, they're ALWAYS hungry!
So not only do you need to bring everything you need for breakfast, lunch and dinner, but you have to take into account a TON of drinks/water, as well as snacks and of course, S'mores! The real kicker was all the food 'accessories' I didn't think about. In addition to cups, plates, napkins, utensils, and the like, you also have to remember all your condiments, seasonings, cookware (pots, fire pit forks, cooking utensils) and then storage goods like baggies, trash bags, plastic containers, etc. And of course, don't forget the ice to keep everything cold all weekend.
Solution: When camping in your backyard you can either bring everything out with you and just run inside if you forget something or you can have your meals prepped and ready to go in your fridge and just bring them out when the time is ready to cook them outside (like marinating meat or my frozen pancake batter cones)
Myth #3: You don't need much gear
Truth: My 7 year old commented after we got our mini-van packed for our 2 night camping trip, "This is more stuff than we take for a week at Disney World!!!".
It's true, and I've heard it repeated over and over again: Whether you're going camping for 1 night or 5, you still take the same amount of stuff.
Solution: Not only will you save big on gas money by camping in your backyard, you simply don't need to pack, haul and unpack everything the way you would when going away. Obviously you'll need a tent (which you can always borrow), but I wouldn't even bother with sleeping bags. We lined our tent with carpet remnants that were free and then layered sheets and blankets on top of them.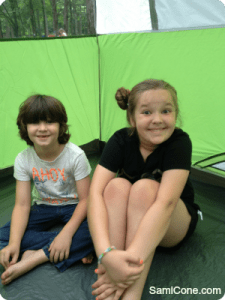 Backyard Camping Checklist
-Since you won't be going out into the deep dark woods, friends might be more inclined to let you borrow their camping gear to test out before you invest in purchasing your own.
-Decide on some activities before you go, like bug scavenger hunts, lightning bug tag, or even board games you can play in your tent before bed. When all else fails, give your boys a pile of rocks and leave them alone for an hour 😉
-Start gathering your food a month before your trip if possible: When camping, this is often the time kids want convenience food like chips, hot dogs and of course, S'mores. If you can catch these when they are BOGO Free and stock up your freezer and pantry, you'll save big over going shopping the week of and being at the mercy of the store. Also, pre-make as much of your food as you can: sandwich roll ups, frozen pancake batter cones, marinated/BBQ chicken. That way all you have to do is worry about how to start your fire when you're ready to eat!
After you spend a night in your own backyard, you'll be better able to determine whether or not this is something you want to do for a longer period of time and what you'll actually need if you do decide to take a camping trip away from home!
Watch my segment from "Talk of the Town" on Backyard Camping:

If you decide you want to grab your own gear, consider checking out the Camping Kitchen and more we found and loved from Rakuten.com