This post may contain affiliate links, which means we may receive a small commission when you make a purchase at NO additional cost to you. Thank you for supporting our site in this way!
This week see Beauty and the Beast LIVE on stage at Nashville's TPAC!

I love musicals. Perhaps it is because I still have unfulfilled dreams of being on Broadway, but there is something about live musical theater that gets me excited beyond measure. (Pun intended).
When Disney bridged the gap between film and stage years ago, I met that announcement with mixed feelings.
The Disney fan in me was so excited, but I also wondered if the stage characters could live up to their on-screen personalities.
The only Disney musical I have actually seen on Broadway itself was The Lion King, and it was a true spectacle, in the best sense of the word.
The rest have been touring companies and I have had some mixed reviews about the performances. Don't get me wrong, I don't envy the task of taking on some of the most beloved childhood roles, but they have not all been met with superb grace and skill.
More often than not, I find the actors are more focused on making themselves stand out and setting themselves apart from the others that have played the role before them, that they often lose the true essence of the character that we have all fallen in love with.
This was not the case of "Beauty and the Beast" live on stage at TPAC.
In fact, the exact opposite was true. It was one of, if not the, best touring show I have ever seen. Hands-down.
Every single character embodied exactly what we loved about the original Beauty and the Beast characters and their voices, while still dazzling us with their unique skill.
They sounded like I hoped they would. They acted like I hoped they would. And they interacted with the audience and each other in a truly special way.
I was blown away.
The other unique facets of the Beauty and the Beast stage show was that it is the one musical adaptation I've found where the songs added for the stage version may actually be even better than the songs from the original film.
Typically, when a show jumps from screen to stage, the added songs become fillers, and it is very obvious that not as much thought was put into them as the originals.
Again, the exact opposite was true here.
In fact, one of my all-time favorite songs from any musical is "Home" sung by Belle towards the end of the first act
And of course, if you haven't seen the beer stein dance at Gaston's pub, you are truly missing out on an amazing piece of crowd-pleasing choreography!
But speaking of beer, there were a couple moments that surprised me as a mother watching a Disney production.
We all know that in any children's production, there are certain innuendos only the adults will understand. However, there were a few more than I expected, especially when it came to Lumiere and Babette, the feather duster. Not only did Lumiere do his fair share of wiggling and rattling off names of the Frenchwomen he fancied, but Babette's thigh-high fishnet stockings, short skirt and continual chest pushing up was a little more than I had hoped for.
Luckily, my children did not mention any of it. In fact, my son didn't even make it through any of the second act, so perhaps we should have chosen a matinee for our seven and nine-year-olds 😉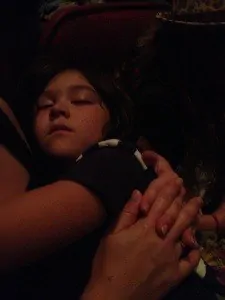 Still, all things considered, I would go see this again in a heartbeat tomorrow.
But if you live in Nashville, you won't want to wait until tomorrow. In fact, the best possible seats you can get will be tonight.
So even if you already have plans, I highly suggest rescheduling them so that you can take your family to this spectacular production at one of Nashville's best venues, TPAC.
Disclosure: Tickets for my family were provided by TPAC in exchange for sharing my honest experience about the show. I would do it again and again!