This post may contain affiliate links, which means we may receive a small commission when you make a purchase at NO additional cost to you. Thank you for supporting our site in this way!
The time has come once again for the free Opryland Christmas Lights Ceremony – the unofficial kickoff to the Christmas season here in Nashville!
Free Opryland Christmas Lights Ceremony
Gaylord Opryland Resort in Nashville will flip the switch on their millions of Christmas lights on November 10, 2022. The free Opryland Christmas lighting ceremony will begin at 5:30 pm.
I do have good news though! This year, Opryland will flip the switch on the Christmas lights EVERY NIGHT. If you've never been there for the magical moment in-person, this is your year to see it.
The lighting ceremony marks the beginning of their annual Country Christmas celebration that will run through January 2, 2023.
Buy tickets for ICE! and all the Opryland Christmas activities NOW!
(Save up to 30% off when you bundle…)
Opryland Christmas Lighting Videos
Here is the entire 2018 Opryland Christmas Lights Ceremony from start to finish:

Watch the video of the Opryland Christmas Lighting Ceremony from the Grand Re-Opening Celebration in 2010 (featuring Santa, fireworks AND The Rockettes):

A Country Christmas has been hailed as one of the "Ten Great Places to Catch up with Santa" by USA Today; "The Most Christmassy Hotel in the Nation" by the Travel Channel's Extreme Christmas; one of the top 10 places to spend Christmas in the world by Travel + Leisure; and a "Nashville treasure" by Southern Living.
All season, I'll be sharing our family's first-hand experience at Gaylord Opryland's "A Country Christmas" (one of our family's favorite holiday traditions since moving to Nashville!).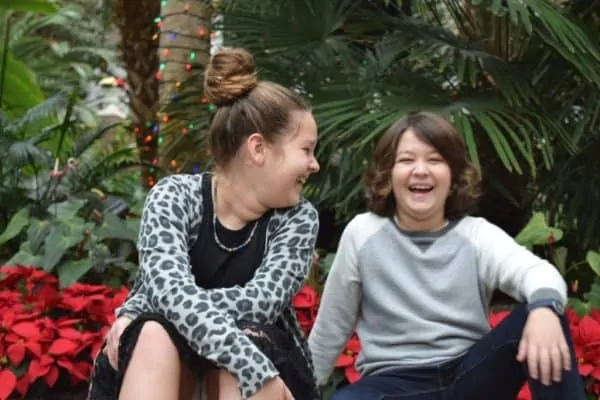 You'll get to see ALL that Gaylord Opryland has to offer for Christmas this year, including over 17 hours of family activities.
Because of social distancing, they will not be offering ICE! or a holiday show at the Opry. (In the past I've shared ICE ticket deals & hope to do that again next year). Instead, you'll find Mission Save Christmas featuring Elf. I'm working on a discount code for you.
Free Opryland Parking
Parking at Opryland is not cheap. Instead, I suggest parking at the far end of the Opry Mills parking lot. This will put you right by Pinetop and the events center where some of the other Opryland Christmas activities will be.
The free lighting ceremony takes place nightly just outside the Magnolia Lobby. If you want free Opryland parking, you can eat at one of Opryland's sit-down restaurants and get your parking validated.
What is your favorite part about Gaylord Opryland Resort during the Christmas season?