This post may contain affiliate links, which means we may receive a small commission when you make a purchase at NO additional cost to you. Thank you for supporting our site in this way!
If you're looking for an easy lentil soup recipe that kids will love, I think this is the best one out there!
I may be a little biased because it's my mom's lentil soup recipe that I've been eating since I was a kid, but it is SO easy to make and SO good for you, that you have to try making it at least once – especially with fall quickly approaching.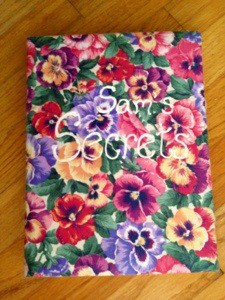 I even keep it in the original recipe book we made together before I went to college (did anyone else used to have a love for covering things in fabric & puffy paint? No? Just Me? Ok then…)
Now the one thing you won't find in the recipe that I think makes this Lentil soup recipe complete is Hebrew National Hot Dogs cut up and added in the individual bowls just before eating. They add just a bit of saltiness and it's similar to those recipes that cook their lentil soup with sausage. I also added some thyme to the vegetables the last time I cooked this and it was Delish!