This post may contain affiliate links, which means we may receive a small commission when you make a purchase at NO additional cost to you. Thank you for supporting our site in this way!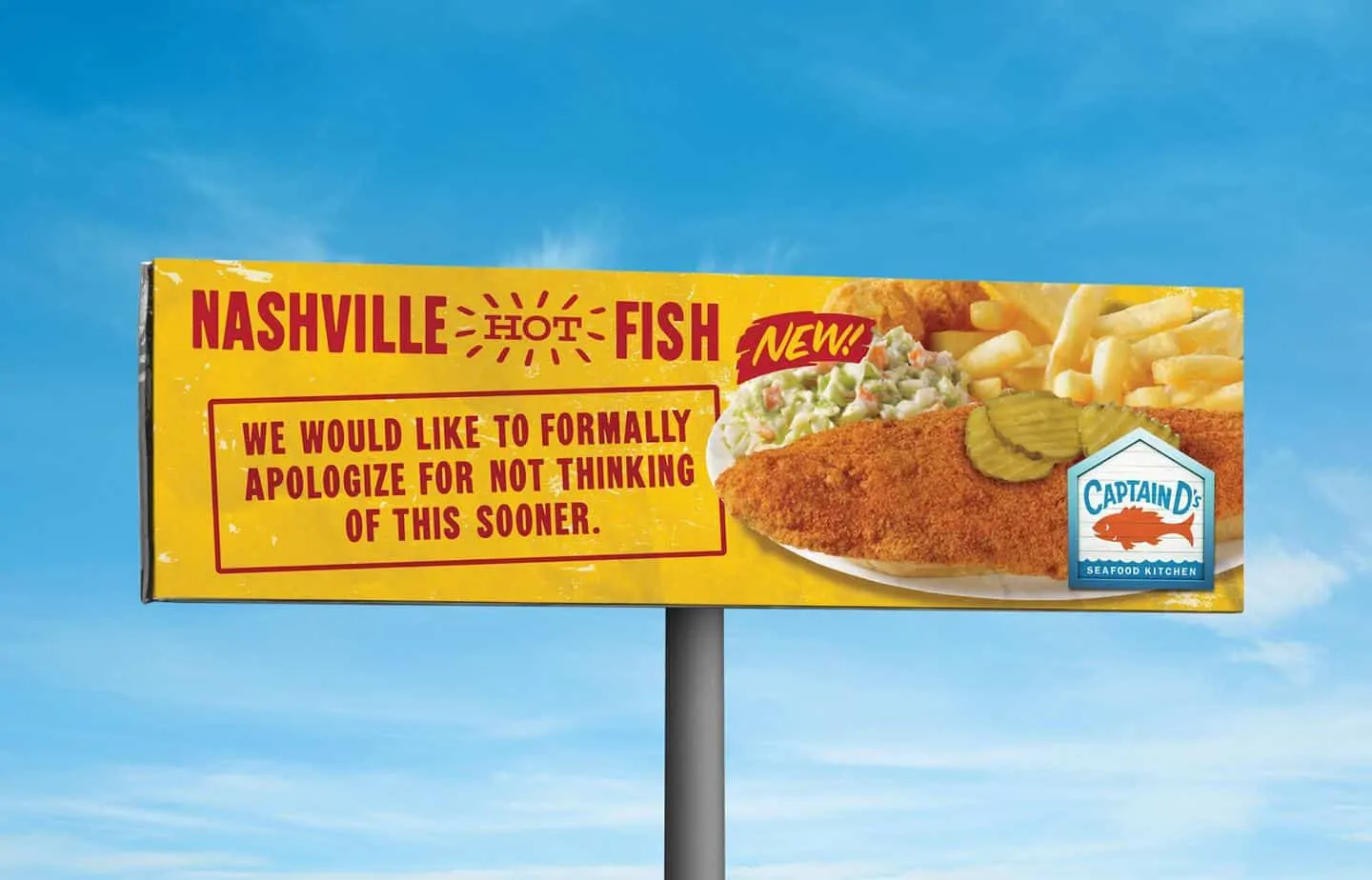 Nashville is known for a lot of things: country music, Southern charm, and yes, even hipsters.
But more than that, they've blazed the trail for a food trend that's sweeping the nation: Nashville Hot Chicken.
So wouldn't it only make sense that a company founded in Nashville almost half a century ago would embrace the trend and salute both Nashville and its roots?
That's why guests in Nashville, Jacksonville and St. Louis have a chance to "Get Fired Up" and taste D's special blend of ingredients inspired by spicy local flavors paired with their Southern-Style White Fish.
Now don't be scared by the name like I was at first. As someone who isn't a huge fan of spicy food, I graciously offered up my husband to try the Nashville Hot Fish craze, but figured I would sit in the background and video the steam coming out of his ears. But on a recent trip to our local Captain D's restaurant, I couldn't keep my fork away as soon as the plate was put down in front of me.
True to everything we've come to know and love about Captain D's, they put their guests and their taste buds first. Knowing that this is primarily a family restaurant, they weren't looking to blow you away with heat, but rather with flavor… and that's exactly what they've done.
As you can see, I quickly ditched my fork and knife and just went right to sandwich mode to optimize my enjoyment of their secret herb notes in the Nashville Hot Fish seasoning. Not only did my husband and I love the Nashville Hot Fish, my daughter (who never eats spicy food) after seeing our expressions in trying it, had to have some for herself – and she liked it! (we couldn't convince my nine-year-old son to be as adventurous however 🙂
But here's the real kicker (pun intended), you can get Captain D's hot fish seasoning on any of their proteins! In fact, the words out of the chef's mouth were: "We can make it happen"- the seasoning can be put on anything from chicken tenders & butterfly shrimp to grilled whitefish.
Once my husband found out this small but important piece of information from the captain D's chef we had the pleasure of meeting, he immediately asked if he could try it on a piece of grilled whitefish.
That was when he found his happy place.
But as a mom and frugal expert, there's one thing about this limited time special that I love as much as the taste: the price.
Captain D's has made the Nashville Hot Fish part of their $4.99 Full Meal Deals, which means not only do you get one whole fillet of Nashville Hot Fish topped with pickles placed on a seasoned bun, but you also get your choice of two sides AND two hush puppies. Now that's a real deal.
Of course if you visit your local Captain D's restaurant on a Thursday like we did, you'll also get your kids meals for only $.99.
Currently, the Captain D's 3D KiD's Meals feature Curious George, but even if your kids think they're too old for the fun pack, they can opt out of it for a cookie instead 🙂
Of course, it's hard to go wrong with any of the selections at Captain D's. As I've shared before, Captain D's has 400 potential 3D KiD's Meal combinations, many of which include grilled options. So whether you opt for the Grilled Sirloin skewers over rice like my son or a Shrimp Skewer to accompany your main course like my daughter, there's truly something for every tastebud. In fact, I asked my family to share their "perfect plate" if they could create anything off the Captain D's menu. Here's what they had to say:
* My Husband: Grilled Nashville Hot Fish, coleslaw, green beans and hush puppies
* My daughter: Popcorn shrimp or shrimp skewer, green beans & baked potato & funnel cake sticks
* My son: Sirloin tips, rice, strawberry smoothie & funnel cake sticks
As for me, I always find myself coming back to the Butterfly Shrimp & Fish Combination Plate (although I frequently vary my side items, you'll see the steamed broccoli and loaded baked potato pictured below).
One thing I've come to love about Captain D's new look is the community table. It's rare to go into a fast casual restaurant these days and find enough room for a family of four or five to sit comfortably, much less six or more! But the Captain D's community table was designed for exactly that (or two families to come together – or a team after a game. See what I mean? Community!).
If you want to "catch" our experience as it happened, take a few minutes to watch our Periscope video on Katch below:
https://katch.me/TheSamiCone/v/974c1c09-2ecf-3a14-9f76-73cd9c1d4206
Jason Henderson, head chef and vice-president of product innovation at D's said, "As a Nashville-based brand, it made sense for us to create a Nashville Hot Fish dish after the iconic Nashville Hot Chicken. We've been developing this recipe for quite some time and are so excited for its long awaited debut."
While the debut may have been long awaited, don't wait long to try this dish; Nashville Hot Fish is only available through the end of the year.
If you live in one of the above-mentioned Captain D's markets offering Nashville Hot Fish, then I have a surprise for you: enter to win one of FOUR $50 Captain D's gift cards so you can bring the whole family to try their new Nashville Hot Fish on the house!
Here are all the ways to win:
Remember, you MUST live in one of the 3 markets offering Nashville Hot Fish to enter & win (we will verify with the winner's mailing address). Good luck to all and enjoy!