This post may contain affiliate links, which means we may receive a small commission when you make a purchase at NO additional cost to you. Thank you for supporting our site in this way!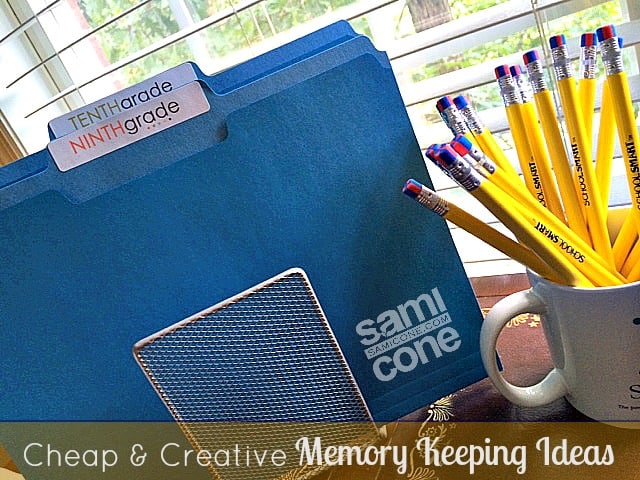 Wondering what to do with all those papers that are coming in now that school has started? Have an over-abundance of your grand-children's artwork? Need a better way to preserve annual memories? I have some cheap and creative memory keeping ideas for you today.
Cheap & Creative Memory Keeping Ideas
* Start by having all papers go into an accordion folder when they come in the house to sort them by child or event or month. After a week, go back and look to see what is really worth keeping and toss the rest.
* Take a picture of anything that is an odd shaped, then make a photo book of all that artwork from the year. You can always find great deals on photo books online at Shutterfly – in fact, EVERYONE can save 40% off EVERYTHING through Labor Day with the code LABORDAY40.
* Create one plastic filing bucket for all of your kids keepsakes from school, with one folder for each grade. A great template & tutorial for the file folder labels can be found at Simply Kierste. (FYI – you may find yourself keeping a lot more from the early elementary years then you do as they get older 🙂
* The same concept can be done with birthday cards and mementos or even Christmas cards you want to save. Pick up memory boxes for $3 or less at craft stores like Michaels.
* You can also limit kids to a 3 ring binder of their own personal drawings and accomplishments. This helps them begin to decipher what is really worth keeping and not keeping when they have a visible limit.
Watch the video from today's show