This post may contain affiliate links, which means we may receive a small commission when you make a purchase at NO additional cost to you. Thank you for supporting our site in this way!
No new outfits.
No candy bought.
No fluffy bunnies in baskets.
The Cones experienced a different kind of Easter this year.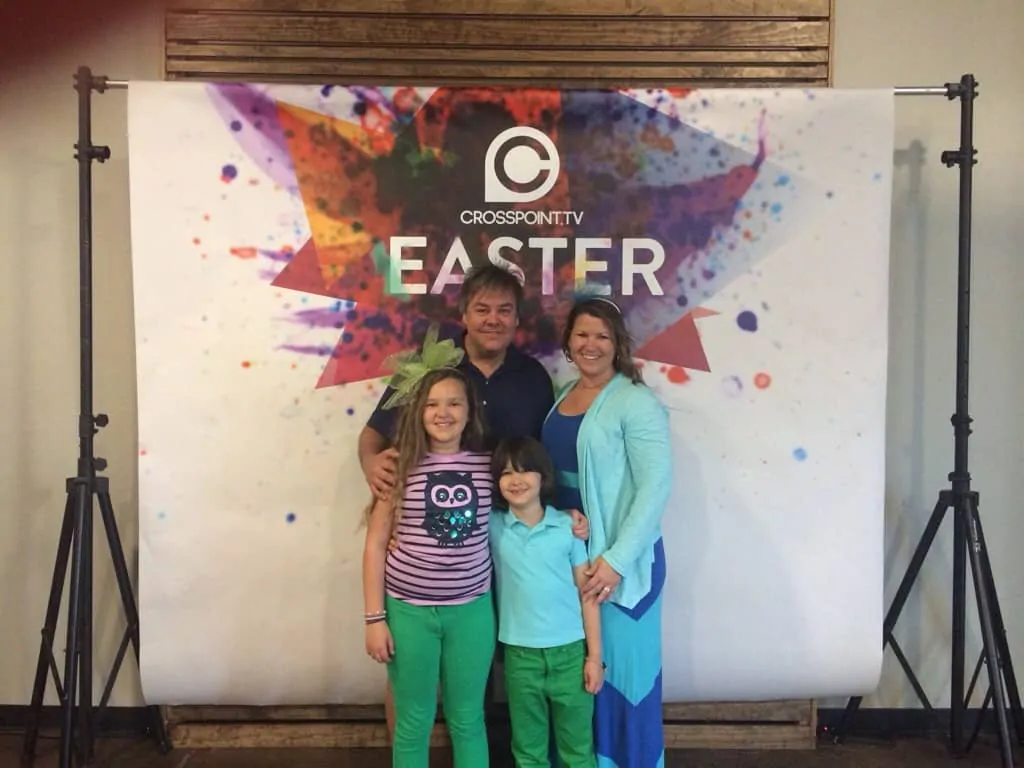 We didn't set out trying to make a statement.
After all, we just returned from the Disney Social Media Moms Celebration, so it's not like we're depriving our kids by any means.
But perhaps that's exactly why my husband had the brilliant idea of creating 'Easter baskets' from items my we already owned and/or the kids had just received while in LA.
This is the result:
Yes, he took the time to set up an elaborate, Pinterest-worthy display of all the goodies we'd collected while in California and at Disneyland…some were free, some were bought with their own money and some were gifts we purchased for them…but all were new within the last week.
He also managed to drum up a basket FULL of candy simply from what we'd been given over the past month.
When we summoned the kids into the room, they gasped with glee for about 3 seconds, until they realized this was all 'their stuff'.
While we weren't trying to trick them, we were trying to prove a point: all these things that were awe-inspiring when received just a few days earlier had already become old news.
We've conditioned our kids to respond to this 'new is better culture' we've bought into with the monthly release of new gadgets, so the results shouldn't be shocking…and yet, they are.
After all, we took them to a lovely Easter picnic and egg hunt put on for employees of Lipscomb University the day prior and even furnished our own family egg hunt on Easter morning (with coins replacing money in the eggs, which 'cost' us about $10 total).
Trust me, we're not depriving our kids.
But at some point, the consumerism has to stop.
And even if you don't share our faith values for why we celebrate Easter in the first place (that Christ was crucified on the cross and rose from the dead three days later), you should share a common desire not to raise spoiled kids.
It's important that we show love to our kids, but that doesn't mean buying them everything they want when they want it.
Does this mean we'll never buy our kids Easter basket goodies again?
Probably not.
But what it does demonstrate is that we made a choice.
We chose to go on a trip and allocate our funds there instead of buying pink marshmallows, chocolate bunnies and stuffed animals that will never see the light of day after May.
Heck, I didn't even buy myself a Reese's Peanut Butter Egg this year! Not one! (And y'all know that's the best candy EVER made…)
While we were easily able to use Easter as a vehicle to demonstrate this trend towards excess, I hope we'll be able to keep the example alive in our kids minds well beyond this Spring.
And maybe, just maybe, they'll be the ones coming to us saying that they have an idea for how we can celebrate differently next year…