This post may contain affiliate links, which means we may receive a small commission when you make a purchase at NO additional cost to you. Thank you for supporting our site in this way!
The new Disney FROZEN movie is not only ABOUT, but FOR families.
As you celebrate Thanksgiving today, I know many of you like to take this opportunity to catch a new movie with your families.
Since Disney's Frozen just opened on November 27, I'm sure a lot of you (including the friends we're celebrating Thanksgiving with) plan on seeing Frozen this weekend. In fact, I've already received multiple text messages asking what I thought of the latest of the Disney movies. So let me share a few thoughts with you…
First of all, Disney was kind enough to allow my family to attend an advance screening of Frozen, which is why I should be qualified to share a review with you. However, about halfway through the film, my son started to feel sick, so I spent the last half of the movie in and out of the bathroom with him 🙁
We also missed the major plot twist at the end, so don't worry, I won't spoil it for you!
Here's the overall synopsis:
In "Frozen," fearless optimist Anna (voice of Kristen Bell) teams up with rugged mountain man Kristoff (voice of Jonathan Groff) and his loyal reindeer Sven in an epic journey, encountering Everest-like conditions, mystical trolls and a hilarious snowman named Olaf (voice of Josh Gad) in a race to find Anna's sister Elsa (voice of Idina Menzel), whose icy powers have trapped the kingdom of Arendelle in eternal winter.
Things I enjoyed:
* I normally don't like 3D films, but this movie was truly stunning in 3D (especially the new Disney Short that appears before the feature).
* The sisters start out as young girls, and they are SUPER cute! (My daughter can't stop singing the song little Anna sings). On that note…
*Olaf the snowman was HILARIOUS! Great voice, great moments, great lines….simply great.
* If you've missed the Disney musicals, they're Baaaaccccck!
Things that puzzled me:
* Speaking of music, even though my kids can't stop singing a couple of the songs, I didn't leave with any of them stuck in my head like normally happens with great Disney movie soundtracks. Don't get me wrong, the characters' voices were AMAZING, I just didn't get lost in the music like I'd hoped I would (although Olaf's song about summer totally had me cracking up!)
* One of the major areas of tension in Frozen never seemed to get revealed/resolved, and that still has been causing me great angst. You know me, I just love transparency – even for my Disney friends 😉
* As Disney does so well, they do a great job at tugging at our heart strings. I don't know if my heart is just getting weaker as I get older, but I really wished they weren't so tough on their main characters so early! I may be a softy, but I just wanted to jump through the screen and hug those girls!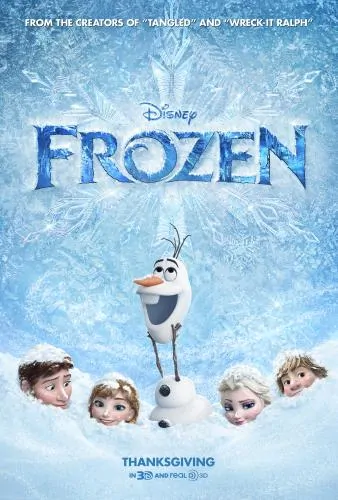 When one friend asked, "Is Frozen worth seeing in the theater or should we wait for DVD?", I had to turn to my daughter, since I hadn't seen the movie from start to finish.
She answered with an emphatic, "YES! See it in the theater!"
In fact, my son just asked me, "Mom, when is Frozen coming out on DVD?" So even though he only saw bits and pieces of it, Frozen was a hit for the younger crowd as well.
I can't say it's my favorite Disney film, but I also don't think you'll be disappointed if you take the family to see Frozen in the theaters this Thanksgiving, especially with the beauty of the 3D.
If you want to make a little Frozen fun at your house this winter, why not try creating some of Elsa's frozen paper snowflakes? Or check out TONS of Free Frozen Family Activites in this free printable kit!
No matter what you do this Thanksgiving, I pray you have an amazing day. I'm thankful for each of you!
I'd love to hear your comments below on what you thought of Frozen if you end up seeing it…