This post may contain affiliate links, which means we may receive a small commission when you make a purchase at NO additional cost to you. Thank you for supporting our site in this way!
Dolly Parton's Lumberjack Adventure is truly a feast for the eyes and the mouth!
You may recall me getting a sneak peak of Dolly Parton's Lumberjack Adventure Dinner & Show in Pigeon Forge, TN when I was invited to a Dollywood blogger event this past spring. But at the time, all we saw was a building in progress and some dance rehearsals.
That all changed tonight.
We just arrived in Pigeon Forge for a vacation with our extended family and our first stop was the Lumberjack Adventure…and it did not disappoint. In fact, the energy and enthusiasm is contagious!
I would even be so bold as to say it's the best show I've ever seen in this area…and I've seen quite a few.
You may be familiar with its sister property: Dixie Stampede. We love going to Dixie Stampede, especially with a group. Because of our incredible experiences there, we obviously had high expectations for Lumberjack Adventure.
In case you didn't read my Lumberjack Adventure announcement post, let me give you a brief synopsis of the show:
Lumberjack Adventure celebrates the spirit of the Appalachian people who lived off the land in logging and milling towns which dotted the map throughout the region. While the story was created in-house by Dolly Parton's long-time collaborator Ken McCabe, Parton has assembled some of the best choreographers, set designers, lighting and sound consultants and composers in the world to create an experience never before seen in the Smokies.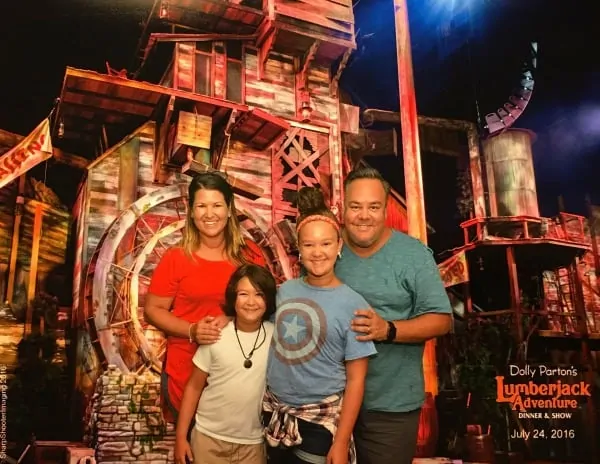 I've been particularly excited to see Dolly Parton's Lumberjack Adventure for several reasons:
– The show takes a twist on the typical southern rivalry story by involving ancestors that I can relate to: my mom is from England and my son is named Britton in her honor, so I loved the twist that embraced Scottish and English roots.
– I heard others compare it to groups like Cirque du Soleil and acts on Broadway. I'm a sucker for a great song and dance number, but even more so when acrobatics and strength are involved.
– The word on the street was that the food was superb. You might think that food prepared in such mass quantities couldn't possibly be good, but Dixie Stampede debunked that myth for us, so we were really looking forward to tasting this menu.
Dolly Parton's Lumberjack Adventure Menu
Speaking of menu, let me pause to share everything that you'll get to eat when you take your family and friends to Lumberjack adventure:
* Timber Slaw
* Homemade Lumberjack Biscuit
* Campfire Fried Chicken
* Smokehouse Pulled Pork
* Logger Potato
* Buttery Corn on the Cob
* Lumberjack's Specialty Dessert
* Unlimited Pepsi®, tea or coffee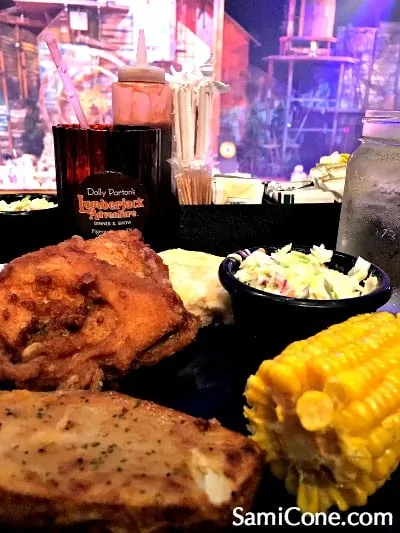 I'm not exaggerating when I say the food was delicious. Each item was expertly seasoned and arrived piping hot. Unlike Dixie Stampede, you do get a fork with your meal at Lumberjack Adventure 🙂 If I had to choose our family's favorite, I'd say it was the fried chicken, but the biscuits didn't last long on anyone's plate either.
Even if you are Vegetarian or Gluten Free, Lumberjack Adventure can accommodate you with an equally scrumptious dinner complete with all the trimmings! Just make sure to let them know when booking your tickets.
Dolly Parton's Lumberjack Adventure Show
Now on to the Lumberjack Adventure show. First of all, the new facility is incredible. There is not a bad seat in the house: with about 700 seats, it's a much more intimate environment than Dixie Stampede. The audience is still divided in half to root for their respective sides, but the one thing I love about the show is that the story is not forced or contrived – the performers are allowed to shine in their respective talents. Each act was integrated seamlessly into the overall show.
There wasn't too much or too little music. I actually teared up hearing the new original song from Dolly herself, and loved that the heart of the show was described so well in this number, "Faith, Food & Family":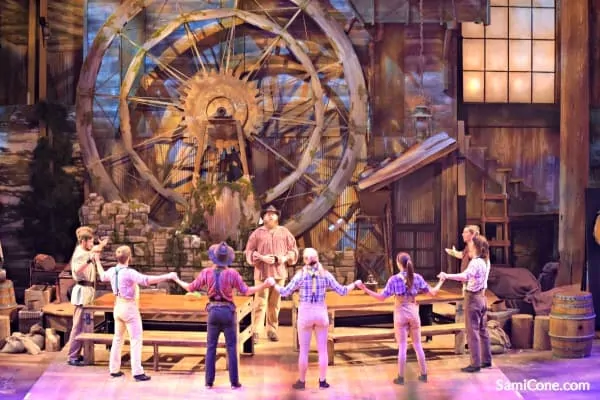 I already told you how much I love acrobatics and aerialists, and from the very first moment the show began, I sat and watched in awe. In fact, at one point we had to lean over to my son to remind him to eat. His response? "I was too mesmerized to eat!" Then my daughter chimed in with, "I want to eat, but I want to watch even more!"
Here is a peak at just a few of our favorite acts:
The night started with this show-stopper that I can only describe as pole-climbing (though that description doesn't do it enough justice):
and finished with everyone, including Granny, getting in on the act!
This trampoline act reminded me of one of my favorite scenes in Cirque du Soleil's "La Nouba":
This acrobat jumping on a beam being suspended on the shoulders of two men was unlike anything I'd ever seen before:
I'd never experienced log-rollers live before and I could have watched them all night (yes, the stage does retract to reveal water):
And there was SO MUCH MORE! Seriously, non-stop action including dog acts, axe throwing, aerialists and of-course, the audience participation you've come to love and expect from a Dolly Parton production.
The ONLY part of the show that didn't make sense to me was about halfway through when some fluorescent creatures of the forest came out. The kids all loved it, but it felt a little contrived and out of place compared to the rest of this beautifully executed show.
It's hard to pick just one favorite act. Thankfully, the show ended with just about everyone coming back out with a reprise of their skill, and it was a true showstopper:
Dolly Parton's Lumberjack Adventure Location
Dolly Parton's Lumberjack Adventure in Pigeon Forge, TN is right in the heart of all the action at traffic light #3. It's literally within minutes of Gatlinburg and Sevierville, just off the main parkway and adjacent to "The Island". Of course, it's only minutes away from Dollywood and the DreamMore Resort as well.
Dolly Parton's Lumberjack Adventure Trading Post
The Trading Post is an interactive, high-spirited spot where kids of all ages can try their luck panning for gold and youngsters can be transformed into an authentic lumberjack, lumberjill or a beautiful country maiden. You'll want to make sure to arrive early before your show to take advantage of all the trading post has to offer.
We ended up getting there at 5:00pm for the 5:30pm show and it was nice because everyone was going in to their seats, leaving us more room to explore. Be advised, there is an extra cost involved with the Trading Post activities, but it wasn't as expensive as I imagined it would be based on my experiences at other theme parks.
For instance, it's only $14.99 for boys and girls to experience the lumberjack/lumberjill transformation. Before we got there, my kids (10 & 11) thought it looked like it was for little kids when checking it out on the website, but as soon as we got there, my son wanted to participate, and I'm glad we did. As you can see, there isn't much to the face painting (aka unibrow, mustache & beard), but he did get to take home a Lumberjack Adventure hat, axe and bracelet to complete the makeover and continue the fun at home.
I cannot tell you how many times my husband and I looked over at each other and just mouthed the words "WOW". As a blogger, I'm privileged to be able to experience so many wonderful entertainment destinations, so it can be hard to experience something that truly stands out. Not only is Dolly Parton's Lumberjack Adventure something my family and I won't forget anytime soon, but it's something we're already planning on returning to before the year is done.
I'd even go so far as to say that a trip to Pigeon Forge would be incomplete without a visit to Lumberjack Adventure.
And if you needed just one more reason to encourage you to spend your valuable vacation dollars at this dinner experience in particular, you should know that part of the proceeds go to help fund Dolly Parton's Imagination Library. The Imagination Library supplies one free book per month for kids from birth through age five COMPLETELY FREE. I honestly couldn't love this program more (we discovered some of our kids' favorite books when they were younger thanks to the generosity of the Imagination Library).
So if you're wanting to experience Dolly Parton's Lumberjack adventure with your friends and family (and why wouldn't you?) don't wait too long to book your reservation. The show tonight was sold out and I've heard that's not uncommon.
Lumberjack Adventure Social Media
To get the latest news, deals and more from Dolly Parton's Lumberjack Adventure, make sure to follow them on Social Media:
* Twitter
* Facebook
* Instagram
* Website
#LumberjackAdventure
Disclosure: My family of four was provided free tickets to experience the Dolly Parton Lumberjack Adventure Dinner Show. I was not told what to write about in this review and all opinions are my own. You know I only share about things my family and I love that I hope you will love too! Special thanks to Steve and the entire team at Lumberjack Adventure for making each and everyone of else feel welcome .