This post may contain affiliate links, which means we may receive a small commission when you make a purchase at NO additional cost to you. Thank you for supporting our site in this way!
Did you know that FamilyLife has a holiday and home collection called Ever Thine Home?
I didn't either until last Christmas. But now that I know about it, I can't imagine not having their beautiful, faith-filled products as a part of my home. But even more than than, I'm so grateful that someone much more artistic and spiritual than me was able to recognize the need for these products in our lives.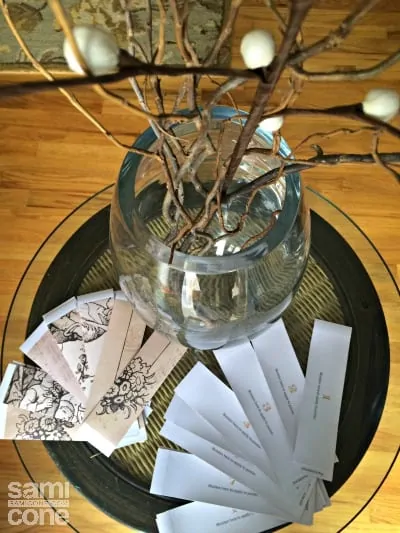 That woman is Barbara Rainey, wife to Dennis Rainey – founder of FamilyLife. Here is what Barbara says about why she created Ever Thine Home (from their website):
Every woman's home is an expression of who she is–her values, her faith, her relationships. She naturally gathers family and friends to celebrate holidays and special occasions. But in the busyness of life it is sometimes difficult to know how to focus on gratitude at Thanksgiving, honor Christ at Christmas or celebrate the hope of Easter in meaningful ways. We at Ever Thine Home want to help you add that which lasts forever in your home and family all year long.
As I experience the Ever Thine Home products, it's my desire to share them with you here. As you can imagine, this post will continue to grow over the years, but for now, here are the Ever Thine Home products we've touched, admired and displayed first-hand thus far:
Ever Thine Home Easter
* The Messiah Mystery
* Easter Banner
* Resurrection Eggs
Ever Thine Home Christmas
Ever Thine Home Valentines
* How Do I Love Thee?
* Be His Valentine's Cards
Read my review of the Ever Thine Home Christian Valentines Cards & Decor
Occasionally, you can use the discount code CONE to save an extra 15% off your purchase at EverThineHome.com as well.
Some of the links above are affiliate links. All products purchased from Ever Thine Home benefit the ministry of FamilyLife.