This post may contain affiliate links, which means we may receive a small commission when you make a purchase at NO additional cost to you. Thank you for supporting our site in this way!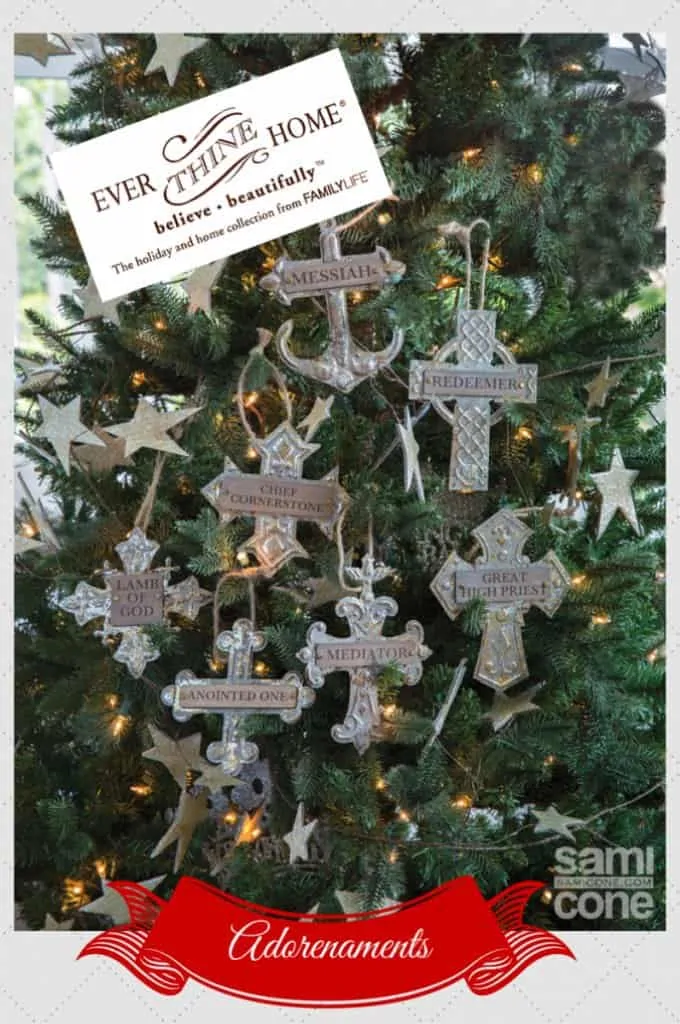 I'd hate to say we're predictable when it comes to our Christmas decorations, but I'll admit, it's easy to get stuck in a rut.
That's why we wanted a different Christmas tree this year…well, not a different tree so much, as a different feel to our Christmas tree.
With everything our marriage has weathered over the past two years, we decided to take a more thoughtful approach to our Christmas tree and not just throw on the same decorations we've had for over a decade.
Earlier this year on the FamilyLife "Love Like You Mean It" Marriage Cruise, I discovered some amazingly beautiful ornaments, aptly named "Adorenaments".
Barbara Rainey herself created them, along with the books that come with them. I thought they'd be beautiful in our home any time of year, but especially on our Christmas tree.
The most recent set of Adorenaments® (Set 3) is known as "His Savior Names". This set includes 7 unique historic crosses, each with a name spoken of Jesus as our Savior, as well as rustic twine for hanging on your Christmas tree. And let's not forget the 32 page read-aloud book.
You'll find the following names in "His Savior Names" set (7 ornaments in total):
Anointed One
Chief Cornerstone
Great High Priest
Lamb of God
Mediator
Messiah
Redeemer
As you can see, the Adorenaments also arrive in a beautiful box ready to be given, as well as received.
and you can clearly see each of the crosses and names outlined on the back of the box…
I'm sure you also saw the other set of slightly more sparkly Adorenaments on our tree; these are the "His Royal Names" set.
These glitter-brushed crowns add a touch of elegance to any holiday tree. Seven royal names of Jesus are etched into each unique silver crown, revealing the noble nature of our true King.
Velvet ribbons adorn each ornament and this set also comes with a beautiful small book telling the wonder of this King who came to us Christmas morning.
Perhaps what I love best about these ornaments is that by purchasing them, we're supporting the overall mission of FamilyLife, a ministry that has poured so much into not only our family, but millions of families around the world.
and here's a SPECIAL CYBER MONDAY DEAL FamilyLife is offering MY readers starting NOW!
FamilyLife Adorenaments Details
Of course, while you're shopping for FamilyLife ornaments, don't miss the popular "Names of Christ" ornaments for your kids' tree that will not only look lovely, but help them discover Jesus as well.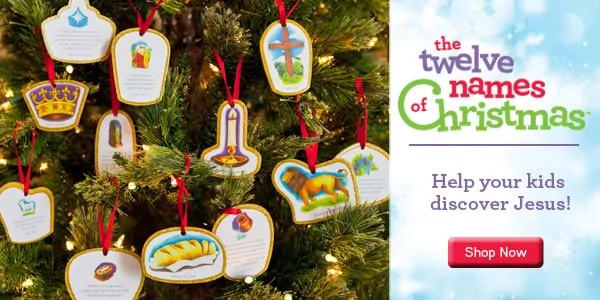 EXPIRED: Twelve Names of Christmas Ornament Discount Code
What: The Twelve Names of Christmas Ornaments
Discount: 40% off
Discount Code: SAMI
When to use: now through December 1, 2014
You can also see our Adorenaments Christmas Tree video tour on this episode of the Daily Dash.
Would you consider shaking up your Christmas tree this year with a set of Adorenaments?
The links above are affiliate links, which means that if you click and purchase any of the ornaments through these links, I will make a small percentage of the sale without any additional cost to you or sacrificing and ministry benefits. In fact, I'm donating my time to help FamilyLife launch their affiliate program, though they did send me the Adorenaments you see pictured on my tree above so I could review them personally.