This post may contain affiliate links, which means we may receive a small commission when you make a purchase at NO additional cost to you. Thank you for supporting our site in this way!
I'm not what you'd call an "outdoorsy girl". That being said, from the moment we moved into our house, we had grand dreams for our deck. And for this sports-obsessed, Chicago-native, those plans had to include a TV.
I know you're thinking, "Sami, don't you go outside to escape electronics and unwind?" But I'd argue it allows you to experience the best of both worlds.
For me, it all started years ago when we visited friends in New Mexico. We were invited to their brother's house for a BBQ, but it was during March Madness (Go Heels!), so I was conflicted. Of course I wanted to meet and hang out with the people they had told us so much about, but I didn't want to miss even one minute of my alma mater's bracket.
So imagine my delight when they ushered us out to where we'd be eating and they had a covered porch with huge ceiling fans and an equally huge outdoor TV!
The Best TV in the House is Outside
Before that moment, I never knew you could have a TV outside your home. Between electricity configurations and the harsh elements, I couldn't wrap my mind around how it could be possible.
So when the time came to fortify and build onto our existing deck, I knew the one element I wanted to be able to tell people when all was said and done: the best TV in the house is outside.
But now to try to discover for myself if these marvelous outdoor TVs existed and where I could find them.
Crafting the Ultimate Outdoor Living Room
When we bought our current home, we knew from the inspection we needed to fortify the current deck and add new pilings. That being said, crafting the ultimate outdoor living room began. We dreamed of a place that we could host friends and cultivate community, all while being comfortable even on the coolest and warmest of Nashville days.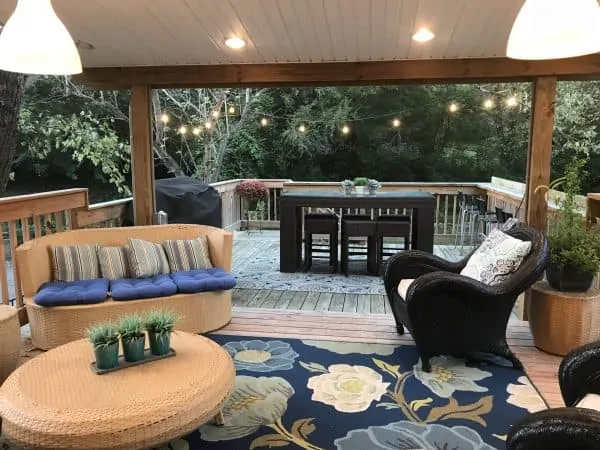 To create our new outdoor living space, we added a roof to the current deck (after replacing the supports and railings) and almost doubled the space by building onto it with a step down feature. One other detail you may not notice from the pictures is we added a "lean space" along the entire East side of the deck where people could eat at (or sit at with a barstool). We embraced our best "Field of Dreams" mantra knowing that "if we built it, they would come".
The Blank Brick Wall
I took the picture of our outdoor deck space above with my back to the sliding glass door where we come outside from our kitchen. And I think you'll agree, we created a beautiful and comfortable outdoor living room that extends our entertaining space two-fold. But just wait until you see the wall behind me…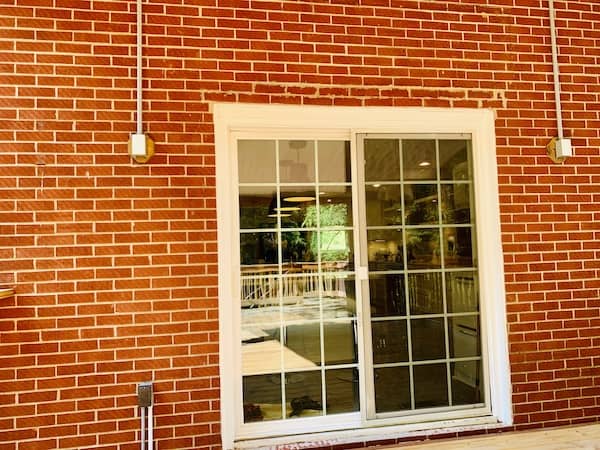 Not quite as exciting, is it?
But what do you think would fit perfectly on that blank, brick wall above the sliding glass doors? You guessed it, a weatherproof TV!
As you can see, we already have the electrical outlets set up and we even have the hole for the ceiling fan to keep us cool and comfy while cheering on our favorite teams. We just needed to find the right television for our deck.
And little did I know, the perfect outdoor television solution was as close as our local Best Buy.
The SunBrite | Veranda Series Outdoor 4K UHD TVs with HDR
The SunBriteTV Veranda is a family of weatherproof televisions designed for full-shade outdoor spaces, like covered patios and screened-in porches. The Veranda Series of SunBriteTVs are designed specifically for outdoor use. They are engineered to survive just about any climate in North America, resisting the harsh effects of rain, snow, dust, insects, and extreme temperatures.
Veranda comes standard with a direct-lit 4K UHD screen with HDR, which is up to 50% brighter than indoor TVs for improved viewing in brighter outdoor environments. It's more durable, safer, and a better experience than using an indoor TV outdoors.
Now, the best seat, and the best TV, in the house is outside.
Verdana SunBrite TV Details
So what exactly can you expect with the Verdana SunBrite TV and what sets it apart from your standard television? Here are just a few of the specs that stood out to me:
Weatherproof TV built for full-shade outdoor living areas
Powder-coated rust-proof aluminum exterior protects internal components from rain, snow, dust, insects, humidity, and salt air.
Up to 50% brighter than indoor TVs for improved viewing in brighter outdoor environments.
4K UHD with HDRLarge weatherproof media bay makes cable connections easy.
It has plenty of storage room for many popular media players, and thick gaskets seal out moisture and the elements
Available in 43", 55", 65" and 75" sizes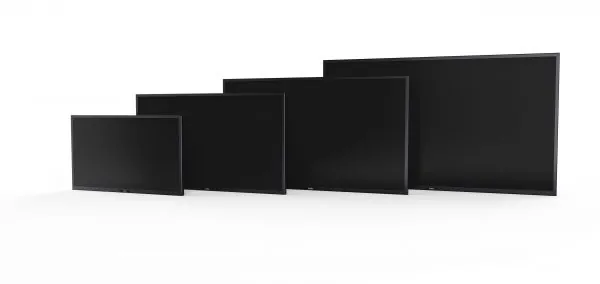 Family Movie Night Moves Outdoors
By now you realize I'm the sports buff in the family. But even if sports isn't your family's thing, you can still have fun outdoors with your new Verdana SunBrite TV.
Whether you want to host a fun family movie night outside, or have an outdoor party featuring the big game, the Veranda Series of SunBriteTVs is ready to make your favorite outdoor space a real destination. Watching TV outside is fun!
Disclosure: I partnered with Best Buy to bring you the solution to your outdoor viewing problems. You can shop the SunBrite Outdoor TV at Best Buy online.