This post may contain affiliate links, which means we may receive a small commission when you make a purchase at NO additional cost to you. Thank you for supporting our site in this way!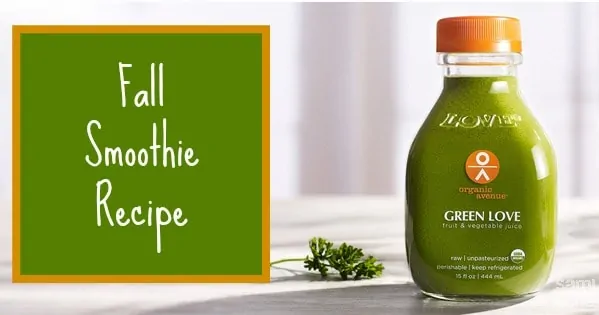 I can't say it enough, I am SO excited that we're finally transitioning from summer to fall.
Am I the only one that actually gets excited when I look outside and see gray skies and feel that crisp, cool air?
Well just like we have to transition our wardrobe from summer to fall, so must we also do the same with our diet.
So as you revamp your fridge and pantry, I wanted to share a fall smoothie recipe from Organic Avenue to help you get ready for fall by diving into all of the seasonal flavors we've missed.
This smoothie blends Autumnal fruits, vegetables, and spices that will warm you up without weighing you down.
Kids will love its sweet flavor and parents will love how easy it is to throw together and sneak some vegetables into their children's diets.
Fall Smoothie Recipe
 1 cup of carrots roughly chopped*
2 cups of organic apple juice
1 frozen banana
1/2 tsp of cinnamon
a pinch of pumpkin pie spice


*option pre-roast your carrots in coconut oil for a nutty taste
This fall smoothie recipe makes approximately two servings
For a more adult (or adventurous kid) version of this smoothie, toss in a knob of ginger or a pinch of cayenne pepper to add a medicinal spicy kick!
Carrots are high in antioxidants that help protect your cells from cancer-causing free radical damage while anti-bacterial cinnamon can cure a case of the sniffles.
When possible, always choose organic produce, especially apples since they are a member of the "Dirty Dozen" aka the top pesticide laden foods in their conventional forms. At Organic Avenue, they use only organic produce ensuring a healthier and tastier result.
No time to make a smoothie? No problem! Their Mix and Match Package is another great option for families who want to taste a variety of healthy flavors.
Disclosure: Affiliate links used within this post