This post may contain affiliate links, which means we may receive a small commission when you make a purchase at NO additional cost to you. Thank you for supporting our site in this way!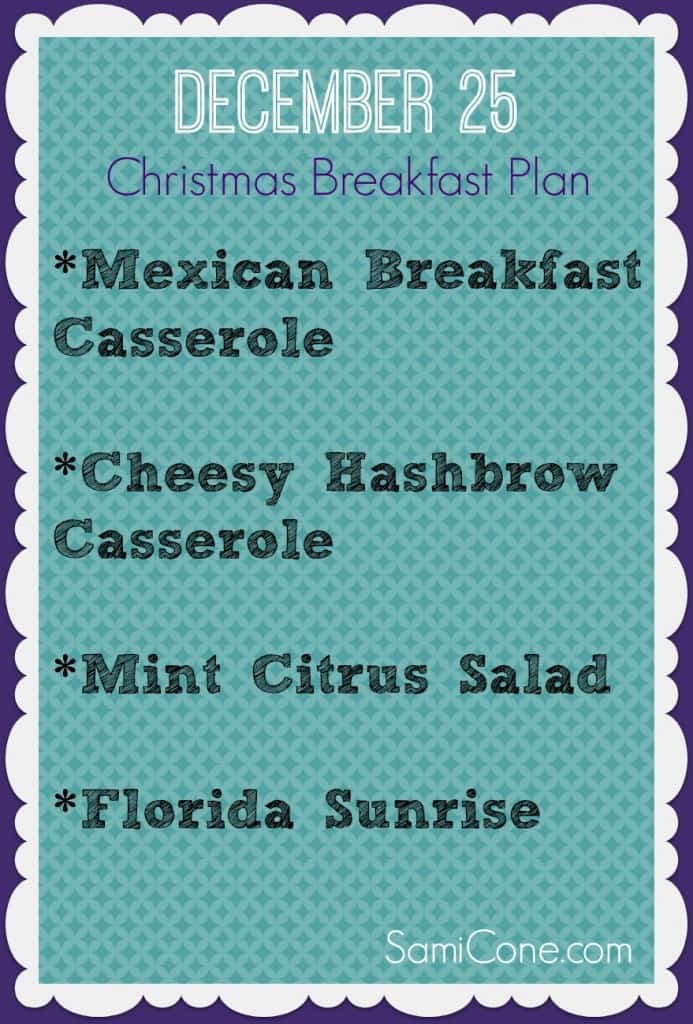 My free weekly meal planner is taking a break for the week of December 23, 2013 and instead I'm sharing our Christmas Breakfast Meal Plan!
I thought it a little absurd to try to share a meal plan for the week of Christmas since not only are so many of you traveling and in homes other than your own, but I'm assuming you probably have things pretty well mapped out by this point. (Although we still don't know what we're doing for Christmas dinner! Anyone have an extra seat at their table? 😉
But I did think it would be fun to share our family's Christmas breakfast meal plan that has become a tradition in the Cone home.
This is especially great because I can assemble the majority of the menu the night before and then pull it out of the fridge to put in the oven first thing in the morning so that it's ready to eat while we watch the Disney Very Merry Christmas Parade and dream of being at Disney World for Christmas one year!
Our Christmas Breakfast Meal Plan
*Mexican Breakfast Casserole
Instead of the typical bread you use for casseroles like these, we take flour tortillas and layer them with eggs (spiked with hot sauce), sausage (cooked with onions) and Mexican cheese. I adapted this from an Emeril Lagasse recipe.
*Cheesy Hashbrown Casserole
My daughter loves Cracker Barrel's hash brown casserole, so this cheesy hash brown copycat recipe is the closest we could find to match theirs!
*Mint Citrus Salad
Just like it sounds, I take orange and grapefruit wedges and let them sit in a bit of fresh mint and sugar overnight. It's that simple!
*Florida Sunrise
This drink comes from my husband's family where they basically mix fruit juice and a lemon-lime soda, usually OJ & sprite (sometimes with a splash of grenadine to make the 'sunrise' extra bright!).
I already hear what you're saying, "Sami, you don't even like saying the word casserole, much less eating TWO of them!"
These are different, not only because I make them myself, but they also contain very few ingredients.
And my family loves them!
So what about you…do you have any Christmas breakfast traditions?
Don't forget to check out my meal plan archives or eMeals for help in that category).