This post may contain affiliate links, which means we may receive a small commission when you make a purchase at NO additional cost to you. Thank you for supporting our site in this way!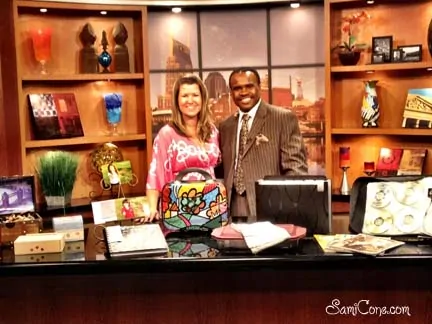 Today on Talk of the Town (February 15, 2012) I shared frugal ways to show love all year long. In case you missed it, here's the video of the show:

Just because Valentine's Day was yesterday doesn't mean you can't find little ways throughout the year to show love to the special people in your life. When they feel this constant trickle of love, not only does it take the pressure off to do something 'over the top' on holidays (like Valentine's Day), but you'll find that their confidence and support will increase as well! Here are some frugal ways to do just that:
KIDS = Think about
Kids love trinkets they can collect. While moms may not love picking those up around the house, why not find =  something special that they can not only collect, but also something special for them to collect it in (and that they can add to over the year, like when you go on a trip without them, for instance:
Small treasure chest for rocks & 'gems' for boys
Old jewelry box to collect their beads or your old broaches, etc
Spouse/Mate = Act On It

It doesn't help my husband to know I simply 'thought about' making him dinner; I need to follow through and act on it! Make sure they know more things you love about them than things you wish you could change! Do that by:
-Creating a Pinterest board on 'Things I love about…." (think a billboard for the modern era 😉
-Taking one thing they've asked you to do in the past month and actually doing it!
-Make sure they know you're thinking about them – create a laminated card for their purse/wallet with a picture on one side and an affirmation on the back
 -Use Daily Deal site to plan a getaway in your own town. For instance, Gaylord Opryland is having a Buy 1 Get 1 night free sale to celebrate birthdays and anniversaries through 5/31/12 (no coupon required!)
P.S. For those of you who asked about my luggage on the show today, it's designed my my FAVORITE artist of all time, Romero Britto:


Isn't it fantastic?! It was a gift from my brother and I absolutely love taking it with me wherever we go!
Someone going through tough times = Offer your services

Be present! When someone's going through a tough time, you don't want to linger on it, but you also don't want to ignore it either. Recognizing their struggle with a kind card and a token of yourself can go a long way in tough times:
-Bring a meal with a twist: Create a menu plan for them so they don't have to think through their future meals

-Take over some of their daily tedious tasks for them, like sorting through mail or email so they don't fall even further behind
Older Adults = Teach them technology

Whether it's a grandparent or an older neighbor, sometimes the most important thing you can give them is your time! Here are a couple ways to connect, both from a distance and in-town:
-If you have the gift of organizing, offer to help them with their taxes, do yard-work, clean out their closet or better yet, consign some things for them!
-Introduce them to Skype! It's a free way to video call over the computer (or smart phone) and is a wonderful way for grandparents or older adults who don't like to travel to keep in touch with those they love who may live far away