This post may contain affiliate links, which means we may receive a small commission when you make a purchase at NO additional cost to you. Thank you for supporting our site in this way!
Let's start this Gnomeo & Juliet Review with a simple Logic Puzzle:
"Mamma Mia" is to Abba like "Gnomeo & Juliet" is to ________?
Answer: Elton John!
Yes! When I first sat down and heard the familiar tunes playing in the background of this delightfully bright and surprisingly deep movie, I just smiled with recognition. Then I noticed a common theme of famous British tunes being sprinkled throughout the soundtrack. You'd think I would have figured it out sooner, but it wasn't until the closing credits that my answer emerged: Elton John was the executive producer!
From the get-go, I love that the movie poked fun at itself, with a miniature garden gnome stepping on stage to deliver the epic opening of the classic Shakespeare tale, "Romeo & Juliet". After dodging a hook (literally), he dropped through the stage and the adventure began!
While the essential storyline was no surprise, how the creators portrayed this well-known love story in a way that would please children and adults alike surprised me. To be completely honest, I heard more adults laughing throughout the film than I did kids. So when I asked my four & six year old how they liked it and the end, I wasn't expecting rave reviews – once again, I was wrong.
"I LOVED it!" raved my daughter. "It was SO funny, " added my son.
Go figure.
I can't say that it's a movie I'll want in my DVD library for the rest of my life, but Gnomeo & Juliet was a bright spot in what would have otherwise been a cold and dreary Saturday morning! (Plus I'm still amazed at how they made garden statues so stinkin' cute, huggable and lovable!)
Here, take a sneak peak for yourselves:
As a special treat for my readers, I have a fabulous Gnomeo & Juliet prize pack to offer you!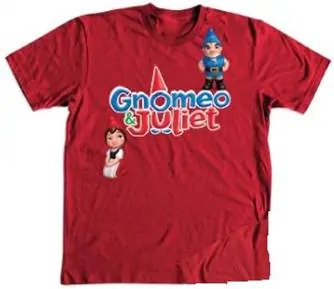 – Gnomeo & Juliet t-shirt in youth sizes of S, M, L, XL and colors of red or blue
– Gnomeo & Juliet one-size fits all beanies in colors of red or blue
– Gnomeo & Juliet mini-notebooks shaped like a Gnome hat (front cover is red, back cover is blue)
To enter, just visit the Gnomeo & Juliet website, visit the two gardens and then come back and leave a comment below letting us know whether you'd pick Red or Blue. For an extra entry, "like" the Gnomeo & Juliet Facebook page and leave an additional comment letting us know you did so.
Make sure you enter before midnight CST on Tuesday, February 15th. One winner will be drawn at random after the contest closes. Even if you don't win, you can download free posters and other great stuff at the Gnomeo & Juliet website.
Oh yeah – just like my cluelessness about Elton John, I had NO idea about the depth of voice talent being used in the film. Ozzy Osbourne, Dolly Parton, and Hulk Hogan each make a cameo appearance in the film – see if you can figure out which characters they lend their voices to!
UPDATE: Congratulations to Shannon W ( 3) – the winner of our prize pack!