This post may contain affiliate links, which means we may receive a small commission when you make a purchase at NO additional cost to you. Thank you for supporting our site in this way!

When I was approached to write a Green Giant Veggie Chips review, it didn't take long for me to sign on. I'm always looking for new snacks for my kids that are healthier than the standard fare.
Of course, having the Green Giant name attached didn't hurt with the credibility either 😉
I received two varieties of Green Giant™ Veggie Chips: the Green Giant Roasted Veggie Tortilla Chip – Garden Ranch and Green Giant Multigrain Sweet Potato Chip – Barbecue.
Initially I was disappointed to find the veggie chips were flavored; I'm not really a fan of any kind of flavored chip. But then I realized they may appeal more to the kids.
While my kids don't agree on much, they both love BBQ chips. So I decided to bring them out at lunch one day, of course without mentioning the fact that they were veggie chips.
They both really enjoyed them.
After that, I expected the Ranch tortilla chips would be an easy sell. My 9 year old daughter gave it a quick, "Not bad", while my 7 year old son was a little less impressed. "It's just a little bit under like," he admitted. Of course, he's not a big fan of ranch either, so I'm not sure if his review is as fair.
I put the bag of Ranch Veggie Chips away in our pantry and didn't give them much thought again…that is until tonight when I realized I needed to take a picture of my own for this post. Guess where I found the bag:
That's right, it was in the trash, but not because they were not liked. No sir.
Yes, I stuck my hand in there to find out why they were in the trash. Take a look at what was left inside: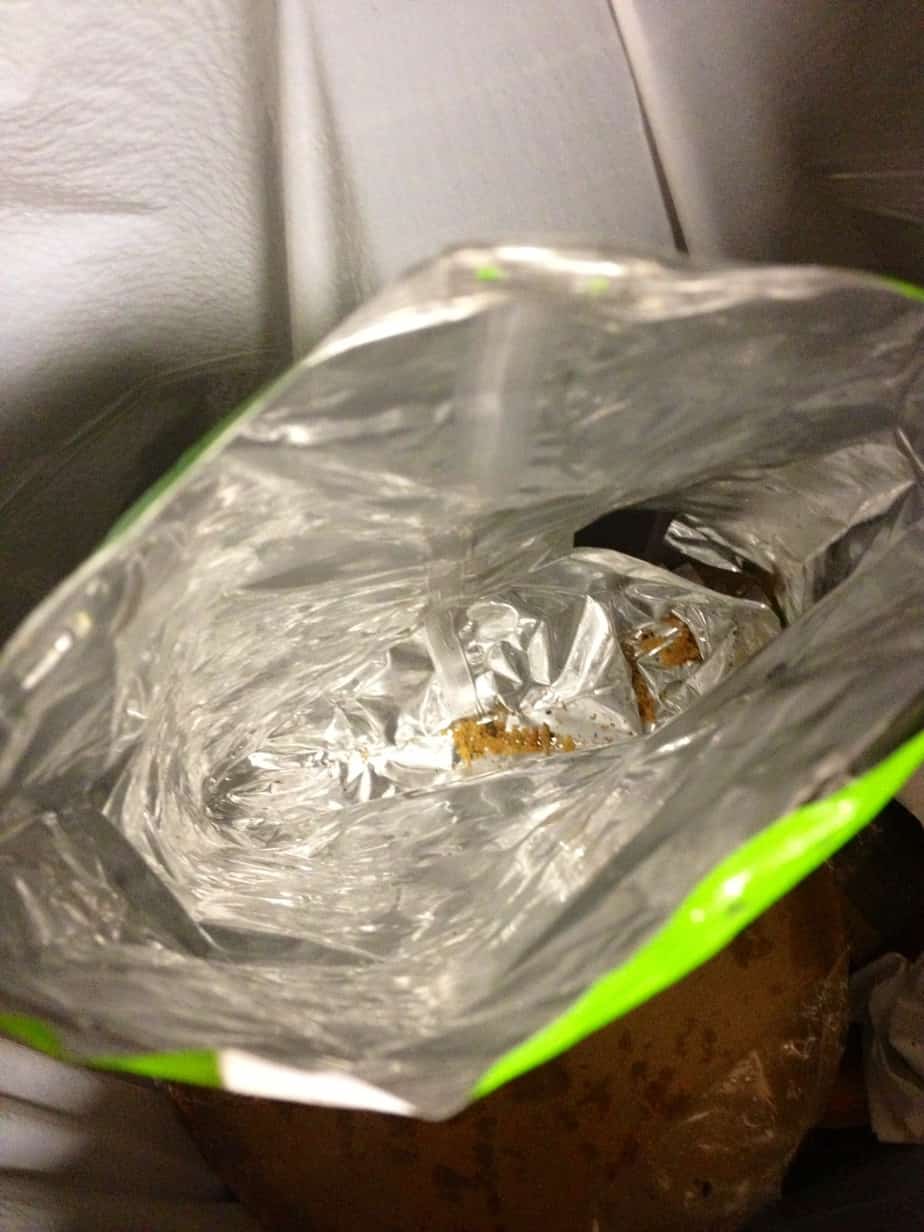 That's right: NOTHING!!!
It seems my husband came home from work, found the bag of opened chips, grabbed some hummus and went to town! As you can see, barely a crumb was left over.
So it's up to you who you listen to: the kids were split, my husband was sold. Obviously, Green Giant Veggie Snack Chips are not a replacement for your veggies, but they are a great option for snacking between meals, especially if your kids come home from school 'starving' like mine 😉
I was selected for this opportunity as a member of Clever Girls Collective and the content and opinions expressed here are all my own.