This post may contain affiliate links, which means we may receive a small commission when you make a purchase at NO additional cost to you. Thank you for supporting our site in this way!
It's true, your New Year's resolutions may have come & gone, but that doesn't mean you still can't indulge in some treats while staying healthy (& on budget!).
If you caught my Healthy Indulgences on a Dime segment on Fox TN Mornings, then you're probably:
1. Salivating by now (and if you aren't, what's wrong with you???) &
2. Wanting to know how to get your hands on these treats!
Well guess what…I'm here to help!
I'm here to prove to each and every one of you that it IS possible to indulge in your favorite treats without breaking the bank…and hopefully you'll take some inspiration from my suggestions and come up with some new crave-able creations of your own!
1. International Delight Light Iced Coffee

We all know I'm not a coffee-drinker, but I also know I'm one of only 7 people in the whole country who doesn't have a coffee addiction. That being said, far be it from me to not help you all get your coffee fix, but at the right price!
Now that I'm no longer a Starbucks wife, there's no way I can approve of my husband paying $3.50 for an iced coffee from the mega-retailer. Instead, me and my budget whole-heartedly approve of the NEW Light Iced Coffee from International Delight! (And you can play their Facebook game by clicking the picture above to save even more by winning International Delight Light Iced Coffee coupons!)
You can still get ALL your favorite iced coffee flavors (light Mocha & Vanilla), but it's 1/3 of the price but still has ALL the flavor of coffeehouse iced coffees. And at only 100 calories per serving (1/3 of the calories of their original counterpart), you won't feel guilty starting each morning with one. It's the easiest way to lighten up your day 😉
If you want to get even cooler and you're a fan of frozen coffee drinks, look at this fun frothy creation just in time for St. Patrick's Day:
Source: east9thstreet.com via Sarah on Pinterest
2. Olive and Sinclair Dark Chocolate & Bourbon Nib Brittle
Well of course I couldn't be prouder that some of my favorite chocolate is handcrafted by native Nashvillians right here in Music City!
But I guess I'm not the only one who thinks so, because Olive and Sinclair Chocolate Co. was voted "America's Favorite Chocolate" by Southern Living Magazine. Their combination of traditional methods, modern European technique and classic Southern flavors make Olive & Sinclair the NEW old-fashioned chocolate.
Not only have studies shown that dark chocolate is bursting with anti-oxidants, but it's also been proven to lower blood pressure. SO when it comes to your sweet tooth – the darker the better!
Originally, I was just going to share about their 67% and 75% Cacao bars, but after one bite of their brittle, you'll see why it's one of my new favorite indulgences…and you'll also understand why when you buy the best, you only need a couple bites to satisfy those cravings (keeping your cost down too!).
3. Bring on the Berries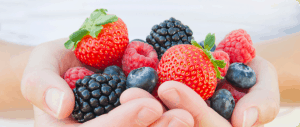 Speaking of antioxidants, you can't get much better than berries! And when it comes to berries, it doesn't get much better than Driscoll's.
The thing I love about Driscoll's is that I can find them in my favorite, local grocery store, but it's just as easy and inexpensive to get organic Driscoll's berries. And don't even get me started on all the fiber & Vitamin C these little gems help me effortlessly sneak into my family's diet.
Whether you're looking for a simple, fresh and sweet dessert (a bowl of berries with some homemade whip cream) or something a little more indulgent (like this bunny cake that's perfect for your family's Easter lunch), berries are hands-down the easiest way to bring a sweet smile to my kids' faces.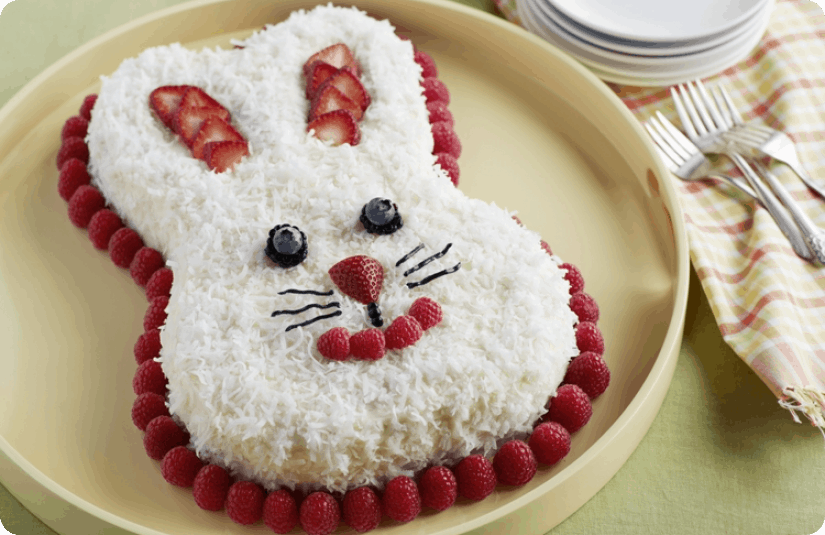 4. Get Gluten-Free Online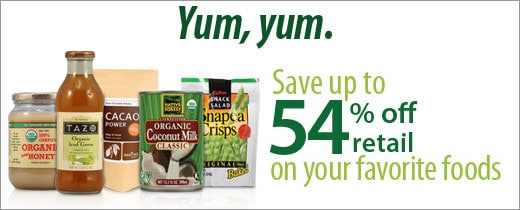 Whether you've gone gluten-free, paleo or vegan, specialty diets can get expensive…and without their fair share of healthy treats compared to the rest of the market.
One of the most convenient and inexpensive places I've found to grab everything from the basics I need to bake paleo to healthy (er) snack foods is Vitacost.
I can't believe I didn't discover Vitacost until just a few short months ago! I won't lie, I was initially attracted to Vitacost because of the free $10 credit. But then I realized just how many amazing products I was already using that they carried – and many of them between 25-50% off retail!
Instead of waiting for a local sale on your favorite healthy beauty, skin, vitamin, pet or gluten-free products, just go right to Vitacost. You even get free shipping on orders over $49. But if you're REALLY looking for a good deal, check out their new Be Box series: for just $13.99 (& free shipping), you'll get a monthly sample box to help you discover new health & wellness products from popular high-end brands. These boxes also include a coupon for a future purchase (and does NOT require a monthly subscription).
5. Quaker Popped

I know, I know…it's a rice cake.
But honestly, I love them. I've always loved them. I just heard from a friend in high school who I haven't seen in 15 years, and the only 2 things she remembered about me were my love for purple and rice cakes.
True story.
So when Quaker came out with their new Popped line, I became a little obsessed. And I don't normally like 'flavored' foods, but I'm incredibly partial to the Sweet Chili variety. If you're looking for something sweeter though, don't worry – they have everything from chocolate to apple cinnamon.
Oh, and did I mention that if you have a toddler and you buy them these, you'll thank me forever?
You're welcome 🙂
6. Homemade Trail Mix

One of our favorite snacks is homemade trail mix. The best place I've found to stock up on goodies for my special concoction is Trader Joe's. I find everything from gluten-free granola to chocolate covered sunflower seeds to add in to the mix!
The main complaint I've heard from people when sharing this is that they don't have a Trader Joe's near them, but now you can find Trader Joe's on Amazon…for real!
These are just 6 of my favorites, but I'd love to hear some of your favorite healthy indulgences.
You can also check watch my segment on Fox TN Mornings in case you missed any of the fun details…

And who says you don't make mistakes on live TV? Ours just happened to get caught on camera 😉

Win a 3 month supply of International Delight Iced Coffee in my giveaway!