The next Home Depot free kids workshop for 2018 is coming up!
The Home Depot free Kids workshops are such a big hit, not only in our family, but for everyone looking to get the kids out for some hands-on, free fun! These occur on the first Saturday of every month from 9a-12p.
Typically, the Home Depot FREE Kids' Workshops usually center around whatever holidays are happening that month and let kids build (and often paint) things like cars, napkin holders, games & more. Every participant in the kids workshops also gets a certificate, orange apron, pin and treats when they complete the project!
As I discover what the projects will be for the Home Depot workshops, I'll list them below so you know what you're getting into before you head out with the kiddos.
Home Depot Free Kids Workshop Schedule  for 2018:
The NEXT Home Depot free kids workshop will be Saturday, September 1, 2018 from 9a-12p and kids can learn how to build a Field Goal Game.
The Home Depot free kids workshops have been known to run out of supplies…so while you don't need to make reservations for the workshops, you can register here.
I definitely wouldn't recommend waiting until the last hour to arrive, otherwise, you may have some disappointed kids! You can register for the Home Depot Free kids workshops in advance, but that does not guarantee that you will have a kit once you arrive.
Children must be present to receive a kit (stands to reason, but I suppose The Home Depot is trying to prevent people from taking extras home). All kids get to keep their project, receive a FREE certificate of achievement, a Workshop Apron, and a commemorative pin while supplies last. Children must be present at the store to participate in the workshop and receive the kit, apron and pin.
Home Depot Free Kids Workshop 2018 Schedule Details:
Where to go: Your local Home Depot
What you'll do: Bookworm Bookends
When is it: September 1, 2018 from 9a-12p
The next Home Depot free kids workshop will be October 6 and they will be making a (come back to find out!).
Can't make it to your local Home Depot for the kids' workshops? Why not bring the party home! Here are just a few of the ready to assemble kids workshop kits you can buy and build at home:

Or why not consider having your workshop at home with these Home Depot Kids Workshop party supplies: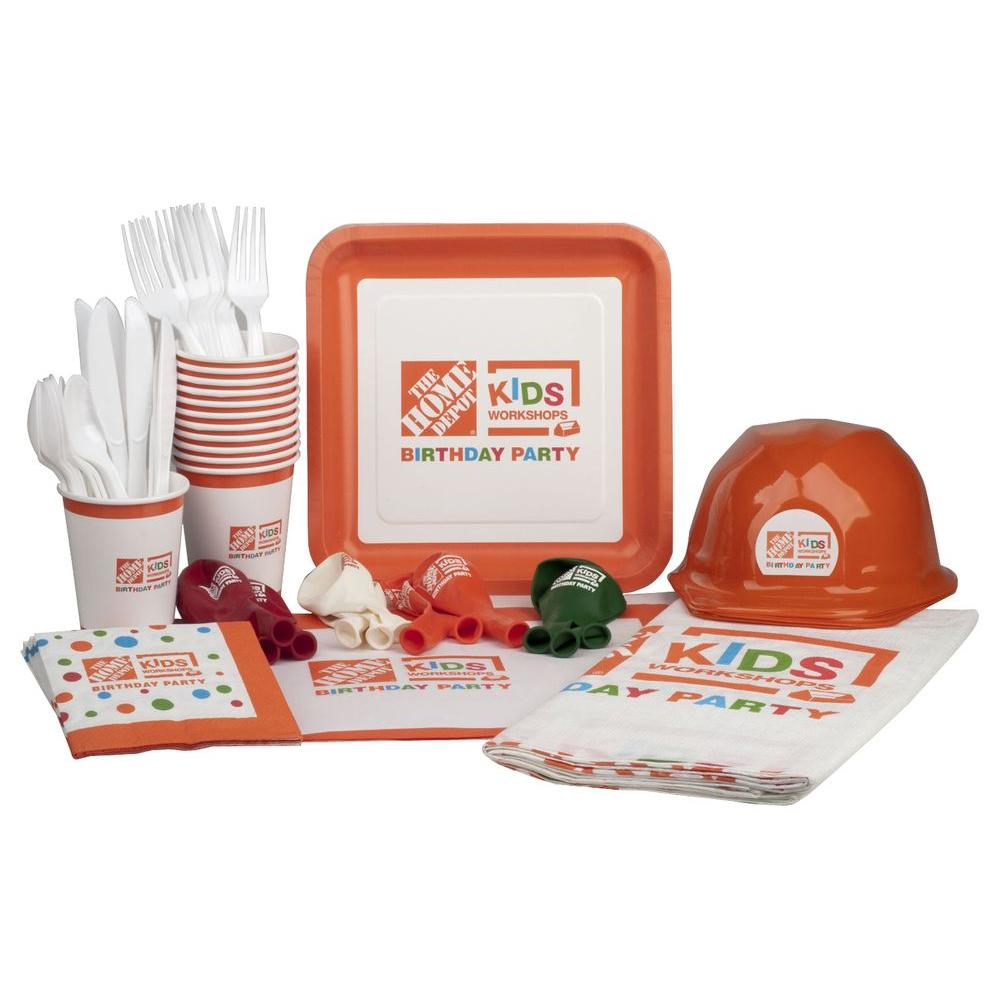 While you're at it, why not check out the other current Home Depot Specials they're running?