This post may contain affiliate links, which means we may receive a small commission when you make a purchase at NO additional cost to you. Thank you for supporting our site in this way!
Have you ever wondered how to find lost money? Have you thought about unclaimed property the government may be holding in your name? Then it's time to start an unclaimed money search.
I'm here to show you how to find lost money…for free!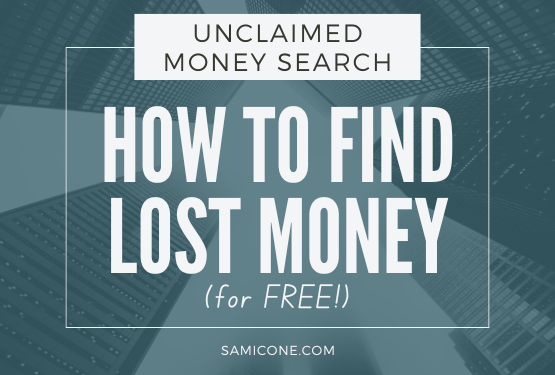 Unclaimed Money Free Searches
There are literally billions of dollars of unclaimed funds in the United States alone, so why not claim your share? Start with these unclaimed money free searches:
Start with the USA Gov Unclaimed Money search. This will tell you if you have any unclaimed money from the US Treasury.
Then, check the division of unclaimed property for any state you've lived in.
**** If you live in Tennessee like me, search Unclaimed Money TN
**** For Nashville specifically, go to Nashville.gov to search for everything from uncashed payroll checks to electronic payments returned by the bank
You'll also want to perform a free search on the national site – unclaimed.org – which is endorsed by the National Association of Unclaimed Property.

Make sure you also search by last name only, with just your first initial, as well as with your maiden name if you're married.
You'll also want to search on behalf of deceased relatives
IRS Unclaimed Money
Think you may have missed a tax refund? Perhaps you misplaced a savings bond years ago.
Don't forget to search IRS.gov for past tax refunds you may be owed as well as Treasuryhunt.gov for unclaimed savings bonds.
Free College Scholarships
If you have a child in college or getting ready to go, you can also search for College Scholarships (most people aren't aware that millions of dollars a year in potential scholarships go unclaimed). But, they're not just going to jump out at you; you have to find them.
Keep in mind that some of these free scholarships are good for all four years of college. Some awards are only for one year, but are either renewable or your student can re-apply each year they're enrolled.
You can also watch my segment from Talk of the Town on NewsChannel5.com about how to find lost money.
If you love saving money like I do, make sure you also watch my tips on how to save at the grocery store and find the best weekly deals.