This post may contain affiliate links, which means we may receive a small commission when you make a purchase at NO additional cost to you. Thank you for supporting our site in this way!
You likely already have a favorite grocery store where you shop. But I'm showing you how to save at all Nashville grocery stores with their best weekly deals.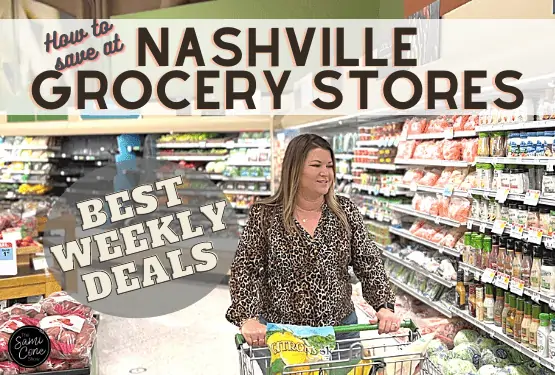 Come back to watch my TV segment on Talk of the Town and The Sami Cone Show
Fresh Market
You might think specialty grocery stores like Fresh Market are out of your budget. But this deal will prove you wrong. Every Tuesday, you can get $3.99 boneless, skinless Chicken Breasts and Ground Beef that's ground in-store.
This would be worth shopping every other week: get what you need for dinner this week and freeze extra for next week. Find your local Fresh Market.
Walmart
Their frosted cookies & cupcakes are the cheapest in town and better than almost any other store. Depending on where you live, you can get a dozen for about $3.
Certain Walmart bakeries will also take custom cupcake orders. You can get your kid's favorite characters on cakes and cupcakes or even just choose the right color to match your party decor. They also offer mini cupcakes perfect for school parties.
Let your local Walmart decorate a cake or cupcakes for you!
Publix
Publix BOGO free deals cannot be beat! We've shopped at Publix every since living in Florida, but their BOGO policy is even better in Tennessee.
At Nashville Publix stores, you don't have to buy two items. You could buy just one and get half off! And those offers can be combined with a coupon too.
Keep in mind, if you see a deal that says "Buy 2 Get 1 Free", you do need to buy ALL the items to get the full deal.
You can read the full Publix Coupon Policy before you shop.
Kroger
Kroger has two deals that are worth mentioning.
First of all, they often offer 10 for $10 deals. Read the sign carefully, but typically you can buy just one of the item to still get the discounted price.
Kroger also offers manager specials for meat, produce, and even bakery items that need to be sold that day. For instance, we just bought baked chicken wings for about $4 which typically cost $8. The key is to eat them or freeze them quickly.
You'll also need to create a FREE Kroger Account to take advantage of most of these deals. Then you just enter your phone number at checkout and you'll watch the savings add up.
ALDI
You'll find many recipe and pantry staples for under $1, not to mention the social media sensation "ALDI finds".
ALDI Finds have their own aisle in the store where you'll find everything from furniture and cookware to toys and workout equipment.
For instance, I just found a 3-wick candle on clearance for just over $2. Those typically cost $20 elsewhere.
Whole Foods
Don't forget Whole Foods is now owned by Amazon. That means Amazon Prime members get 10% off weekly deals.
Plus the Whole Foods bulk aisle is great for spices, nuts, and grains if you just need a little bit of something to try or for a single recipe.
Try Amazon Prime FREE for 30 days!
Costco
Their rotisserie chicken is still under $5,  but you have to go to the very back of the store to get it. That means you need to stay strong if you don't need to buy anything else!
You can still get a hot dog & a drink for under $2 in their food court (and you don't have to be a member to eat there – just walk in the exit).
Get all your Costco Membership questions answered
Trader Joe's
I don't know how I failed to talk about Trader Joe's on the show! It's one of my favorite go-to stores for great prices on good food. (Notice I didn't say 'good for you' food). Just because they keep bad things out of their food doesn't mean it's necessarily healthy…and their cashiers will be the first to tell you that!
There are now multiple Trader Joe's locations in Nashville. Trader Joe's doesn't offer coupons, but their prices are great every day because they sell their own brand and don't advertise.
Check with Your Local Stores
What are your favorite weekly grocery deals? Remember, these are Nashville grocery deals and even if you have the same store near you, their rules and coupon policies may differ.
Check out even more of my savings secrets and grocery store deals while you're here! You can also watch all my past Talk of the Town segments. And don't forget to tune in to The Sami Cone Show the second Friday of every month at 1 PM CT on NewsChannel 5+.