This post may contain affiliate links, which means we may receive a small commission when you make a purchase at NO additional cost to you. Thank you for supporting our site in this way!
Lovely.
If I had to sum up my Hundred-Foot Journey movie review in just one word, it would be this: lovely.
I feel like the one-word reviews are a trend with Disney & Dreamworks movies lately.
While watching Maleficent, all I kept thinking to myself was "interesting".
Though this movie took me on more of a roller coaster of emotions, about 3/4 of the way through, the word 'lovely' sprung to mind.
Of course, I also became very emotionally attached to the movie upon seeing the beautiful sights of the countryside of France.
This movie centers around food, family and of course, the traditions of France. Take a peek:

I'm thrilled to be able to share a couple recipes from The Hundred-Foot Journey with you as well:
Madeleines Recipe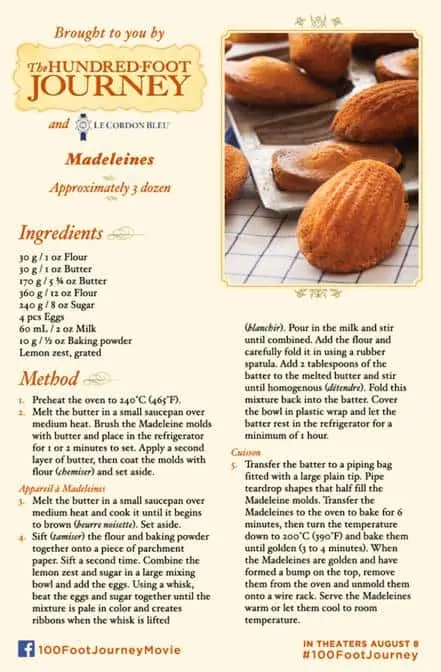 Gratin Dauphinois Recipe (Scalloped Potatoes)
Soupe a l'oignon recipe (Onion Soup)
and of course, the infamous Chicken Tikka Recipe!
I truly loved the heart of this film and can't wait to see what you think as well.