This post may contain affiliate links, which means we may receive a small commission when you make a purchase at NO additional cost to you. Thank you for supporting our site in this way!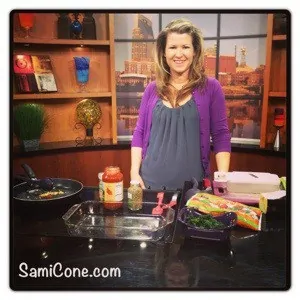 On my latest Talk of the Town Appearance, I shared an easy, healthy AND kid-friendly veggie lasagna recipe….oh, and did I mention it's pasta-free?!

So even if you're not gluten-free, you might want to give this a try. It's also just as easy to make a full pan for dinner (or to freeze for later) as it is to make individual portions in ramekins that the kids will love.
It's important to note that the exact recipe isn't as important as the technique: feel free to add meat to the sauce, add or subtract veggies or even make it with pasta if you like.
Product note: This recipe will be much easier with a mandolin. You don't have to get an expensive one (a friend found me the one below at Goodwill for 99 cents), but you can also find them at most grocery stores for under $5. It will help you create even slices that otherwise would be hard to re-create with a knife.
Bonus tip: Instead of traditional linguine or spaghetti, we also like to stack the zucchini slices after we use the mandolin and cut them in thin slices lengthwise to create 'noodles' that are great to eat with meatballs or simply sauté with garlic & olive oil.
Once you get your zucchini or eggplant slices, you're going to layer them in the 9 x 13 pan. Or, if you prefer to make individual portions for the kids, you can layer them in a ramekin like so: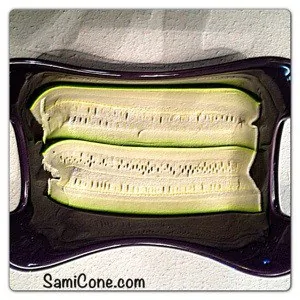 When adding the vegetables to the sauce, make sure to season them well. This is also the stage where you could add additional vegetables or even ground beef or tofu if you prefer:
While the sauce is cooking, prepare the cheese mixture. After you've combined the egg, shredded cheese, ricotta, salt & pepper, you can start creating your layers.
Start by adding water to the jar to loosen the leftover sauce and then pour over the bottom of the pan just enough to coat. Start with layering the zucchini or squash slices. Next, add a thin layer of the vegetable sauce. Then, smooth a layer of the cheese mixture. Repeat until all ingredients are gone.
Finish by covering the dish with the remaining shredded cheeses.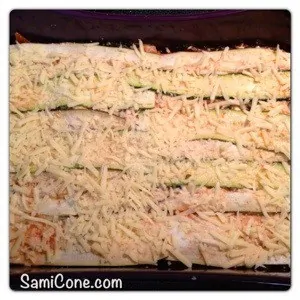 Cover loosely with foil and bake at 350 degrees for 40 minutes. Remove foil and then broil to brown the cheese for about 5 minutes.
Let sit for 10 minutes to allow layers and flavors to set properly, then slice:
You can check out the exact ingredient list and full recipe here:
[amd-recipeseo-recipe:7]
One of the things that makes this recipe so easy is taking advantage of all the help you can, especially when it comes to pre-chopped frozen vegetables like the ones I used courtesy of Whole Foods Market Green Hills (Nashville). Their 365 Everyday Value brand makes it easy for anyone to get great quality vegetables, including organic, at an amazing price (under $2 a bag).
The Whole Foods 365 Everyday Value brand goes beyond vegetables and includes everything from Spices and Syrup to Olive Oil. Check out my video series if you're looking for more everyday ways to save at Whole Foods!
I created this recipe because our nutritionist thought it would be beneficial for our family to try following a more Paleo style diet for a little while. If you want some help with meal planning, I'm a fan of eMeals. Not only do they have every type of meal plan you can think of (choose based on the stores you shop at or based on the way you eat), but it is SO affordable and easy. You'll find the majority of my Meal Plans are based around eMeals dinners (although they now offer breakfast & lunch plans too!). Plus, save an extra 15% off right now with the code NEWYEAR.
I hope this recipe has inspired you to try something new with your family in the New Year!