This post may contain affiliate links, which means we may receive a small commission when you make a purchase at NO additional cost to you. Thank you for supporting our site in this way!
Every time we take our minivan into get serviced and we pick up the kids from school in a new car, they get excited out of their minds.
Even if it's not a "new" car that we are picking them up in, it's new to them, and that equals excitement.
And it's not just a guy thing, my daughter gets equally excited to find a new way to get in and out of a car, not to mention the sunroofs. Anything that helps her see the world and a new way brings her joy.
Our children's love of transportation is not limited to cars however. Stemming back to when they were toddlers, a trip to Disney World simply had to include going on the Disney bus system and a trip to downtown Disney, not necessarily taking a step inside of the parks themselves.
So when we learned that our recent trip to Disneyland would not include a Disney shuttle to take us to the resort from the airport, we decided to Rent-A-Car.
We also wanted to get to Los Angeles two days early to show our kids the sites since it was their first time to California, so we needed a car so that we didn't make us look like a complete tourist.
I noticed on Twitter at some of my other friends had experienced new cars through Drive STI, so when I contacted them, they agreed to partner with me during our time in LA.
I didn't go to them with a lot of specifications when it came to the type of car we wanted, but we did have the following requests:
* It needed to seat four people comfortably


* It needed to hold six pieces of luggage

* And it had to have great windows for our kids to look out from the backseat
As if put into a magic machine, our requests matched us with the Kia Sorento.
The perfect blend of practical and cool, the cool Kia Sorento not only met all of our basic family travel needs, but did so with a sense of style.
The fact that two cousins could fit easily through the double sunroof was just a bonus 🙂
The Kia Sorento took us everywhere in LA we wanted to go, helped us re-route when there was traffic (which you know was just about everywhere!), and kept our family of four comfortable while touring the city.
We may have hit all the tourist stops along the way from Beverly Hills to Hollywood, but we certainly looked the part!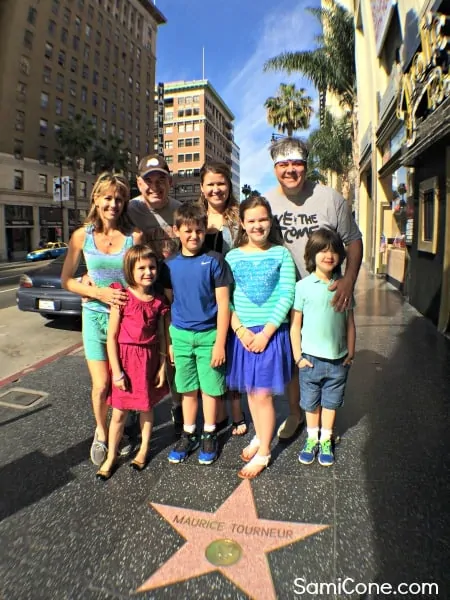 In the past, I've always been one to go for the cheapest rental car I could find, but after our experience with the Kia Sorento, it's not only changed my view on how we rent cars on vacation, but it's made me rethink the fact that our family 'needs' a minivan as our main family car!
And starting at just over $24,000, the Kia Sorento is truly breathing new life into luxury.
I want to thank Drive STI for affording my family to the opportunity to experience the Kia Sorento during our week in Los Angeles and hope you too will be challenged to re-think luxury and necessity when looking at your next automobile.