This post may contain affiliate links, which means we may receive a small commission when you make a purchase at NO additional cost to you. Thank you for supporting our site in this way!
I can't believe that the exact weekend we found out about the Legoland Discovery Center in Schaumburg, IL was the same weekend they were celebrating their Star Wars Weekend for July 2012!
As a mom of two kids who have an unreal affinity for both Star Wars AND LEGO, you couldn't have created a more perfect event for our family. So when my Aunt & Uncle mentioned that the Legoland Discovery Center Chicago had its Star Wars Days the exact same weekend we happened to be making an impromptu visit to Chicago, we had to go!
We headed there on Sunday and there are a few important tips and tricks I wanted to pass on to you so you can make the most of your trip should you decide to head to any one of the 4 Legoland Discovery Center locations currently open in the U.S. (with more slated to open in 2013).
Let me preface my tips by summing up my overall take on the Legoland Discover Center: it's everything my kids always hoped the Lego Retail stores would be, but aren't…but at the same time, they are far from the actual Legoland Theme Parks.
That being said, it was essentially a two story LEGO haven that included everything from amazing LEGO creations and opportunities to build to actual LEGO rides and 4D movies.
Of course, with it being LEGO Star Wars weekend, everything at the LEGOLAND Discovery Center seemed to have a Star War twist to it. The minute you walk in, you'll find a model of some of Chicago's most famous landmarks that were taken over by LEGO Star Wars characters (as a native Chicagoan, this was my absolute favorite part!). There was even a scavenger hunt to participate in!

We also had LEGO Star Wars themed pictures taken, did a Master Build of an X-Wing fighter, helped collaborate on a Star Wars themed mural, met real life Star Wars characters, took pictures with life-size LEGO versions of Darth Vader & R2D2 and of course, walked out with a few Star Wars LEGO sets to take home (though the boxes already got opened on the car ride home 😉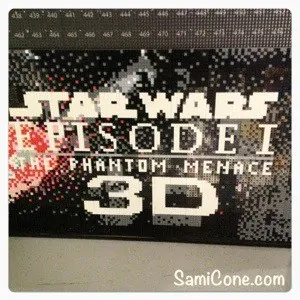 So now, on to those very important LEGOLAND Discovery Center Tips I promised you a few paragraphs ago:
1. GET THERE EARLY!
-If you listen to nothing else I say in the rest of this post, it's ok as long as you heed this warning! The doors opened at 8am and we were already enjoying ourselves by 9am. We were told it would take us about 3-4 hours to experience everything and that was about right. We didn't have to wait in line for anything and tried everything the center had to offer. By the time we left at noon, the line to get in was already out the door! It's not that big of a place to begin with, so I can't imagine if I'd had to wait amidst throngs of other families to participate in each activity.
2. BUY YOUR TICKETS ONLINE
-…or better yet, buy an annual pass. First of all, by ordering online, you automatically get their best price guarantee. Not only will you save over $2 off the ticket price at the door, but you'll get to bypass the standard line! OR, if you want to avoid the mid-day rush I just mentioned AND save money, you can get an Afternoon Saver Ticket and save over $7 per ticket per person! Now if you choose to get an annual pass, not only will it be worth your while after just 2 visits, you'll also get extra savings on everything from the cafe to the LEGO retail store.
I found out lots of visitors to LEGOLAND Discovery Center Chicago are local and/or have Annual Passes, so to ensure there is always something new to see when they visit, they run special events throughout the year. Star Wars is one of the most popular LEGO product lines and lots of people request Star Wars activities when they visit, hence Star Wars Weekends were born!
3. SET A CLEAR BUDGET AND EXPECTATIONS BEFORE YOU GO
-I was actually impressed that the 'extras' that usually push you over the edge financially at places such as this were not too extravagant. The Master Model build was free, and if you wanted to actually keep your creation, it was only $5. Even the photos they took were only $13 AND included the frame…not bad compared to similar properties. However, if you have multiple children, who all want to build AND buy something (not to mention having to pass through the LEGO store before you can exit), things can get pretty pricy pretty quickly. Make sure you set a clear budget AND communicate those expectations to your kids BEFORE you ever step foot inside the center.
Even though I grew up in Chicago, things have changed SO much since I left for college…and just one of those things was the addition of the "Streets of Woodfield". LEGOLAND Discovery Center in Schaumburg opened in Spring 2008 and was the 1st US LEGOLAND Discovery Center to open (and third in the world). There are now four North American LEGOLAND Discovery Centers – Chicago, DFW, Atlanta and KC with new sites opening in Toronto and Westchester NY next year.
So will you be planning a trip to LEGOLAND Discovery Center? Have you already been? If so, I want to hear what you think below!
When I found out we'd be in Chicago at the same time of the LEGOLAND Discovery Center Chicago Star Wars, I contacted Days, Merlin Entertainment Group, who graciously offered me and my kids free admission to the center. The tips and content I shared above were completely my own opinion and were not influenced in any way. My "Luxury for Less" Chicago road trip is being powered by the Hyundai Genesis from Hyundai of Cool Springs, the #1 Hyundai dealer in TN.