This post may contain affiliate links, which means we may receive a small commission when you make a purchase at NO additional cost to you. Thank you for supporting our site in this way!
It's finally here! Club Lilly, the new Lilly Pulitzer loyalty program has arrived. Now all Lilly lovers and pink ladies can get rewards for shopping at Lilly Pulitzer online and on the Lilly Pulitzer app. I'm breaking down all the details below.
New Lilly Pulitzer Loyalty Program Details
I've gathered all the new Lilly Pulitzer loyalty program details I could and put them into one place below:
Join Club Lilly
There are two ways to join Club Lilly.
1. New Club Lilly Sign-Up
If you do not yet have an account with Lilly Pulitzer, you can join Club Lilly today for free. You. just have to enter:
First name
Last name
Email
Phone Number
Zip Code
You can also enter your birthday. That's optional, but it looks like Lilly Club members get a birthday treat! See below for all the benefits.
2. Current Member Sign-Up
If you already have a Lilly Pulitzer account, it's quite easy to sign-up for Club Lilly.
First login to your account (either on LillyPulitzer.com or on the App). Then head to the person icon in the top right of your screen and click on it. The dropdown menu should look like this:
You'll find the "Club Lilly" mention under "My Account". Click on it and signing up is a snap!
---
Lilly Club Benefits
As of now, there are 7 benefits to becoming a Lilly Club Member:
1. Birthday Benefit
Members get 15% off to use during the birthday month they provide upon sign-up
2. Friend Referral
It looks like you can earn up to $50 of friend referrals each year. You can use your referral link to invite a friend who's new to Lilly Pulitzer to create an account and join Club Lilly.
When friends make their first purchase of $100 or more online, you can both earn a $10 referral reward.. Track your referrals in your Club Lilly dashboard. (Limit of 5 per year, hence the $50 I previously mentioned).
3. Digital Wallpapers
Download 1 of 4 digital wallpapers for free once you join Club Lilly.
4. Bonus Point Days
On select bonus point days, you'll earn extra points even faster! This means more rewards for each of us. (No word yet on when those bonus days will be).
5. Early Access
Club Lilly members will get the first chance to shop new collections. Early Access events will happen throughout the year.
6. Surprise Offers
It looks like it will be important to pay attention to the Club Lilly dashboard because throughout the year, Club Lilly members receive access to special offers, limited-time sales, and more.
7. Surprise Member Gift
This is a Club Lilly Perk no-one will know until next year. Club Lilly members who spend $5000 or more annually will receive an exclusive gift!
We have to stay tuned for the reveal of the 2023 Annual Member Gift. Those who qualify will receive details on how to claim the gift in early 2024.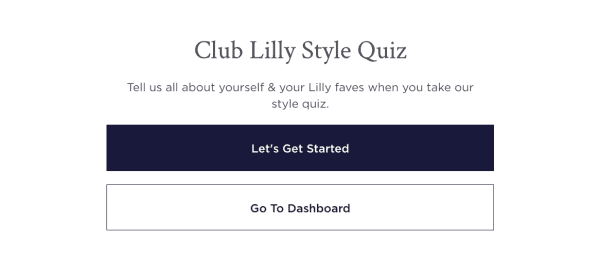 CLUB LILLY STYLE QUIZ
Once you get registered, make sure you take the Club Lilly style quiz. It's only three questions. Honestly, I have no idea what it will be used for, but my guess it it will help tailor future offers.
Lilly Pulitzer Sale Guides
I love Lilly Pulitzer, but I love it even more when it's on sale!
I've written quite a few guides on how to afford Lilly Pulitzer and when to find the best Lilly Pulitzer Sales. Find them here:
Let's face it, Lilly isn't cheap, so if we can get even more benefits for shopping the brand we love, I'm here for it!