This post may contain affiliate links, which means we may receive a small commission when you make a purchase at NO additional cost to you. Thank you for supporting our site in this way!
When I found out our family had been selected to host a #DisneySide party again this year, I started racking my brain on how to put a creative spin on this Disney family shindig.
And then it came to me – why not turn it into a #DisneySide Super Bowl party?
The kids loved the idea and without even knowing it, after I fell asleep that night, my little decorating elves (i.e. my daughter and husband) got busy scanning Pinterest for ideas.
When I woke up the next morning, I discovered a plethora of decorations…
…and my daughter still wasn't done. As if it wasn't bad enough that she stayed up until midnight with her dad, she was determined to personally design and label an NFL themed cup for everyone in attendance:
Once she finished that task, she even turned the bathroom into an opportunity to cheer for your favorite team:
But decorations alone don't make a party – it takes food too!
Luckily, in our DisneySide party box came a Mickey Mouse cake pan and a boxed cake mix from Duff (you know, Ace of Cakes himself).
I'm always up for a challenge, but I felt fairly positive that there was NO way my cake was going to look OR taste anything like Duff's. But still, I followed the directions, mixed the food coloring that came with the batter, and poured away…
Low and behold, look how it came out of the oven!
Once I cut into it, I was even happier!
Upon tasting it, my daughter (and eventually everyone else at the party) confirmed it was the best boxed cake mix they'd ever tasted (and some even went as far as to say it was the best cake they'd ever had!). I couldn't bear to cover it with frosting, so I just made some homemade whip cream to go alongside it.
When it came time to decide on food for our #DisneySide Super Bowl party, I didn't want to go with the standard pizza option for our guests.
After all, not only has our family been trying to eat healthier as a whole, but we had friends coming whose entire family is gluten-free. With my daughter also eating vegetarian right now, I wanted to be able to provide more then cheese as an option.
But as I was thinking of cheese, it hit me…we needed Moes!
Everything is better with queso and when you have a taco bar from Moe's, not only do you have multiple protein and vegetable options, it let's everyone customize their meal and always seems to please the widest age spectrum of guests.
The only thing not gluten free on our Moe's Taco Bar was the flour tortillas. The chips, while technically gluten free in and of themselves, cannot be considered gluten free because they're fried in the same oil as other ingredients.
We opted for a mixture of ground beef and chicken, as well as black beans and a plethora of vegetables, including jalepenos and cilantro.
Now I mentioned that our goal was to make our gluten free friends not only not feel left out, but to make them delighted at this event, so I also whipped up some gluten free mango muffins from Bethany Hamilton's "Body & Soul" book.
Since my daughter seemed to have found her niche with decorating, I asked her to take care of decorating the kids' table…
…including displaying the mango muffins artfully in the center on our Minnie's Bowtique cupcake display that was also provided to us…
Of course, ever attendee under 10 also got a goodie bag to take home. The girls got to enjoy a selection of Disney's Palace Pets (already a favorite in our home!), as well as mini nail polishes…
While the little dudes took home some Disney stickers, tattoos and pencils.
Of course, the older guys were content without stickers or nail polish, as long as we kept the chips and queso coming!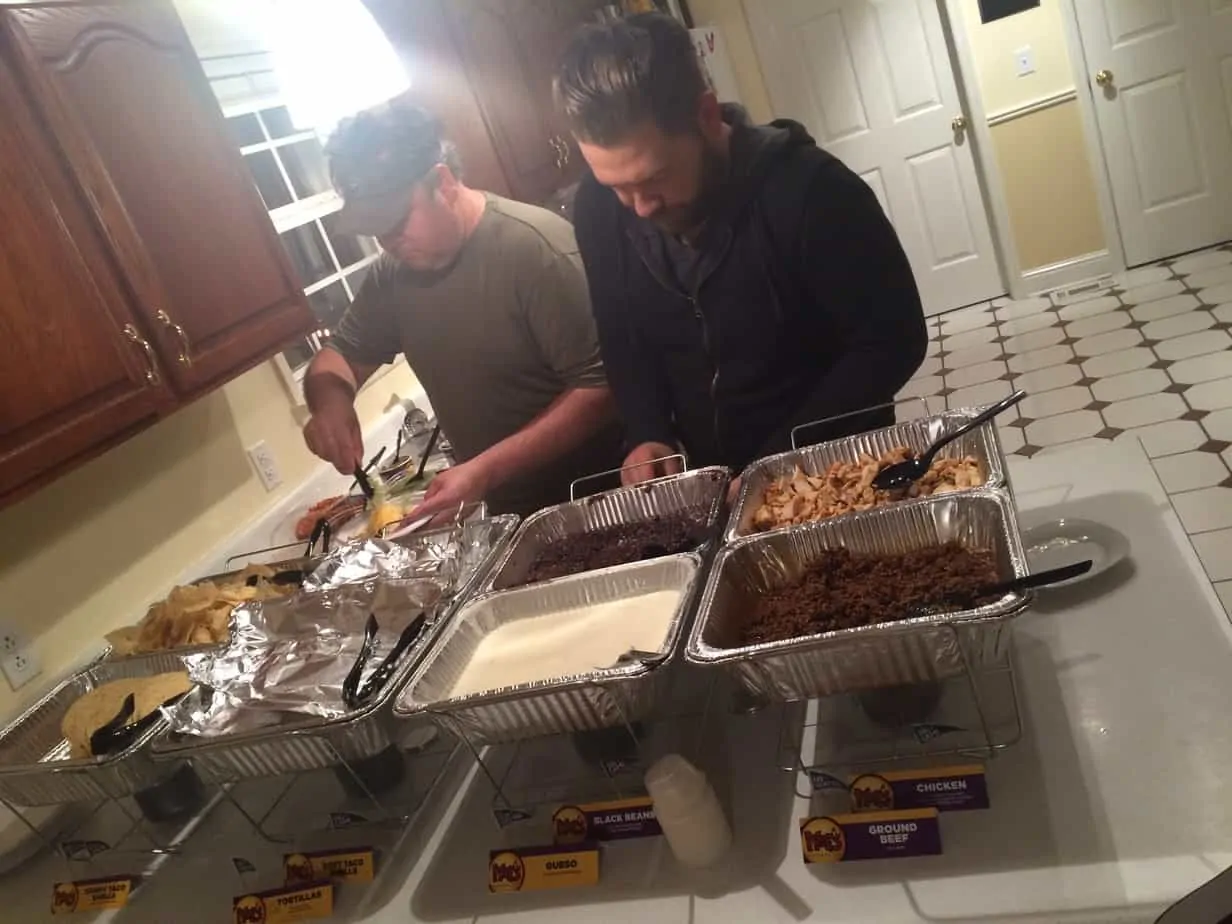 All in all, the adults had fun…
and so did the kiddos.
Good friends, good food, football and Disney…could you think of a better combination? I can't either 🙂
For more Disney Deals and Fun, check out my All Things Disney page!
Disclosure: I was provided with a #DisneySide party pack in order to throw a party of my choice, and Moe's graciously provided the taco bar for our guests. It's my hope that you'll be able to recreate an equally awesome event for your family and friends!