This post may contain affiliate links, which means we may receive a small commission when you make a purchase at NO additional cost to you. Thank you for supporting our site in this way!
I love the zoo.
There's something about escaping to a land most of us only read or dream about that excites me.
Having grown up in Chicago, I got to experience two great zoos, but since then, I haven't been so lucky. So when I was given passes to experience the Nashville Zoo first-hand, I have to be honest and say that I wasn't overly optimistic.
I knew the kids would be excited regardless of what animals we did or didn't see. As for myself, I was afraid to build up my own expectations for fear of being disappointed yet again.
Boy was I in for a surprise!
Let me start by saying the Nashville Zoo is a beautiful place. I would have been content just sitting in one of the many lush areas and enjoying the natural surroundings with my kids. But who had time to sit when there was so much to see and do????
My other biggest mistake was that I did not set aside enough time to thoroughly enjoy everything the zoo had to offer. I thought a few hours would be enough; again, I was wrong. We spent about 4 hours there and I wish we didn't have to leave when we did.
But enough about my newbie mistakes. Let me tell you about all the things that made us wish we had budgeted more time (and why we can't wait to go back!):
You get to walk in to this caged in bird sanctuary and these beautiful birds freely fly all around you. Once you get past the shock of being surrounded by these outgoing flyers, you can even feed them nectar from a cup. Amazing.
I already mentioned how I just loved the surroundings of the zoo. It's laid out so beautifully and practically that you are allowed to naturally walk in and out of the animal habitats. There is a perfect mix of both big and small animals from all over the world. To be honest, it was very reminiscent of Disney's Animal Kingdom…and that's no small feat!
We never even made it on the actual playground; again, a time oversight. "Then how can it be your favorite?" you ask. Well, just one look and you would understand. The Nashville Zoo has an incredible playground (pure genius that they even think to include this!), that I just assumed we would finish our day with. We never made it back to it and I would consider buying a zoo membership just to make it back to this attraction.
The opportunities to view the animals
So many zoos only ha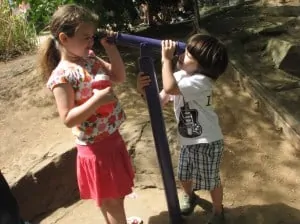 ve one area in which to view the animals. The Nashville Zoo has either multiple locations or multiple views for viewing every animal. Whether it's the above and below ground windows to view the alligators or the 360 degree glass viewing area for the meerkats, my kids and I had multiple opportunities to make sure we saw each animal doing what they do best: living. There was not one, "I can't see them!" during our trip!
I feel like I could go on and on, but rather than take my word for it, why not go yourself! Regions Bank and the Nashville Zoo have generously donated 2 tickets for me to give away to a lucky SamiCone.com reader!
Just choose any or all of the means below to enter our Nashville Zoo ticket giveaway and then post a comment to let me know:
Post a comment below with why you want to go to the Nashville Zoo
Become a Fan on Facebook (Sami Cone)
Follow @TheSamiCone on Twitter (or let me know you're already following me!)
If you don't win, mark your calendar for the Regions Bank Free Day for the Military (& their families) at the Nashville Zoo on November 14, 2010.
***On a completely personal note (which I guess is a bit redundant since this is my personal blog), during our trip to the zoo, Britton (my 4yo son) asked me to take a picture of him for the first time. This wasn't a "please just smile" for mommy moment. No, he literally stopped me, stood on a large rock and asked, "please take my picture". After someone picked me up from off the floor, I got some amazing pics; here are just a few: