This post may contain affiliate links, which means we may receive a small commission when you make a purchase at NO additional cost to you. Thank you for supporting our site in this way!
During a recent stay at the Palm Beach Gardens Marriott hotel, I quickly ascertained the property more than exceeded my expectations as the perfect location for both business and pleasure. While we got to enjoy offerings from their restaurant's lunch menu during our business meetings, one question still remained…Would dinner at the PBG Marriott BlueFire Grille be worthy of staying 'in house' for?
After all, the Palm Beach Gardens Marriott is located right off I-95, only a mile or so away from my favorite Gardens Mall and the trendy Downtown at the Gardens, both chocked full of fabulous dining (& shopping!) options.
Still, the BlueFire Grille's Edamame, Mahi-Mahi Fish Tacos & Chicken & Cheese Quesadillas delighted us enough at lunch to make us want to stay and try the BlueFire dinner options.
At first glance, the menu admittedly seemed a bit limiting and pricy. With just 8 entree options (even though you could still order from the lunch menu at dinner) and the steaks ranging in price from $28-30, one of my dining companions commented that at those prices, this would not be the place they would typically come for a $30 steak.
Still, we each ordered either a filet or rib-eye, wanted to fulfill our steak cravings after a long day in the boardroom. (Later, we also overheard the Linguini Carbonara was excellent too…).
Before our main course arrived, we unanimously agreed on trying the Classic Onion Dip, made with Caramelized Onions and served with Homemade Potato Chips (they are my cryptonite – I simply can't say no whenever I see homemade potato chips anywhere in my travels!).
They did not disappoint.
Not only were the chips perfectly crisp, but they were still warm – cooked fresh to order. (Oh, and the dip was good too 😉
But then the steaks came…
From the minute the manager AND the server simultaneously carried our plates to the table, we were drooling. My guests literally ate their words.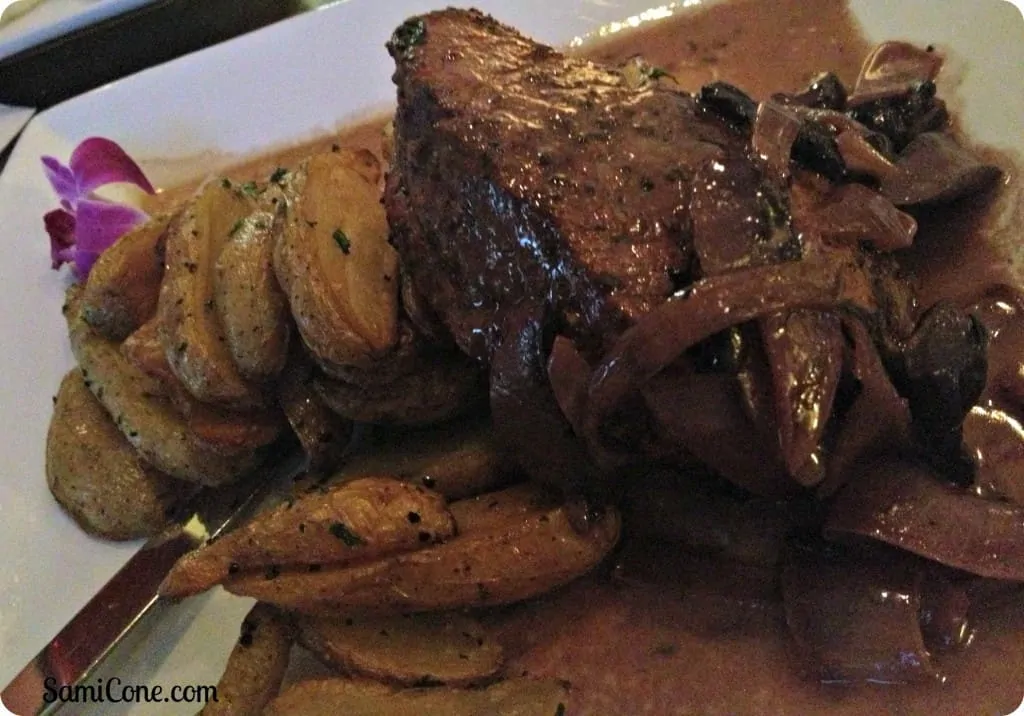 "This is the best steak I ever had…" emerged sheepishly between bites. All of us were in agreement.
Not only were they perfectly cooked and seasoned, but they were so tender. I found myself quickly running out of the mushrooms and glaze that accompanied it because of sopping them up with the roasted fingerling potatoes I ordered as a side accompaniment.
I want you to take special notice of the background behind the bite of steak, mushrooms & onions I'm about to devour in the picture below…
Do you notice the Smashed Potatoes & Green Beans on my friend's plate? Those are the side dishes that typically come with the 8 oz Filet Mignon, but since she ordered the meal as it appeared on the menu, I thought I'd diverge with the Roasted Fingerling Potatoes and a Side Salad.
Don't get me wrong, I loved my choices, but her side dishes were amazing. I find mashed potatoes and green beans to be typically very average in hotel dining – these were very much to the contrary: smooth, velvety mashed potatoes and  flavorful crisp green beans. I managed to steal a bite from her plate, but that was about it before they disappeared.
Needless to say, we barely left a morsel on our dinner plates. So when the offer came for dessert, we thought, "Well, maybe we'll just try a bite…"
While I will still say the main course was the star of this show, we each enjoyed the sweet ending to our meal: the Tower of Carrot Cake, Chocolate Cake & Key Lime Pie.
Someone may have uttered at one point that the BlueFire Grill was their new favorite restaurant…
They only downfall we encountered was that amidst our dining experience, there was a larger group close to us boisterously hanging out in the lounge area, so it seemed a bit incongruous with our fine dining experience.  But that idiosyncrasy still couldn't eclipse the enjoyment of our meal.
What thrilled me most about discovering the Palm Beach Gardens Marriott's BlueFire Grille was the fact that now I've not only discovered a good hotel restaurant, but I've discovered a new great restaurant. Period. And because I come back to South Florida so frequently, I'll be able to come back regularly to the BlueFire Grill, even if my travels don't include an overnight stay at the hotel itself.
If you live in Palm Beach County, you nave NO excuse not to check out this hidden gem, because I have a feeling it won't be hidden much longer…