This post may contain affiliate links, which means we may receive a small commission when you make a purchase at NO additional cost to you. Thank you for supporting our site in this way!
On our recent trip to East Tennessee, we really planned on laying low and lounging around water parks.
But every trip, our kids beg to check out all the Ripley's attractions in Gatlinburg, so before they got too tired from all their fun in the sun, we headed into downtown Gatlinburg to experience as much of Ripley's in one night as possible.
In fact, that was probably one of the things I liked best about the Ripley's Gatlinburg attractions: If you park by traffic light six in Gatlinburg, you're easily within walking distance of their major attractions, including the aquarium. (Though you'll want more time for the aquarium than the others).
We started out at the Ripley's 5-D Theater, which showed two different movies that were about five minutes each.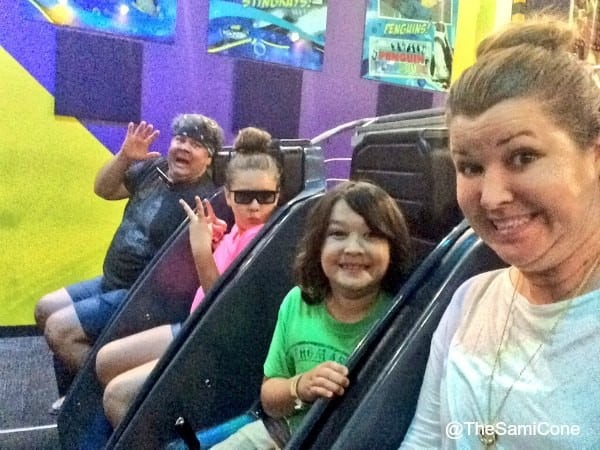 After our stint at Ripley's Moving 5D theater, we headed down the road to Ripley's Odditorium (we took a pass on the Haunted Adventure…).
From the outside, I can't say I wanted to head in; it seemed filled with freaks of nature and, frankly, other things I wasn't sure I wanted my kids focusing their time and attention on. But from the moment we entered, we became enthralled with each and every story we read about, from the tallest man…
to incredible moments of history, like this original piece of the Berlin Wall (which made the trip for me!):
Honestly, I learned more about our world and its history than silly sideline stories like I thought the Odditorium would house.
There were also mind bending puzzles like this one…what do you think: crooked or straight?
the answer is…
STRAIGHT!
And of course, we managed to find a few corners to be silly in ourselves.
Our next stop was to the Guinness World Records Museum.
As you'd expect, it was filled with amazing people, places and events, but even more than that, it opened our minds to potential records that we could set!
In fact, I think they may have even found all these buttons in my daughter's room 😉
And this Chicago girl couldn't pass up taking a picture of our hometown sports icon, Michael Jordan: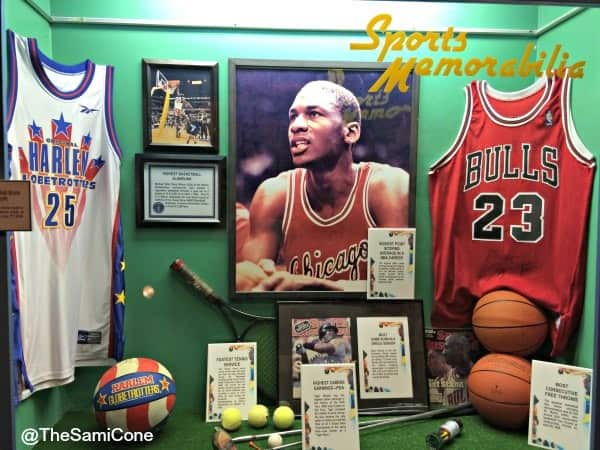 From there we went to the mirror maze and didn't take any pictures because, well, it was just a lot of mirrors. But seriously, I was more freaked out about getting out alive than I was with taking pictures. Luckily, nothing jumped out at me from behind a corner and it was fun for us to do as a family. Plus, we could have done it over and over again if we hadn't arrived there right before they closed.

All in all, we took in four Ripley's attractions within walking distance in one night in Gatlinburg.
Unfortunately, we missed going to Ripley's Aquarium of the Smokies on this trip. We planned to go on Sunday before heading home, but we threatened that we wouldn't go if they misbehaved, and unfortunately we had one of those "I'm going to pull this car over on the side of the road moments" (actually, it was into the parking lot of one of the many Flapjack restaurants you find in the area, but it was memorable nonetheless)…thus causing us to turn the minivan around and head back to Nashville earlier than we'd anticipated. Lesson learned.
To sum up, I highly recommend taking advantage of the plus pass because for not much more than the cost of one of the major attractions, you can see multiple.
For example, the Mirror Maze and the 5D Moving Theater are fun, but didn't last long and in my opinion are not worth the price on their own.
But when you combine them with the pass along with the Aquarium ticket, it is well worth it. We also had hoped to take advantage of the mini-golf (they have two locations in the Pigeon Forge/Gatlinburg area), but alas, we ran out of time.

So the next time you find yourself in the Gatlinburg area, especially in the heat of summer or the chill of winter, consider the Ripley's Attractions Combo ticket to not just pass the time, but enhance your family's sense of fun, adventure and yes, even education.
Want to skip the line? Buy your Ripley's tickets online and save big!
Ripley's Gatlinburg Ticket Deals
Save 36% Off Ripley's Believe It or Not! Attractions Combo Tickets in Gatlinburg, TN. BUY NOW!
Save $4 off purchase of Ripley's Aquarium of the Smokies Visit in Gatlinburg, TN. BUY NOW!
Disclosure: Ripley's provided passes for our family to experience these attractions, but all opinions are my own. We would definitely take advantage of the Ripley's Combo ticket again in the future! Also, if you click on the Ripley's links in this email, know that they are affiliate links, meaning at no cost to you, I will make a small percentage of any sale that is made when purchased through these links. Thank you for supporting this site so I can keep brining you great deals like these!