This post may contain affiliate links, which means we may receive a small commission when you make a purchase at NO additional cost to you. Thank you for supporting our site in this way!
I'm always sharing ways to save money at Macy's here on SamiCone.com, but do you know how to save big at Macy's, even without a sale?
You might be thinking, "but Sami, Macy's always seems to be having a great sale", to which I would say, "you're right!". But sometimes there are days when there isn't a sale going on at Macy's and you simply need to shop NOW. Well, here's your answer: if you sign up for Macy's emails, you will get great savings!
By providing a few details to Macy's via their email signup form, you'll receive the following benefits:
Get 25% off your first order after you sign up for their emails.
Be the first to know about upcoming sales, promotions and events.
All you need to do is sign up here.
Why is this so important? Not only will you be the first to know about sales once you sign up for Macy's emails, but you'll receive a very special email providing you a code for 25% off your first online order.
If you're a Macy's shopper, you know many of their sales will save you 15-20% off your cart, so this is even bigger than that. In addition, this is a great time to buy those pieces you've been coveting, but rarely go on sale.
For example, I have a hard time buying new clothes for myself, especially ones that are on-trend, ahead of the trend, like this top from Free People: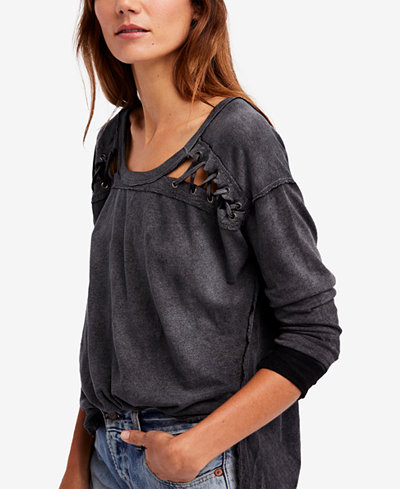 The Free People First Love Lace-Up Top is everything I've been looking for in a top: interesting detail without being too busy, while coming in four colors that can go with just about anything. Just when you were thinking, "I can't afford to buy a Free People top", think again.
Regularly $68, it's on sale for just $26.99 today during the Macy's One Day Sale – and then imagine if you had your Macy's email discount code to use on top of that!
But don't forget: to get the additional discount, you HAVE to sign up for Macy's emails.