This post may contain affiliate links, which means we may receive a small commission when you make a purchase at NO additional cost to you. Thank you for supporting our site in this way!
As if we didn't like Sofia the first enough already, now she has one of my favorite princesses joining her for an unforgettable under the sea adventure this Sunday night.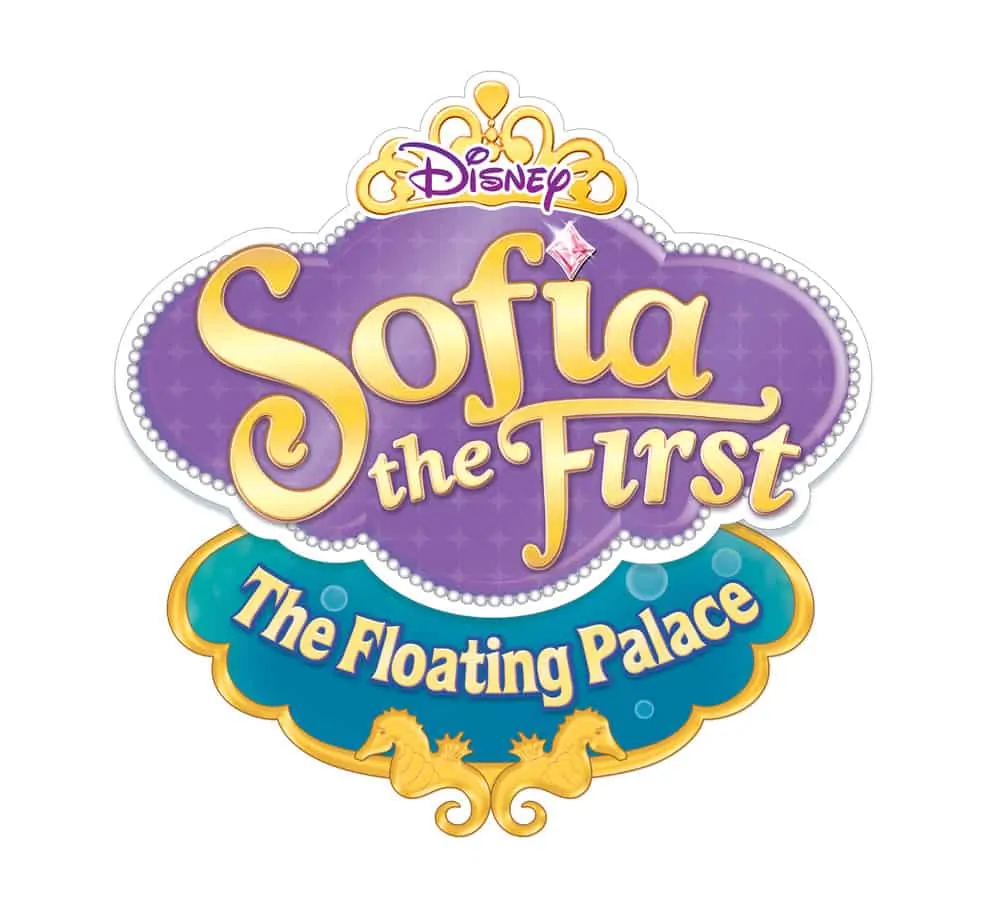 Filled with plenty of references to the original Little Mermaid movie, this PrimeTime episode of "Sofia the First: The Floating Palace" merges everything we already love about Ariel with the new charm Sofia brings to the scene.
My kids kept shouting out things like, "Mom, those are the fish from the Little Mermaid" or "That seahorse could be Sebastian's brother!". Obviously, no detail is too small for the folks at Disney…
For those of you who are already fans of Sofia the First, you know that Sofia becomes a princess when her mother marries the king. But just because she is a princess now, doesn't mean she knows how to be a princess.
Her new father, King Roland, gifts her with an amulet and whenever she finds herself in a sticky situation, one of her princess friends appears to help her out.
In this very special episode, "Sofia the First: The Floating Palace" takes Sofia and her family on an extraordinary journey to Merriway Cove, where Sofia meets a young mermaid named Oona. After helping Oona untangle her fin from a net, Sofia's magical amulet transforms her into a mermaid too, allowing her to explore the underwater world with her new friend. During their adventure, Sofia learns that mermaids mistrust humans and are angry that her family's floating palace is in their cove. When Oona is captured by a horrible sea monster, Sofia – with a little help from Princess Ariel – must find a way to save her and create harmony between their two worlds.
While any Sofia movie is a special event, this one hour prime special features our family's favorite princess, Ariel, voiced by the incomparable Jodi Benson.
Jodi not only voices Ariel, the mermaid princess whose voice she first gave life to almost 30 years ago, but she also voices Queen Emmeline in the episode too.
I had the opportunity to chat with Jodi, who, like me, is the mother of two children of her own.
Of course, I had to start off by asking Jodi some hard-hitting questions about this Sofia PrimeTime feature, like how Ariel is able to return back to her mermaid state ("just like Sofia, she has the power to transform between her mermaid tail and land legs at will") and confess my annoyance at the fact that an evil character like Cedric keeps reappearing in every episode ("it keeps the tension in the air, which keeps the boys intrigued").
And when I asked Jodi how she kept the voice of Ariel alive and consistent all these years, her answer was quick and simple:
"It's who I am-Ariel is me. For 28 years I've been living Ariel; it's never far from me."
But perhaps the most poignant moment for me was how Jodi we are face into every aspect of you she is and what she does. In fact, her very first words when we started our interview together spoke volumes:
"This has been an incredible God journey for 28 years…"
"The older I get, the simpler my life gets," Jodi went on to say, "as a Christ follower, it's a living, eating and breathing. I need to give credit to God and glory to Christ. We're called to be light and salt. What I do for a living is my ministry…I need to represent my Jesus well."
And represent she does.
I'm also thrilled to let you know that Jodi (as Ariel) sings a powerful and beautiful duet with Sofia called "The Love We Share" which speaks about being devoted to family. Believe it or not, I even took notes on the song as they sang it because I didn't want to forget the message it was sharing. Listen to just a few of the lines:
"Joining together is the key…the love we share can set them free… (let's)learn to work in harmony"
Of course, my absolute favorite line (as a mom) came when Queen Emmeline wisely instructed her kingdom in patience, saying "Everyone must be given the chance to do the right thing."
If your little princes and princesses simply can't wait any longer to catch a glimpse of this Sofia special, here's a video trailer they can watch:

You can watch Sofia and her family take to the high seas for this first-ever "Sofia the First" primetime special, "Sofia the First: The Floating Palace," when it premiers SUNDAY, NOVEMBER 24 (7:00 p.m., ET/PT) on Disney Channel and THURSDAY, NOVEMBER 28 (7:00 p.m., ET/PT) on the 24-hour Disney Junior channel.