This post may contain affiliate links, which means we may receive a small commission when you make a purchase at NO additional cost to you. Thank you for supporting our site in this way!
Watch the Talk of the Town video from the May 10 show: Double Duty Kitchen Items

Are you joining me after seeing my segment on Double Duty Kitchen Items on Talk of the Town today? 
Don't worry if you missed any of the tips. I've got all the details for you right here!

Multiple Use Household Objects – KITCHEN EDITION
Not only are there objects that you can use in multiple ways around your home, but there are ways for you to maximize your time in the kitchen by stretching your food dollar further!
DOUBLE DUTY KITCHEN ITEMS TO USE AROUND THE HOUSE

Cookie Sheet
-as car tray to play with magnets or draw on. OR
-boot/mud collector for front hallway
Ice Cube Tray
-earing organizer
-candy mold
Egg Carton
-to sort objects like pins, beads, Legos, craft items
Coffee Filter
-Window/Glass Cleaner
Aluminum Foil
-Scrubber for the grill
-Fold into a funnel
KITCHEN OBJECTS WITH DOUBLE DUTY KITCHEN USE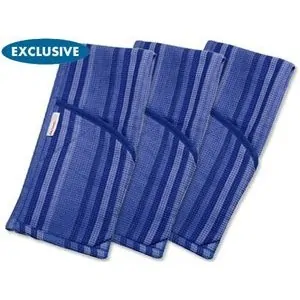 The Rachael Ray Moppine Oven Mitts
that Lelan modeled for you on air today are fantastic- a pot holder and a kitchen towel all in one!
*I love anything you can cook and then use for multiple meals, like roasting a chicken for dinner then using the bones for stock, which leads into the next tip….
Muffin Tin
-freeze stock (1/2 cup) – then you can use these pre-measured stock cups in other recipes like rice, sauces, etc…
Use a bundt pan to roast a chicken in
Unwaxed dental floss to tie roasts/chickens
Rachael Ray pot holder/kitchen towel all in one
Use Dried Beans or Rice to weigh down pie crust
FOIL! To keep the bottom of oven clean, protect a pie crust when you bake, and of course, the uses above…
Coffee Filter & Strainer
-strain yogurt to make greek yogurt
Watch my other Talk of the Town segments to find some other great tips too!