This post may contain affiliate links, which means we may receive a small commission when you make a purchase at NO additional cost to you. Thank you for supporting our site in this way!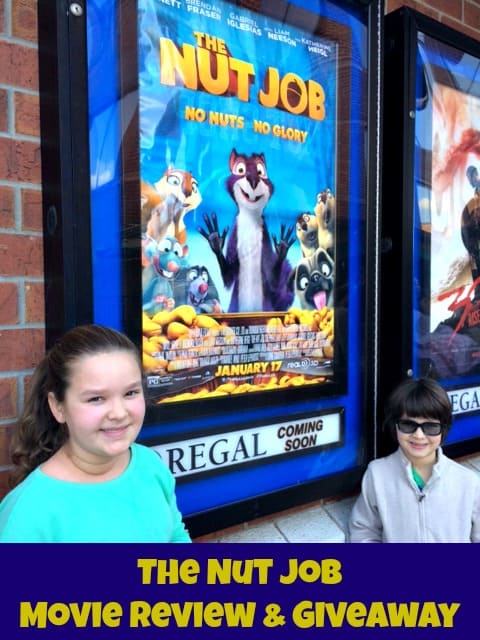 If you're looking for a movie review of The Nut Job, who better to ask then someone the movie is targeted towards, a 7 year old boy?
Here are my son's thoughts immediately after seeing a preview of The Nut Job this past weekend:

Well, you heard it from him: was it his favorite film? No.
Did he thoroughly enjoy it? Yes.
Was it the funniest movie he'd ever seen? No.
Did he think it had a great story? Yes.
I'll admit, there weren't as many 'laugh out loud' moments for me in the film (lucky for those seeing #TheNutJob with me!) and I do think the story was a little more intricate than your typical animated film.
Actually, the funniest moment for me was when I got to listen in on a mom blogger hangout with the star voices of the film, Katherine Heigl and Will Arnett, both parents themselves.
When Will was asked if his kids knew he was 'doing voices', he responded with, "Sure, they've heard me talk…especially the word 'NO', they've heard that one a lot".
Good to know his sense of humor transcends genres…
Katherine gave a more predictable, but also an equally more touching answer when responding to why she took on this role: "I wanted to be a part of something I could share with my kids."
If you decide The Nut Job is a movie you want to share with your kids, I want to help make that experience even more fun for you!
2 of you will win the following "The Nut Job" prize packs:
Nut Job coloring puzzle shrink wrapped with set of crayons (4 pack)
Peanut shaped adhesive note pad
Foldable lunch tote
Purple acorn shaped pen
Character sticker set
Poster
T-shirt
Hurry and enter via Rafflecopter below because the giveaway ends when The Nut Job opens in theaters: January 17, 2014!
Good luck and don't forget to leave a comment below!
Disclosure: These prize packs were offered to me by Mammoth Advertising to give away to you