This post may contain affiliate links, which means we may receive a small commission when you make a purchase at NO additional cost to you. Thank you for supporting our site in this way!
Me and the kids had a beautifully simple weekend where we got to stay home (for the most part) and do some things we've been wanting to do for a while, including baking, organizing and even some crafting.
We made so many great memories and captured some special images, so I wanted to share them here with you.
If you follow me on Twitter & Instagram, then you most likely already know that we headed to Birmingham on Thursday & Friday for the kids' Fall Break and to try out #DsNewLook.
Of course, we couldn't leave Birmingham without visiting the McWane Science Center and it did not disappoint.
On Saturday, the kids' had uniform fittings for basketball which they'll be trying for the first time through our local Parks & Rec center (for real – it's not just a comedy on NBC…). But since it was a rainy day, we thought it the perfect time to come home to bake and cook a few things we've been wanting to try our hands at for some time, including this eMeals Beef & Onion Quiche (which Kariss made almost entirely by herself)…
…and a French Silk Pie recipe that was supposed to be a copycat of my favorite from Bakers Square and came pretty darn close, especially considering my 8 year old son did the majority of the work on this…
After we cleaned off the countertops, the kids' designed their own t-shirts (using Hanes t-shirts & Crayola Fabric Markers we received when hosting our #DisneySide party earlier this year).
We debated just free-handing some designs, but then we thoughts of printing out some Pokemon characters and tracing it through the shirts. They turned out great, don't you think?!
Since daddy is still out of town, the kids get to sleep in our big bed on Saturday nights and Kariss treated me to some spa time, including her doing a double French braid in my hair…
Then the kiddos clowned around on my bed (and took some selfies to prove it) while I braided K's hair…
This morning, after watching Pastor Tom preach for the first time in six months at our home church in FL (@GoChristFellowship @CFimpact), I spent a couple hours re-organizing the kitchen and my work-space in it – PHEW!
From there, it was on to the Nashville Ballet for K's Nutcracker rehearsal and official cast photos (keep an eye out for her in the newspaper soon if you live in Williamson County) – you can also see the finished version of her Pokemon shirt, complete with the fringe she knotted herself…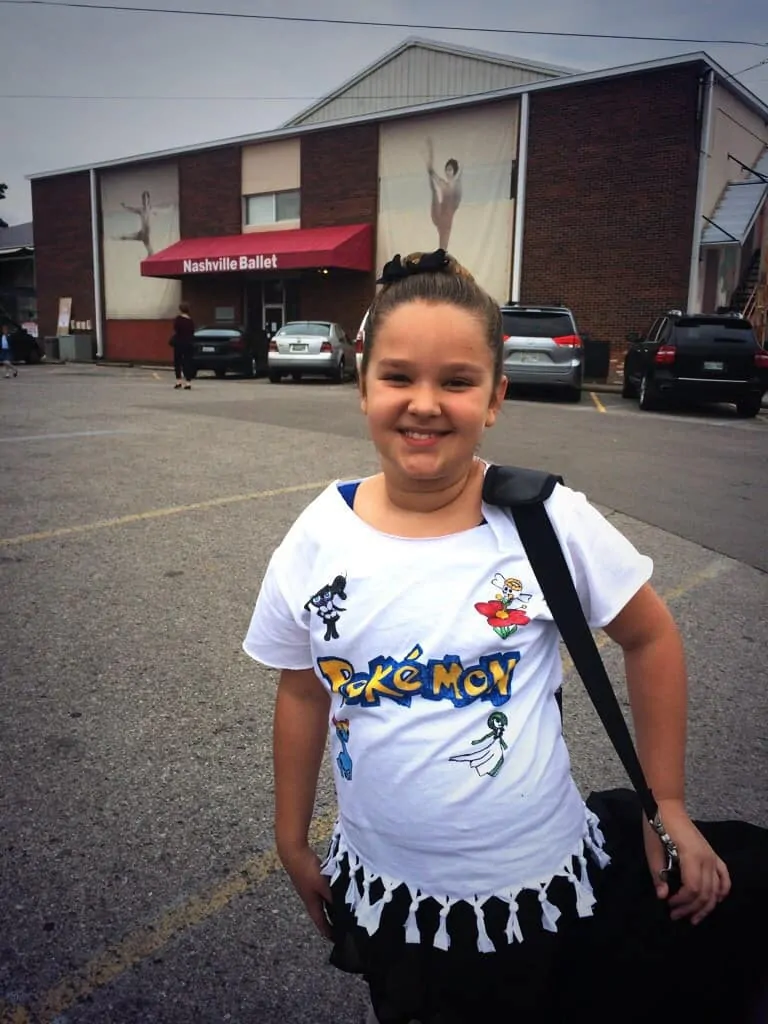 Since we missed Crosspoint's 4:30pm service we've been going to lately because of Nutcracker, the kids and I headed to their late service at 6:30 instead. It was the final message in the #Freeway series we've been doing and the entire series has been AMAZING! Justin Davis preached tonight and shared a great quote from Brennan Manning's Abba's Child (which is now on my MUST READ list), as well as some amazing truths, including,
"What if God wants to leverage your past to help others find freedom?" :
I also love the idea Justin shared at the end of service about making this our iPhone's lock screen image, so whenever we open our phone, we'll be reminded to give God our ENTIRE story to help someone else and ultimately, find Freedom for ourselves.
After service, we found ourselves in the midst of a fiesta, complete with Chuy's chips and even pinatas…
In case you ever want to join us for a Crosspoint service, just look for this sign off the highway on Sunday mornings at 9:30 or 11:30, or for one of the Sunday evening services at 4:30 or 6:30pm here in Nashville.
What about you? What was one of the highlights of your weekend?