This post may contain affiliate links, which means we may receive a small commission when you make a purchase at NO additional cost to you. Thank you for supporting our site in this way!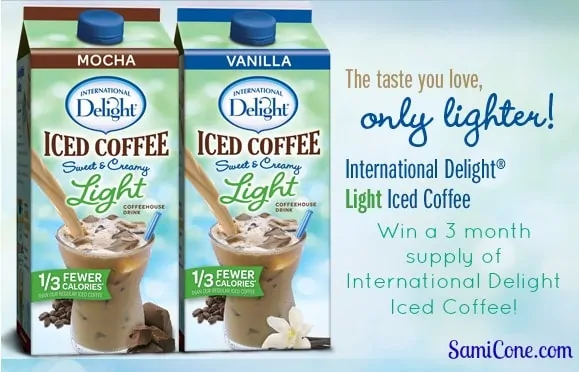 Attention all coffee lovers – you've come to the right place!
Yes ma'am…you heard correctly: I'm giving away a 3 Month Supply of International Delight Iced Coffee!
If you caught my Healthy Indulgence on a Dime segment on Fox TN Mornings this month, than you already know that while I don't drink coffee personally, I've found one way for the 99.9% of you who love iced coffee to save on your budget and our waistline: the new International Delight Light Iced Coffee flavors.
This year, International Delight has introduced Vanilla & Mocha Light Iced Coffee into the mix. That means that for only about 100 calories per cup and 1/3 the price you'd pay at your favorite coffee shop, you can get your coffee kick at home.
What's even more fun is that it's great in recipes too. Here are just a few of my favorites I found from snooping around the International Delight Pinterest page…
But what's even more my speed is the International Delight Iced Coffee Pinterest Board Games: you can play games AND win money-saving coupons…is there anything better than that?
Truly, I feel like I'm giving all of you a gift right now. Even though I'm not a coffee drinker, I've gone out and done the research, road-tested the competition, and found you the best product at the best price that's the easiest to get into your home.
Just call me a coffee philanthropist.
But wait! I've got another gift for you…
One lucky SamiCone.com reader will win a 3 month supply of International Delight Iced Coffee. Don't worry, a truck won't pull up in your driveway to fill up your fridge with half-gallons. Better yet, we'll send you enough coupons for you to pick your favorite flavor every week for 12 weeks.
UPDATE: Congratulations to Yamilet C.- winner of the 3 month supply of International Delight Iced Coffee!
a Rafflecopter giveaway

Good Luck! I can't wait to hear how you use your 3 month supply of International Delight Iced Coffee to carry you through into summer 😉