This post may contain affiliate links, which means we may receive a small commission when you make a purchase at NO additional cost to you. Thank you for supporting our site in this way!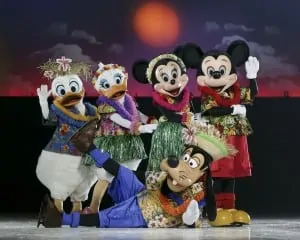 First off, I have to send out a HUGE thank you to Jaclyn and the entire team at Feld Entertainment for generously allowing us to attend Thursday night's performance of Disney on Ice – Celebrations! We were blown away with the rinkside seats and even more blown away by the performance.
After recently moving to Nashville from Florida, I have to admit, I was a bit sceptical. After all, in my world, if it doens't happen at Disney World, it's not really Disney. Boy was I wrong! We witnessed a true production tonight – and I mean that in the best sense possible. Right from the start, the stars poured onto the ice, literally. There was a cavalcade of every Disney star you could possibly hope to see. Even though we had AMAZING seats, I honestly would have been happy with any seat in the house (they curtained off the entire top rows of the auditorium, so every seat was essentially a lower level seat). The performers were both very true to character whilel also being amazing skaters. And you should have heard the place erupt when Mickey and Minnie emerged! There is nothing more priceless to me than seeing my kids reactions as their favorite characters danced, sang, skated and interacted with them right before their eyes.
While I'll always be a die-hard Disney World fan, this experience definitely gave us the dose of Disney we needed that we've been missing since moving from Florida. If you haven't bought your tickets yet, check out my post HERE to find out when and how you can see this show too. Feld Entertainment certainly knocked it out of the park with this one! I love that their motto is "Creating Lifelong Memories…One Act at a Time". That's truly what this site is all about – helping people to save money where they normally spend it so that they can free up time and money and use it to create family memories that will last a lifetime.

This was a night we won't soon forget, and whether you make it to the show or not, I pray you take this weekend to make some of your own memories!