This post may contain affiliate links, which means we may receive a small commission when you make a purchase at NO additional cost to you. Thank you for supporting our site in this way!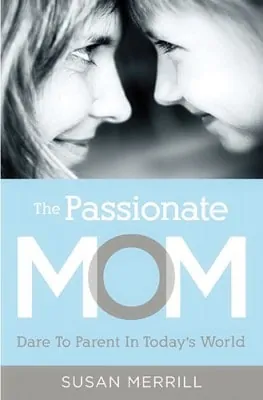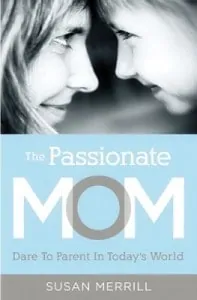 One of the first pieces of advice I give parents-to-be is this: Don't read any parenting books!
But The Passionate Mom by Susan Merrill (director of iMom.com) is a parenting book worth reading…which is why I'm thrilled Susan offered me a chance to both review this book and offer a copy to giveaway to one of you!
Our parenting journey is just that…OUR journey. Which is why I usually tell new parents to stay away from all the 'parenting manuals' out there. While there are some fabulous reads, often they become a source of guilt and distraction rather than what they are meant to be, a source of help navigating one of the most important jobs most of us will ever have.
However, The Passionate Mom is much more than a manual; it is a thoughtful roadmap for how a passionate mom can parent almost any child…confidently.
And that is a key word, not only when it comes to parenting, but for life in general: confidence.
In fact, I was just listening to an old sermon from my Florida pastor, Dr. Tom Mullins, based on his book called The Confidence Factor. He mentioned an anonymous quote that stuck with me, "Confidence and courage come through preparation and practice."
Did you hear that?
Parenting is not about perfection. This resonated greatly as I read a similar comment from Susan, "No mom can control her child's future, but every mom can parent well."
Just because we cannot control does not mean we cannot plan, prepare and practice. And I think no-one would be more surprised than Susan herself that she uncovered a parenting plan encompassing these principles based on the Old Testament book of Nehemiah.
In fact, Susan discovered a pattern of "P's" in Nehemiah that provide the overall foundation for her book. I love how she showcases them right in the introduction of her book:
(Nehemiah) perceived the situation, he pondered every task, he was driven with passion to search for solutions, he prayed for direction, he patiently waited for opportunities, he methodically prepared to take action, he maintained his purpose, he developed the plan and he persevered through problems to the end.
The Passionate Mom, written by a mom of five, is such a worthwhile investment of your time, that I asked Thomas Nelson if I could give a copy away, and they agreed. So please take the time to enter to win a copy below or better yet, support my friend Susan and buy a copy from ThomasNelson.com right now! (You'll also save 20% off when you click the link I provided).
Congratulations to Lindsey S. for winning a copy of The Passionate Mom!
a Rafflecopter giveaway

Good luck and make sure to check back every day this week for more fabulous titles during Book Week 2013!