This post may contain affiliate links, which means we may receive a small commission when you make a purchase at NO additional cost to you. Thank you for supporting our site in this way!
If you're looking for a Chicago hotel experience that takes your daughter and her doll into the utmost consideration, consider checking out the American Girl® Place Package at Omni Hotel Chicago.
On our recent "Luxury for Less" Chicago Road Trip, I wanted to introduce my children to some of the most special areas of my hometown, but I didn't want to walk all over the city to do so.
Knowing that we were going to be spending time at the American Girl Place at Chicago's famous Water Tower Place and that I would be alone with the kids, I wanted to ensure we stayed somewhere close by that would also extend their experiences beyond the store.
So I was thrilled to discover that American Girl already thought of this for me and partnered with some of Chicago's fines hotels, like the Omni Hotel Chicago, to deliver their American Girl Place package.
From the minute we pulled up just off of Michigan Avenue (and just a few short blocks from the American Girl Place), me AND my kids were treated like royalty, being greeted with kids' activity backpacks and a selection of fresh, cold beverages…the perfect antidote to the Chicago summer sun!
We didn't have long to spend in our room before heading off to our American Girl adventure, but we were there long enough to discover for ourselves that the Omni Hotel Chicago is the Magnificent Mile's only all-suite, all-plasma screen tv hotel that has also been named to Travel + Leisure's list of top family hotels.
And it's not hard to see why. Just take a look at these elegant yet classic rooms: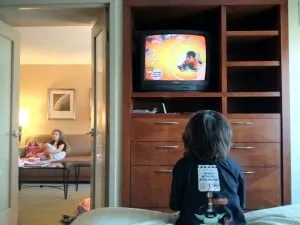 I love that Kariss could be playing with her dolls in the sitting room while her brother could enjoy the flat-screen in the bedroom…and not bother each other!
And speaking of playing with her dolls, look at what greeted her as soon as we walked in!
Every girl receives their very own American Girl bed, outfit & book…to keep! For my daughter who didn't even yet have an American Girl of her own, this was such a special introduction!
And of course, we all LOVED the view!
I also loved that even though we got back from our American Girl Chicago River cruise past bedtime, we didn't have far to walk back to the Omni Hotel…and you won't believe what awaited us when we got there:

I had mentioned to the concierge before leaving for the day that we were at their hotel celebrating my daughter's & my birthday…and would it be possible to have a card or a cookie for her once we got home. I couldn't believe all the trouble they went through to make our double birthday celebration extra special!!!
But what was even more special was the personalized note & turn down service that Kariss received:

Of course, what I didn't realize was that everyone who partakes in the Omni Hotel Chicago American Girl Package receives the special candy display 😉 In fact, take a look at all the Omni Hotel Chicago AMerican Girl package includes:
Welcome card at check-in for the girl
American Girl® Doll-Size Travel Bed(s) to take home
American Girl® Pajama set for dolls including slippers for the girl to keep
American Girl® book to read at bedtime
Sugar and Sweet All-American Candy Display on night of arrival
$50 USD food and beverage voucher for the Omni Chicago Hotel per day
Voucher valid through room service or in 676 Restaurant
Cookies and milk with turndown service on night of arrival
Valet parking for one car per night
Entry into the quarterly drawing to win an American Girl® Doll (choice of doll not available)
Did you see the part about the food & beverage voucher? We chose to use ours for their fabulous (& that's an understatement) breakfast buffet. With their combination of homemade jellies, locally grown produce, organic options and even a table just for kids, I would return to the city just to eat here!
They even had special booster seats for the American Girl dolls!

And to think that these packages start at just $279 a night, even this frugal girl can't find fault with the experience you receive for the value!
My only critique would be that the first impression when you walk in to your suite is a bit bland. When you consider the detail that has gone in to the rest of the room, not to mention the entire hotel, I wish there was a bit more pizazz in the parlor, but I suppose they didn't want to take away from the amazing Chicago skyline 😉
But don't let that tiny insight dissuade you. My family didn't want to leave our little piece of heaven just off of Michigan Avenue. We're already plotting a trip back before Christmas when I believe the hotel and surrounding area would be even more magical!
Check out this link if you want more information on planning an American Girl getaway of your own at the Omni Chicago!
Disclosure: Our family received this package as a guest of the Omni Hotel Chicago in exchange for our honest review of the experience…and we would gladly do it again!