This post may contain affiliate links, which means we may receive a small commission when you make a purchase at NO additional cost to you. Thank you for supporting our site in this way!
Looking for the latest Banana Republic Outlet coupon for January 2023? I'm always on the lookout for the newest Banana Republic Outlet coupons for you.
Printable Banana Republic Outlet Coupon January 2023
Also, take an extra 10% off your purchase when you use your Gap Inc. card and the code BRCARD. This deal is good online and in stores. All you need to do is enter the code at checkout, printout the barcode, or show it to the cashier on your smart phone at checkout.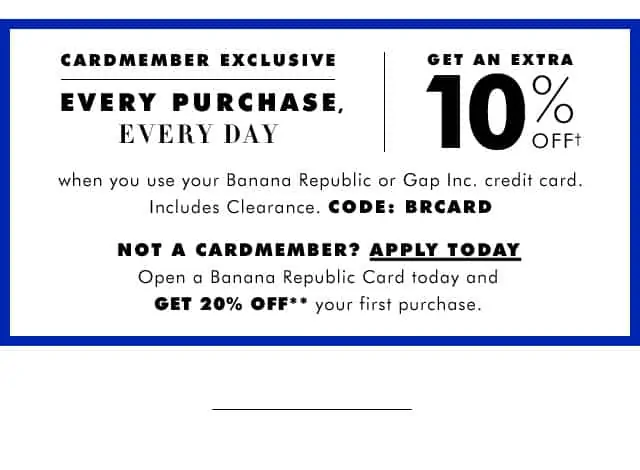 The Banana Republic Outlet still remains one of my favorite places to update my wardrobe (which is why I try to post their latest coupons on here for you!).
If there is a current Banana Republic Outlet coupon, you'll find details below. In fact, at the very bottom of this post, I have a printable Banana Republic Outlet coupon that's good through the end of 2020! So if the current Banana Republic Factory Store promotion isn't that exciting, you can always use the coupon below
Regardless of whether or not you have a Banana Republic Outlet coupon to use, try to at least wait to shop there until they have one of their "additional 30% off clearance" sales. They typically happen at least once per quarter and that's when you're going to find the best deals, hands down!
Banana Republic Outlet Coupon January 2023 Details
Where: At Banana Republic Factory Store
(Don't forget, you can show this on your smartphone too!)
…and thanks to my friends at the Banana Republic Factory Store in Nashville, I have a printable Banana Republic Outlet coupon good through the end of 2023!
In full disclosure, if you shop through the links on this site, I will make a (very) small commission, but it helps support me in continuing to find great deals like these for you. Thanks!
Like this coupon? You'll want to grab my Gap Outlet printable coupon too!