This post may contain affiliate links, which means we may receive a small commission when you make a purchase at NO additional cost to you. Thank you for supporting our site in this way!
Believe it or not, I have the exact corn ribs recipe (with BBQ Rub) from Opryland's Jack Daniel's restaurant.
There are so many incredible restaurants to enjoy at Gaylord Opryland Resort. One of my favorite restaurants at Opryland Resort is Jack Daniel's Restaurant and Bar.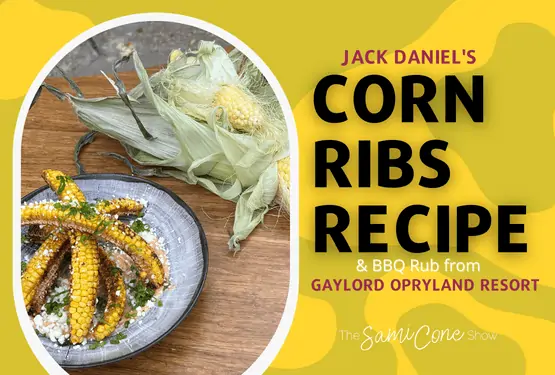 Not only did this perennial favorite update their menu recently, I'm about to share one of their most popular recipes with you today. Let's get grilling!
Corn Ribs Recipe from Opryland
Don't let the name fool you, the Corn Ribs recipe from Opryland is vegetarian. While you can't beat the experience of eating at Jack Daniel's Restaurant, these can be replicated at home.
Corn Ribs Recipe BBQ Rub from Opryland Jack Daniel's Restaurant
I'll put the recipe for the BBQ rub and aioli below, but here is how you prepare the corn ribs themselves:
Ingredients:
1 Ear of Corn, Pre-Boiled
1/4 cup BBQ Rub (recipe below)
Smoked BBQ Aioli
Cotija Cheese
Green Onions to Garnish
Directions:
Cut corn into 8 pieces by quartering the corn lengthwise and then cutting each quarter in half.
Using a fryer or a pot or oil at 350 degrees, fry corn riblets until they begin to curl up like a rib (about 90 seconds)
Remove from fryer and immediately toss in a bowl with BBQ rub
Place BBQ aioli on bottom of plate (can also drizzle on top)
Layer Corn ribs on top of each other on plate and top with cheese and green onions
I can't tell you how insanely flavorful these corn ribs taste. One ear of corn makes four ribs, but I can guarantee they won't last long.
Opryland BBQ Rub Recipe
You may remember when Chef Michael Coyle came on my show to demonstrate their famous Lobster Roll Dip recipe. At the time, he told us we needed to use a BBQ rub, but wouldn't share their Opryland BBQ rub recipe.
Fast forward to today and I'm delighted to say I now have their famous recipe and I'm sharing it with YOU.
BBQ Rub Recipe
Ingredients:
1/3 Cup Sugar
1 Tbsp. Chili Powder
1 Tbsp. Ancho Chili Powder
1.5 Tbsp. Cumin
1 Tsp. Mustard Powder
1 Tbsp. Salt
1 Tbsp. Celery Seed
2 Tbsp. Onion Powder
1/4 Cup Coriander
1 Fennel Seed
1 Tsp. Black Pepper
1 Tbsp. Garlic Powder
Directions:
Mix all ingredients together until well combined.
(May adjust sugar level according to preference)
BBQ Aioli Recipe
I'm not normally a mayo fan, but the aioli on top of these corn ribs truly makes it what it is. This BBQ Aioli Recipe is so simple
Ingredients:
1 Qt. Mayo
1/4 Tbsp. Smoked Paprika
1 Tbsp. Apple Cider vinegar
1/4 Cup BBQ rub (recipe above)
Directions:
Mix all ingredients together until well combined
If you want a deeper or sweeter smoky flavor, grab some garlic. Toss cloves of garlic and pieces of shallots in sugar. Place in smoker until soft and blend in food processor. Add 1 tbsp. of the smoked mixture to the rest of the ingredients.
Make Corn Ribs Without Air Fryer
Now you know how to make corn ribs without an air fryer. Obviously air fryer corn ribs would be healthier than cooking them in oil in a cast iron skillet. But just like every viral TikTok recipe, there's more than one way to make it.
How to Eat Corn Ribs
I can't believe there's even a question about how to eat corn ribs! Corn Ribs solve an age-old question about how to eat corn.
For years, people have debated about whether to eat corn right off the cob or cut the kernels. But when you eat off the cob, it gets stuck in your teeth. If you cut the corn kernels, you miss the satisfaction of biting into the juicy, buttery goodness.
With this recipe, you can delight in picking up your corn without hurting your teeth in the process.
Where Else You Can Use this BBQ Rub Recipe
Make sure you reference this bbq rub recipe when making the Opryland Lobster Roll Dip. At the time, the Opryland Chef wouldn't divulge his secret. It turns out, making it a little sweet is the key.
This BBQ rub works great on regular ribs too. I haven't tried it on chicken yet, but that would be delicious too.
Just curious, do you use both a dry bbq rub AND bbq sauce when you cook barbecue? Or is that a no-no? To me, the more the better!