This post may contain affiliate links, which means we may receive a small commission when you make a purchase at NO additional cost to you. Thank you for supporting our site in this way!
Before one of my closest friends (who currently lives in Atlanta) moved back to Florida this month we wanted to get together for some Chattanooga Summer fun!
Chattanooga has always been the perfect family-friendly meet up location for us since it is just about two hours from both Nashville and Atlanta.
Of course, it doesn't hurt that they have great family-friendly activities, dining, and cultural institutions.
And for the summer of 2014, some of those favorite spots like the Creative Discovery Museum and the Tennessee Aquarium had new exhibits that we didn't want to miss!
In fact, there was so much we wanted to do that we knew we couldn't pack it all into just one day, so we decided to spend the night at the Chattanooga Doubletree situated within walking distance to every venue we wanted to visit.
Just take a look at all that we packed in:
Chattanooga Summer Fun 2014
Creative Discovery Museum
With five kids between the ages of two and 10 between us, this has always been the perfect spot to meet up and make everyone happy. There are so many different hands on activities for the kids to enjoy all the adults can choose their join in or sit back and catch up. You'll find everything from waterplay to dinosaur bone excavation and even a rooftop park.
I was a little concerned that my kids were getting too old for this creative discovery museum, but just listen to what they had to say when I asked that question:

During summer 2014, guests to the Creative Discovery Museum can also enjoy the Wizard of Oz exhibit at no extra cost.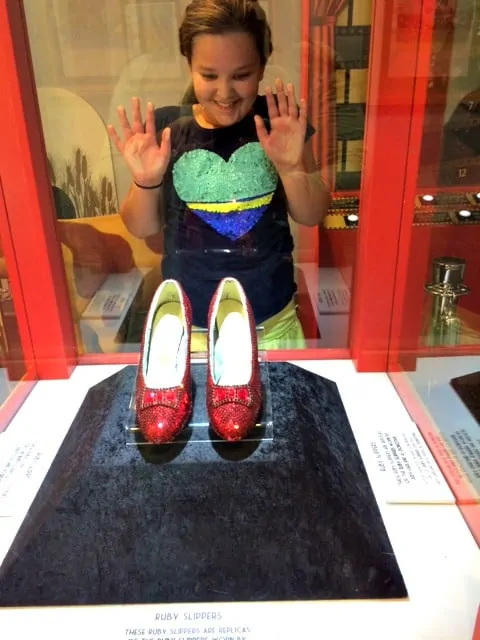 Kids can see a replica of Dorothy's ruby slippers, transform their voices to sound like a Munchkin, climb the castle wall, build a rainbow, tour the Gale's farmhouse and more!
High Point Climbing
At the recommendation of our friend Thom the Tennessee aquarium, we checked the new high point climbing just two blocks away. With indoor and outdoor climbing walls, as well as the gym and fitness studio, High Point Climbing seemed to have it all. However, with just me and my two kids, I wasn't sure just how much of the facility that we would be able to take advantage of as first time climbers.
What I thought was just going to be a quick trip to say we could check it off on our bucket list turn into a place we didn't want to leave. I even convinced my kids to climb outside overlooking Broad Street and the Tennessee Aquarium! (You can read our full High Point Climbing review here).
IMAX theater
I am not one who typically turns on the Nature, History or Discovery Channels, but the IMAX theater intrigues me every time. There's just something about the six story screen, combined with the beautiful 3-D images, that never fails to impress my family. I love how they always find a way to employ beautiful imagery with touching stories…and the 45 minute duration is the perfect amount of time to develop those stories while still keeping my kids' attention.
This trip, we watched "Journey to the South Pacific 3D" at the recommendation of several people and I'm glad we followed their advice. It followed the journey of a young boy in a remote island who was picked to learn more about the ocean in a summer program so he could bring that knowledge back to his village and help sustain the ecosystem. Between free-diving with sharks and learning about ancient customs, the storytelling and imagery captured our hearts and minds.
Tennessee Aquarium
A trip to Chattanooga wouldn't be complete without a day at the Tennessee Aquarium. Actually, we've found we typically spend about a half a day between both the River Journey and Ocean Journey exhibits (housed in two separate buildings), if you're looking to plan your time accordingly. As if the exhibits weren't enough of a draw, there are a wide variety of free experiences included in your admission, ranging from educational talks to animal petting (though my favorite is still the Butterfly Garden – just check out the hitchhiker Britton found above!)
And after more than two years of planning and construction, visitors to the TN Aquarium can now enjoy River Otter Falls! This new otter habitat features five waterfalls, multiple pools, a rocky, tiered landscape and sand pits for digging. Groups of two to five otters take turns exploring while surrounded by a beautiful cove forest with free flying birds and a rushing trout stream. As you can see in the picture, my boy has an affinity for otters; he bought "Otty" with his own money in the Aquarium gift shop years ago and still brings it with him on every trip we take to the aquarium!
Again, I'd also like to thank the Chattanooga Doubletree for housing us for our Chattanooga Summer Fun getaway. Not only was it in a great location, but the Doubletree offered the perfect blend of sleek, sophisticated cool with modern amenities while still being family friendly (and of course, who can forget those warm cookies at check in!).
We can't wait for another family trip back to Chattanooga – the fun never ends.