This post may contain affiliate links, which means we may receive a small commission when you make a purchase at NO additional cost to you. Thank you for supporting our site in this way!
Growing up in Chicago, I had two favorite times of year: one during the summer, right before the 4th of July when Taste of Chicago was in full sing in Grant Park, and the other during the holidays, after Thanksgiving but before Christmas when all the stores are decorated and Michigan Avenue fully comes alive.
So when I had the opportunity to return to my hometown this month, this time bringing my family back for the Chicago holiday season for the first time in ten years, not only did I want to treat them to all my favorite memories, but I looked for new ones we could make together.
And boy did I find them!
So please allow me to take you on a tour of my kind of town, Chicago, and give you a taste of everything you can see and do for a Chicago family fun holiday getaway:
Water Tower Place
One of my favorite memories growing up was that my mom and aunt would take me out of school on a Friday and we'd spend the day shopping downtown (mostly at Water Tower Place) and then spend the night at the Ritz Carlton attached to it. The next day we'd do high tea at the Ritz and continue our shopping along Michigan Avenue before returning home. So of course, I had to take my kids to Water Tower Place, especially since it's the home of a LEGO store and the Chicago American Girl Store.
This trip, I also discovered new services Water Tower Place offers, like the ability to text a question to their concierge no matter what floor you're on or, for a $5 fee, they will pick up your packages while you shop and deliver them anywhere within a 15 mile radius! Learn more about it in this interview: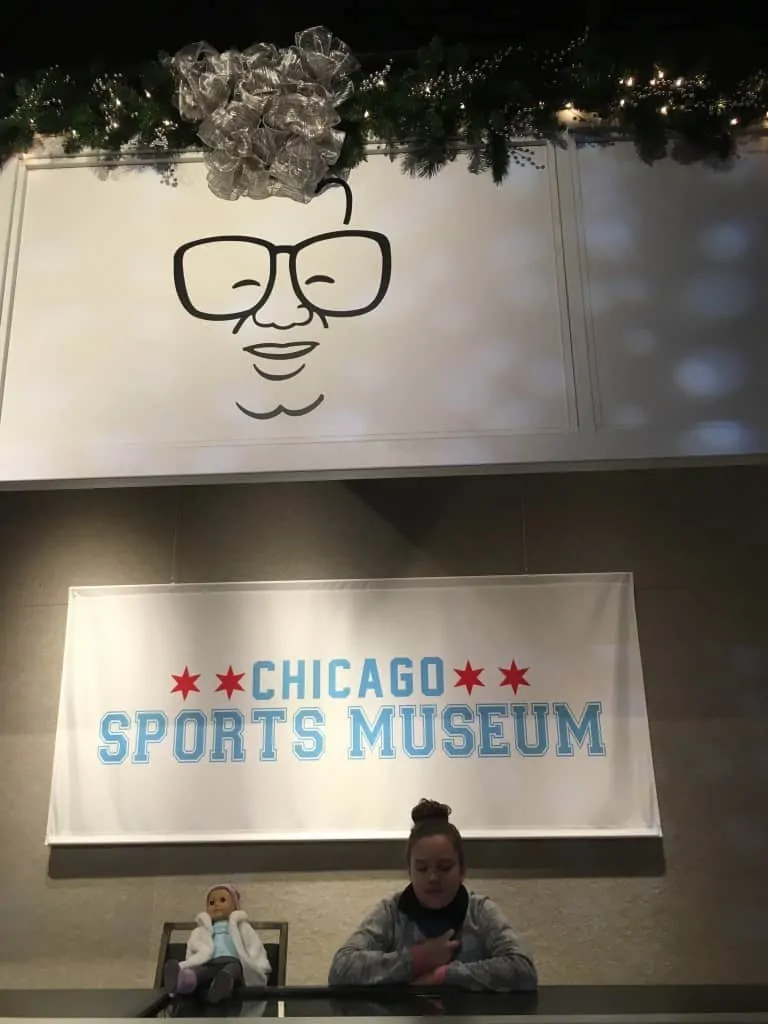 * and while you're there, check out the Chicago Sports Museum. It's free if you eat at Harry Caray's restaurant (right next door) and is PACKED with the best memories and highlights of Chicago sports history. If I had any complaint, it would be that it was fairly small (about 4-6 rooms), so I might have been disappointed had we paid for it, but since it was free, we had our fun and were in and out in about a half hour.
Hershey's World of Chocolate
If you find yourself freezing a little after stepping outside of Water Tower Place onto the Magnificent Mile, head over to Hershey's World of Chocolate for a delicious hot chocolate (but I'd recommend waiting to buy your chocolate until you walk across the street to Walgreens where you can buy it for about a third of the price).
Omni Chicago
One of the best pieces of advice I can give you when planning your Chicago family-friendly holiday getaway is to choose your hotel carefully. Temps can get quite cool at night and you can only imagine how crazy traffic can be, so you want to make sure your hotel is centrally located & within walking distance to all the major attractions on Michigan Avenue while also being roomy enough to let you relax and stretch out once you return with all your packages and memories.
Watch our room tour here:

We chose the Omni Chicago hotel. The kids and I first stayed at the Omni Chicago four summers ago because of their American Girl package, but this time, we chose the Omni for the comfortable yet stylish suites they offer and their proximity to everywhere we wanted to be. The lounge area with a pull out sleeper sofa connects to the main bedroom via both a door and a jack and jill bathroom, offering you privacy when needed, but also a welcoming spot for the entire family to gather without having to sit where you sleep.
And the views! This trip, we were lucky enough to be on the top (25th) floor with views of the above-mentioned Water Tower Place, the shops at 900 N. Michigan, the John Hancock building, and even Lake Michigan. We loved being able to return at night to our tapas (or cookies & milk for the kids) and simply look out at all the lights and shoppers below.
Fannie May Chocolate
A staple in Chicago for almost a century, we headed across the river on Michigan Avenue to the Fannie May Chocolate shop to not only sample their delicious offerings, but to get a personal lesson in hand-dipping chocolate covered strawberries!


It goes without saying that Valentine's Day and Mother's Day are when Fannie May's strawberries really shine, but they are the perfect treat for me ANY time of year. Not only were me and the kids taught how to dip the strawberries, but also how to drizzle and decorate them.
Of course, we had to indulge in everything they had to offer while there (just to be polite of course 😉 Their pixie has always been my favorite, but boy did we discover some new ones! Perhaps what surprised me the most was their ice cream. Even though it was December, I couldn't pass up the chance to try the Pixie ice cream, but it was the Mint Meltaway and the White Chocolate Raspberry that really blew me away…hands down one of the best ice creams I've EVER had.
But what really impressed me was the people and their customer service in the store. While the team at Fannie May had invited me and my family to our personalized chocolate experience in advance, as you can imagine, we drew quite a crowd outside. Not only did they let some of the bystanders come in and try the dipping themselves (after washing hands of course), they said they'd extend the same courtesy to ANYONE who came in the store! This was an experience my kids will never forget and of course, we took our strawberries home with us and finished them for breakfast the next day 😃
Chicago Pizza
The first stop we made after landing at the airport was Lou Malnati's Pizza. The debate is still out on who's the best – Gino's East, Lou's or Giordano's – but no matter where you go, one thing is certain, make sure to call your pizza order in ahead of time. Traditional deep dish Chicago pizza takes about a half hour to cook, and it's not uncommon to wait at least that long for a table in some of the more touristy areas of Chicago, so make sure to call your order in well-ahead of when you actually intend to eat.
Maggie Daley Park
This is another new stop for those of us who haven't lived in Chicago for awhile. You may be familiar with Millennium Park and "The Bean", but just behind it is the fairly-new Maggie Daley Park, a lakefront recreation center connected to Millennium Park, which is home to a variety of winter activities this season.
It boasts a "ribbon" with huge rock-climbing walls you can scale in the summer, and an ice rink in the winter. Not only can you enjoy ice skating along the ice ribbon and playground facing Lake Michigan, after you calk over to Millennium Park to see Chicago's 102nd Christmas tree lit up, ice skate at the McCormick Tribune Ice Rink and sip hot Chocolate at the park's café.
Of course, we laced up our skates to take a few turns and were surprised at how quickly one can forget how to skate, but still amazed at the beauty we got to take part in as we glided around the oblong figure 8. Of course, you get to hear Christmas carols all around you, so it's hard not to be in the right spirit, no matter how many times you fall.
Remington's
Where do you go after ice skating at Maggie Daley Park if you want something a step up from Chicago's famous pizza? Why, right across the street to Remington's of course! This relatively new upscale family restaurant welcomed us with a cool atmosphere and even better food. It can be difficult in a big city to find a restaurant where you can sit down to a high-quality meal while still knowing your kids are welcome – this is that place. Interestingly enough, the things I thought I'd love were just OK and the things I wouldn't normally think to order were what delighted me the most. I'm not a drinker and don't normally opt for seafood, but their handcrafted beverages took on a seasonal and city flair (they even made me a virgin Moscow Mule!)
Also, they're known for their raw bar, so we sampled their shrimp which were huge, fresh and succulent. But my unexpected favorite of all was the crabcake appetizer accompanied by a coleslaw made with peanut oil and fresh cilantro – I could have made a meal of those two things alone!
The steaks were also excellent, but their ribs had a hard time comparing to what I'm used to in Nashville. Still, the service we received was stellar and you can't beat the view of the city Christmas tree lit up outside their windows.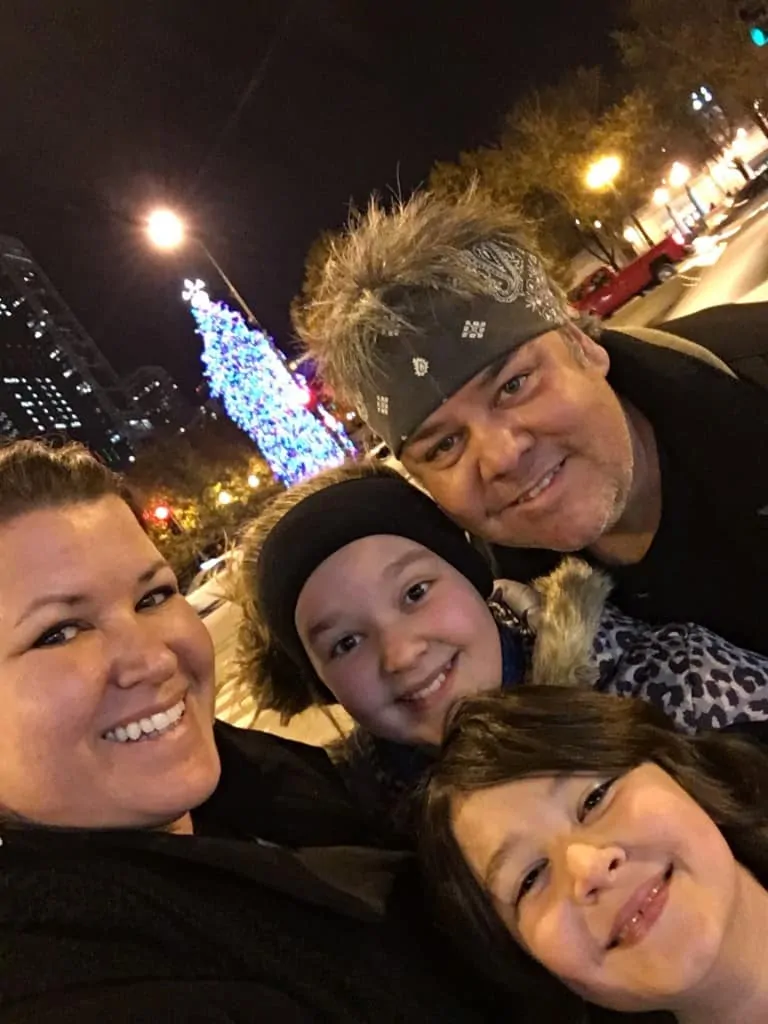 Museum of Science and Industry
Right next to Millennium & Maggie Daley Parks is the famed Art Institute of Chicago (where kids 14 and under are free) and just down Lake Shore Drive you'll also find the Shedd Aquarium, Adler Planetarium and the Museum of Natural History. But about 5 miles further down the road is the majestic Museum of Science and Industry. While we left nowhere near enough time to traverse this grand structure, I'm so glad we went. Not only is the architecture on the outside a beauty to behold, but what lies within is even more amazing…especially at this time of year.
The grand hallway boasts a HUGE Christmas tree at its center, along with 100 Christmas trees lining the circumference, each representing a different country from around the world. I whispered to my husband, "If we only see this room, I'd be happy".
But we were also given tickets to the temporary exhibit "Robot Revolution". More than simply being an interesting interactive exhibit for us, it truly engaged our kids and introduced them to a world they'd never fully experienced (or considered a career in) before.
Navy Pier
The one place I'd hoped to get to but didn't was the holiday festival at Navy Pier. Navy Pier's annual indoor winter carnival returns with a selection of new activities, including a toboggan tunnel, winter mini golf and a 15-foot "snow tubing" hill. Returning attractions include the Blackhawks ice skating rink and various carnival rides. Kids can also snap a picture with Santa or decorate a cookie.
***
Of course, downtown isn't the only place to get into the holiday spirit in Chicago…but there simply wasn't enough time to do it all. Growing up in the suburbs, there were a few old stomping grounds I simply had to visit, like eating my favorite Italian Beef at Portillo's (twice, but who's counting) and French Silk Pie from Baker's Square (I made my husband stop there before we even checked in to our hotel!)
And while you're in the suburbs, don't forget to stop at the LEGOLAND Discovery Center Chicago just next to Woodfield Mall in Schaumburg.
[instagram url=https://www.instagram.com/p/-4VF2ah4aJ/?taken-by=thesamicone]
I would allot 2-4 hours based on how old your kids are (now that mine are 9 & 11, they didn't spend as long in the building areas, but when they were 6 & 7, I could hardly tear them away).
And here are just a few other Family-friendly Chicago holiday fun stops while you're in town:
Lincoln Park ZooLights
Enter a winter wonderland illuminated by more than one million lights at Lincoln Park Zoo's annual ZooLights Presented by ComEd and Charter One. This holiday classic has become one of the Chicago's must-see seasonal events. Watch live ice carving and enjoy an exotic trip past crocodiles, pygmy hippos and meerkats at the Regenstein African Journey. Animal exhibits stay open late as guests roam taking in the lights, music and taking photos with Santa. Prepare holiday crafts and enjoy the zoo's incredible animals immersed in an atmosphere unlike any other.
Christkindlmarket Chicago
The annual Christkindlmarket is a four-week, open-air market modeled after the famous Nuremberg Christmas market dating back to 1545. The market, adorned in Christmas and winter decorations, offers unique crafts and gifts from around the world. Plus, enjoy German delicacies like brats, goulash and potato pancakes while you're there.
Christmas Around the World & Holiday of Lights
As is tradition, the Museum of Science and Industry's 45-foot Grand Tree takes center stage in the Rotunda decked out in 30,000 lights. It takes on a different theme each year so expect giant gears to be part of the decor to match the special MSI exhibit, Robot Revolution. Surrounding it will be more than 50 smaller trees beautifully decorated by volunteers from Chicago communities to represent their various cultures and holiday traditions. The occasional falling of "snow" adds to the fun.
Frozemont
Experience winter fun at Rosemont with the family this season. Enjoy free outdoor ice skating at MB Financial Park before warming up with a bite to eat at one of the many dining options. See a movie, go bowling, visit the Sugar Factory or even visit the nearby Fashion Outlets of Chicago to do some Christmas shopping.
Sprint CTA Holiday Train
Get in the holiday spirit and catch a ride on the Sprint CTA Holiday Train! Santa and his elves will ride the train passing out candy canes and season's greetings. The spectacular train is an amazing sight – during the daytime and at night. The outside of the six-car train is adorned thousands of twinkling lights, and the interiors of the cars are decked out with thousands of multi-colored lights, red bows, garland, and red and green overhead lighting. Keep an eye out for the Orange and Brown lines running through the Loop on December 5, and see the link above for more train schedule details.
If you couldn't tell, not only did we have a ton of fun in Chicago this holiday season, but there's WAY more to do than we had time for in a weekend. Looks like we'll just have to head back to the Windy City again soon!
Disclosure: Several of the locations above invited us to visit them for free to highlight what they have to offer, but all experiences and opinions are 100% from me and my family. I hope you enjoy this tour of Chicago!