This post may contain affiliate links, which means we may receive a small commission when you make a purchase at NO additional cost to you. Thank you for supporting our site in this way!
We've seen the pictures, we've driven by the locations, but we've never stepped inside, until now…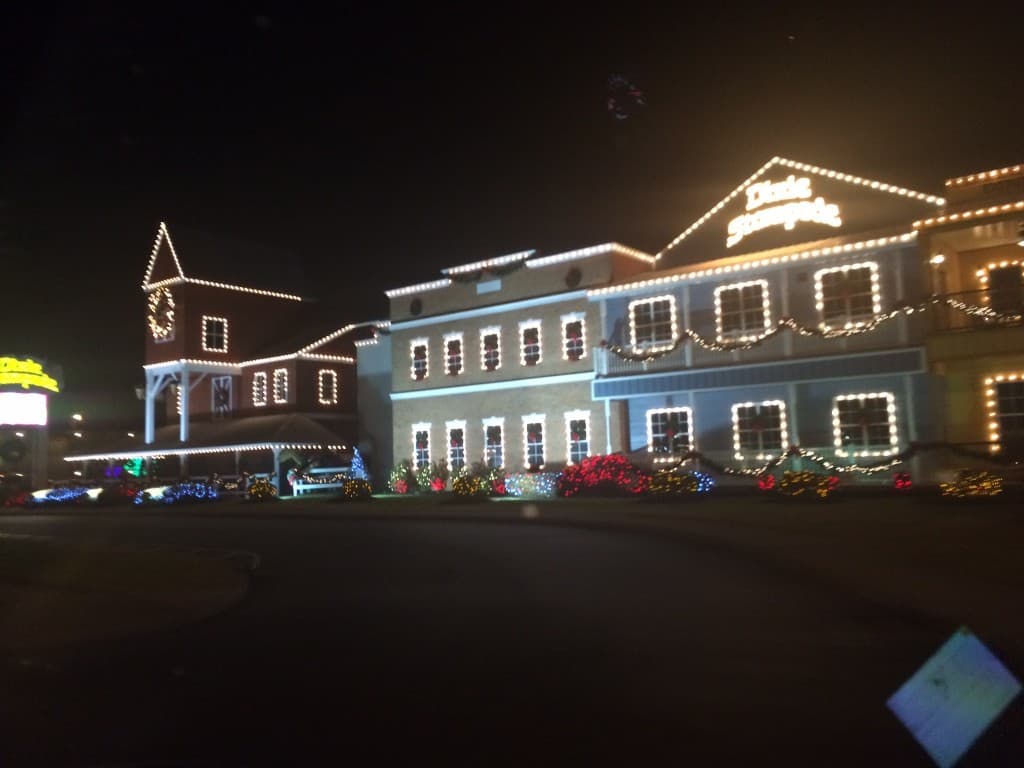 I honestly wasn't sure what to expect going into Dolly Parton's Dixie Stampede. I've come to know that everything Dolly Parton produces is done with faith and family in mind (not to mention a lot of personality), but I'd grown a bit skeptical when it came to dinner shows.
That being said, when we were planning our Dollywood Cabin retreat, our friends (the Lee's) mentioned it was an attraction they'd always wanted to take in. Since we weren't planning any other big outings during our cabin stay, we thought this would be the perfect evening for the nine of us to experience together.
(Same shot, different background 🙂

I will say, I'm glad we went and stood upstairs to listen to the pre-show so that we could be right by the doors when they opened for dinner and not have to wait in line longer (the kids were itchin' to get in and see what was in store!)
I won't dwell too long on the particulars, but let me say that the seats were comfy, the servers were BEYOND pleasant and the food…
…the food blew us away!
Again, I didn't have high expectations, but I nearly cleaned my plate! The cornish hen and potato were amazingly flavorful and according to Twitter, the soup is legendary. My daughter even found a new favorite dessert after sampling their Apple Turnover.
And then there was the show. Not only was the show extra special because it was Christmas time, but it provided a sweet mix of singing, stories, humor, competition, horsemanship and of course, audience involvement. During the hours we were there, I never heard one complaint from our five collective kids that they were either tired or bored.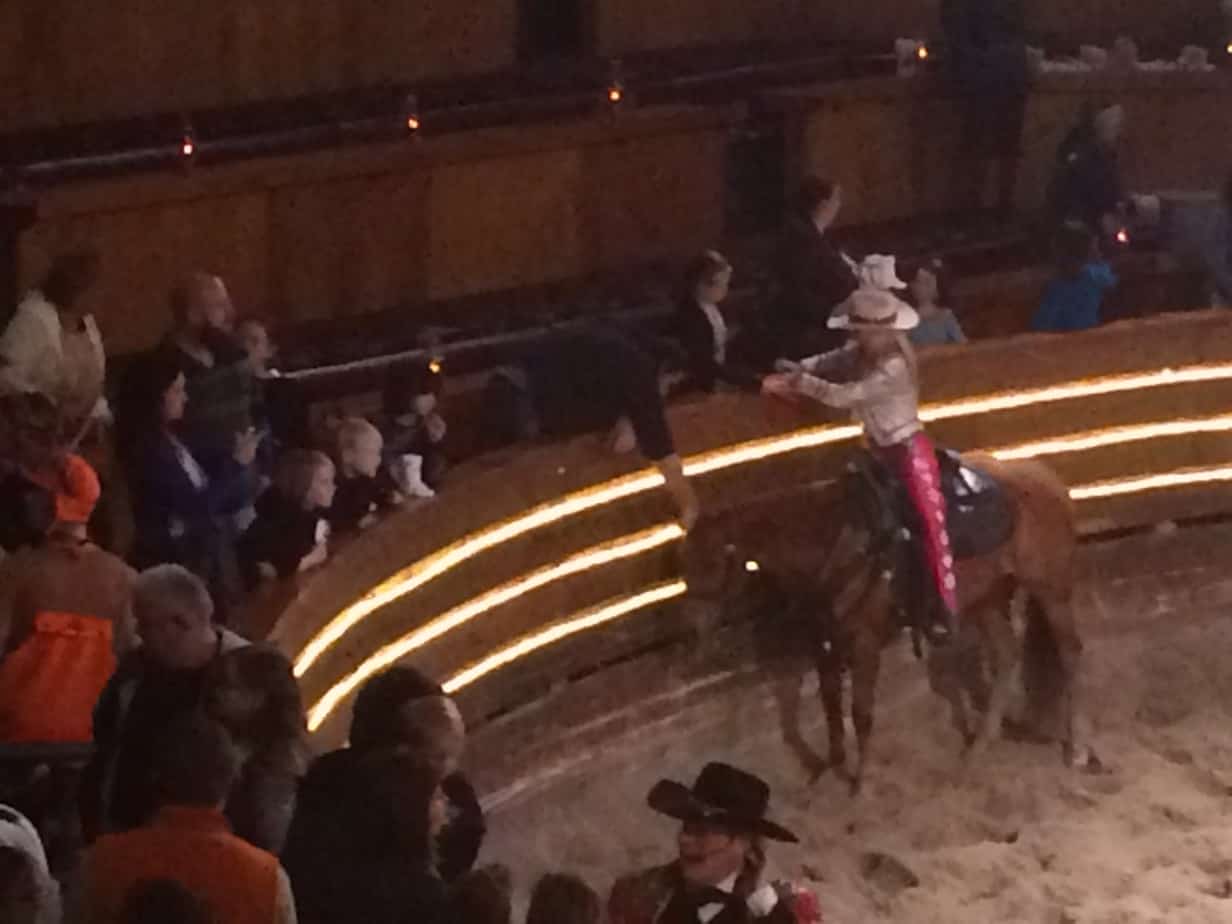 My only disappointment was that the brochure mentioned snacks of popcorn and such before the show, but everything was an additional purchase. I suppose I should have assumed such, but I didn't, and Uncle Jeremy ended up buying the kids fun drinks in souvenir boot mugs to tide them over until dinner.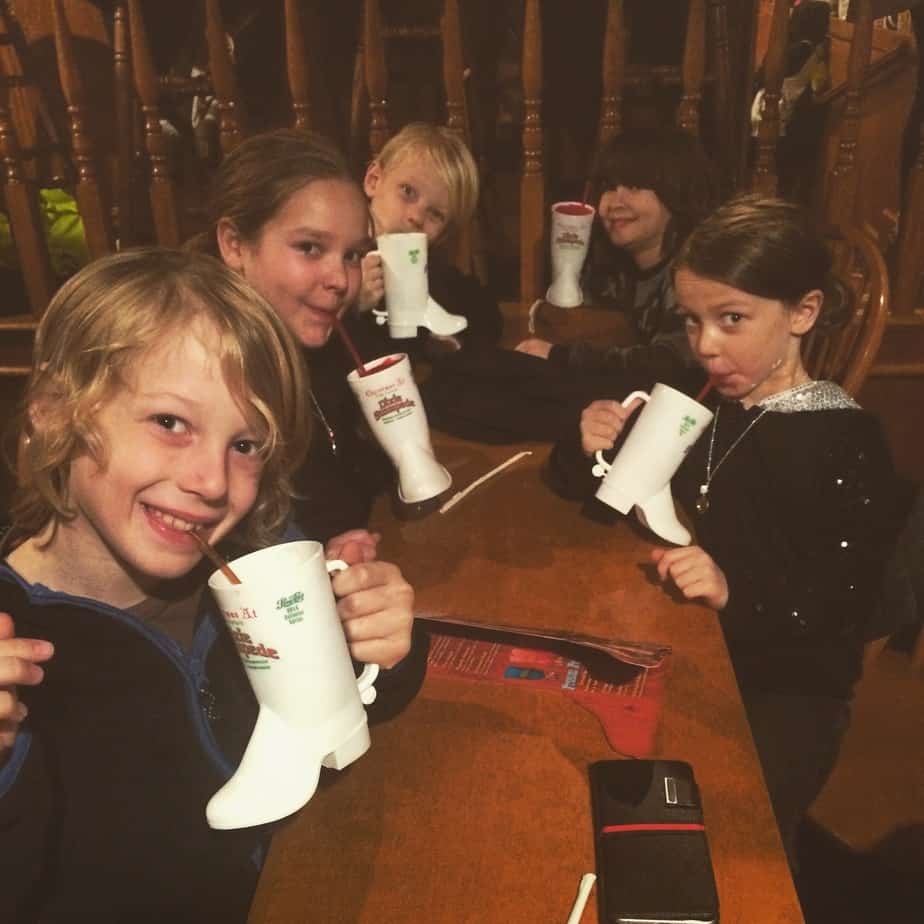 I expected this to be a "one and done" experience that we could check off our list of things to do in Pigeon Forge, but instead, we've found ourselves already looking forward to the next time we can return!
Disclosure: Our family was invited to attend this attraction as their guests. All opinions and food reviews are completely my own 🙂