This post may contain affiliate links, which means we may receive a small commission when you make a purchase at NO additional cost to you. Thank you for supporting our site in this way!
Over the Winter Break, we realized we had a rare two weeks where not only my husband was home, but our good friends the Lee's (who we refer to as "chosen family" since we're so close) were as well. So we all decided that instead of spending a lot of time and money traveling out of state on a vacation, we'd take a New Year's retreat in a Dollywood cabin.
Between both families, we have four adults and five children, but believe it or not, the nine of us were easily accommodated in "Bear Heaven", a gorgeous cabin that sat atop the mountain with four bedrooms AND four bathrooms!
Being that we arrived on New Year's Day, we wasted no time cranking up the fire and turning on the big screen TV in the main living area. We were delighted to find Christmas decorations still up both inside and outside the cabin, so it really helped us extend our holidays.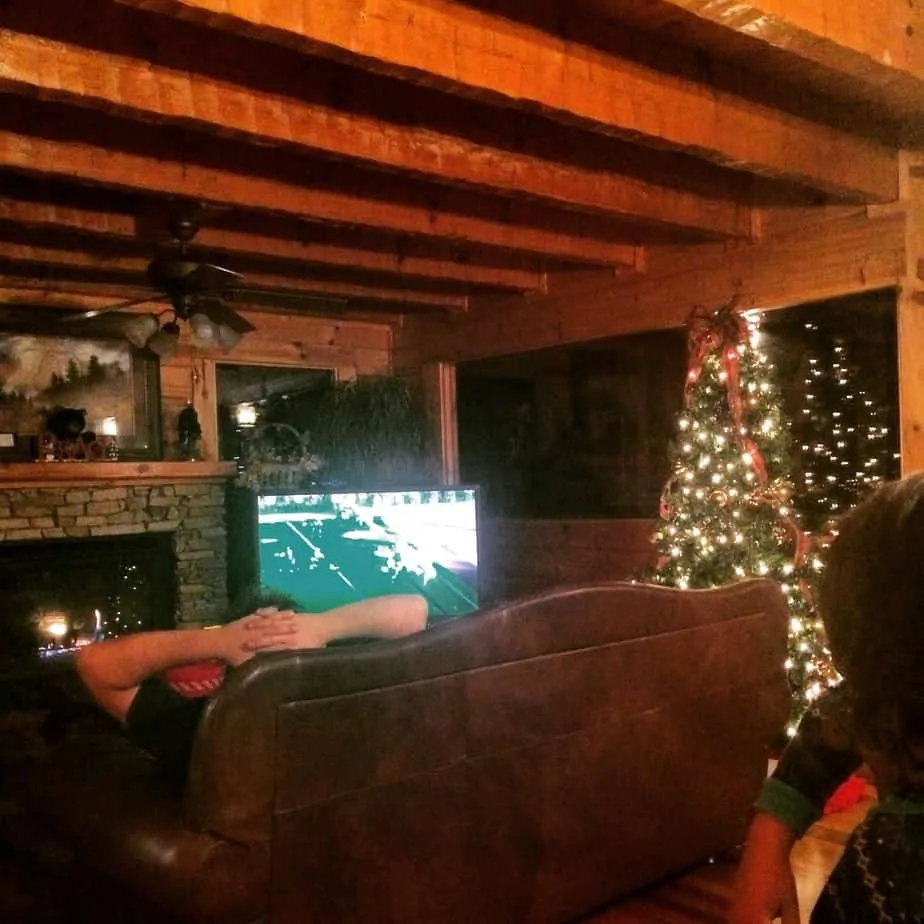 While the adults crashed on the couches, the kids wasted no time jumping in the hot tub on the bottom level porch (the cabin was three levels). And the water fun didn't end there…after getting out of the hot tub, the hopped into the master bedroom garden tub on the top level.
As much as I wanted the master bedroom for myself, the top level boasted a master bedroom with a king size bed (and that gorgeous bathroom with the tub that looked out onto the Smoky Mountains), as well as a second bedroom with two queen beds, with a loft between the two. So it only made sense to give the kids the upper level so that each set of parents could claim a level for ourselves 🙂
Ricky and I stayed on the main level (where the kitchen, dining area and main living room were as well) while Jeremy & Tiffany took the lower level (with another living area & pool table). Each of us had a king bed and our own full, attached bedroom. We even had our own centerpiece courtesy of our homemade Christmas gift from the Lees.
Obviously we didn't move too far on the 1st since the Bowl games lasted well into the night and we didn't check in until almost 5pm. On our first full day in the cabin, we discussed going out to enjoy the surrounding area, but we honestly didn't want to peel ourselves away from the beauty of our cabin! So we hung out all day until going to Dixie Stampede later that evening. (Full Dixie Stampede review to come…let's just say it WAY exceeded our expectations!)
One of my favorite parts of the cabin was being able to wake up early to do my devotions with this magnificent scenery…
Although the girls ended up sneaking downstairs (in their new matching outfits that K worked hard to buy) quite early on the first morning…
On our final morning, we woke up, had a lovely breakfast cooked by R & T…
…and then I did my best to capture some family shots on the cabin stairs before we checked out. As you can see, silliness ensued…
When I couldn't find the men for their turn to take pictures, this is what I discovered…it's safe to say they had a hard time pulling themselves away from the rocking chairs on the porch.
Before we drove off, I asked Tif to pose on the front stoop; I thought it might make a great album cover if she ever decides to record a Christmas record 😉
Our family photo:
And I even made K try to snap a "silly" shot of the parents, but this was the best we could do 🙂
Before heading back to Nashville, we made a stop at The Island, a fun area of shops, restaurants and activities just down the road from Dollywood.
We're already talking about going back again for next New Year's. It was a wonderful getaway and the first time I can say I've truly relaxed in a LONG time. But most of all, the Dollywood Cabin was the only time we've been able to feel like we could getaway as a family, as a couple, and as friends, while still respecting each individual relationship.
Disclosure: The Dollywood Cabin was provided to us to stay in for two nights and all comments and reflections are my own honest review of our time. We can only hope we're this lucky in the future!