This post may contain affiliate links, which means we may receive a small commission when you make a purchase at NO additional cost to you. Thank you for supporting our site in this way!
Every summer, we typically head back to Florida, where we lived for years and where some of our family still lives. However, because of our schedule this summer, we couldn't find a big enough pocket of time to make a trip to Florida possible.
But we could find four free days in a row – and you probably already know our favorite spot to take a four day vacation…Dollywood! It's such a quick drive from Nashville and it was literally designed for family fun.
We also have a lot of extended family in the mid-south, so we decided to plan a trip to Pigeon Forge and invite our extended family to join us. I never realized it until this trip, but we have family in Virginia, South Carolina, North Carolina and Tennessee, and it wasn't more than a three and a half hour drive for any of us!
It just so happened that the four days we had available coincided with our daughter's birthday…and it ALSO just so happens that she shares a birthday with her uncle and my late father-in-law. We wanted to do something really special to celebrate these shared birthdays, so we decided to plan a day at Splash Country in a new way: with a retreat!
Dollywood's Splash Country Retreat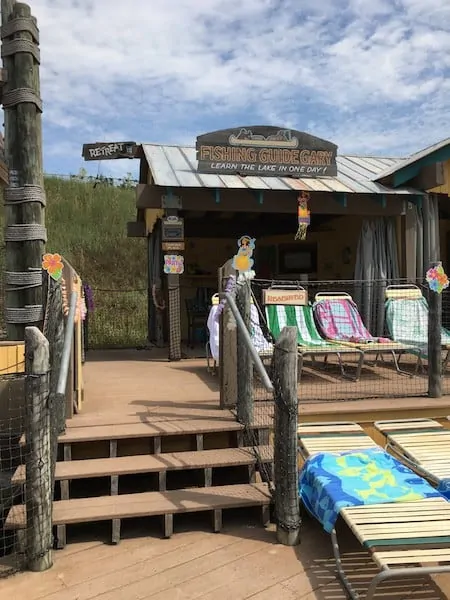 I'm not going to lie, every time I'm floating around the lazy river at Dollywood's Splash Country, I look longingly at the retreats and wish that could be my family sitting in the shade with a Satellite TV and all the other amenities it offers:
– Ceiling fan
– Dining table with 6 dining chairs
– 2 lounge chairs
– Secure storage
– Delivery or entrees and bottled drinks purchased using the phone inside your retreat (this is a HUGE benefit because no outside food or beverage is permitted at Splash Country and this means you don't have to wait in any food lines! Keep in mind, not every type of food in the waterpark is available to be delivered, but they will even deliver drink refils if you have a refillable cup – we definitely took advantage of that amenity throughout the day.)
– They even have ADA accessible retreats
To be honest, I never considered it just for our family or four. But when we decided to meet up with our extended family for this special occasion, I knew this was the perfect time to rent a Splash Country retreat.
You can rent a retreat for as low as $140 for the day, but you won't want to wait until the day you go – reservations book up fast. Each retreat holds 10 guests, but you can pay a small extra fee ($10 per person) to extend that capacity.
If you think about it, rarely will all of you be inside the retreat at the same time because you'll be enjoying all the great water rides Splash Country has to offer. But the retreat offers a haven for everyone to return to, whether you want to rest, eat or just reconnect as a group.
Dollywood's Splash Country Birthday Package
If you're celebrating a special event, you can purchase a Splash Country Birthday Package in 2016 and here is what you'll get:
*One riverside/waterside retreat
*13 birthday themed cupcakes, vanilla ice cream with toppings
*Party decorations
*Present for birthday child
*Gift for 8 party guests
(Keep in mind, party price does not include admission to Splash Country)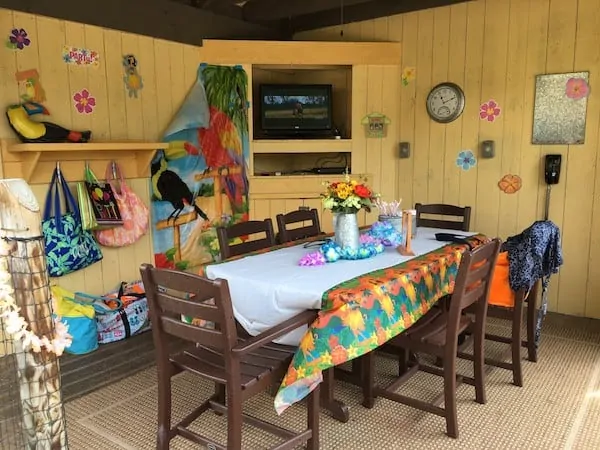 We just opted for a retreat with some of our own decorations, but this is a great option if you don't want to think about any details for a loved one's birthday and instead want the amazing folks at Splash Country to take care of everything that goes into making a birthday party memorable.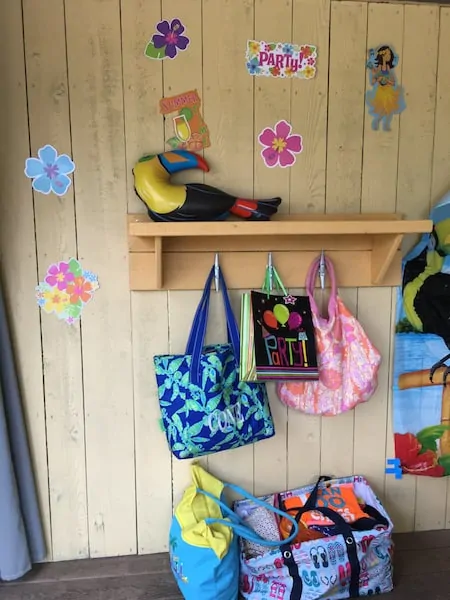 And since we didn't opt for the Splash Country Birthday Package, we decided to skip birthday cupcakes for the celebration and instead bought BeaverTails for everyone, Splash Country's newest treat:
We went with their classic cinnamon and sugar for all the guests (and were big enough to split and share, especially for the little kids), but got an extra special BeaverTail for the birthday girl with chocolate and Reese's Pieces (I can't wait to go back and try the Nutella and Banana BeaverTail).
After 3, Next Day Free!
I wrote an entire post about Dollywood's "After 3, Next Day Free" promotion, but in case you missed it, let me break it down for you: if you enter Dollywood or Dollywood's Splash Country after 3pm, you get to return to the same park for free the next day! And with Dollywood's extended summer hours, that means you're essentially getting two days of play for the price of one.
This promotion worked out perfectly because our family arrived in Pigeon Forge on Sunday, went to Dolly Parton's Lumberjack Adventure on Sunday night, hung out at the SpringHill suites Monday morning, went to Splash Country at 3pm on Monday and then returned the next day for a full day of sun, fun and retreat! Here we are coming into the park at 3pm on the dot Monday afternoon: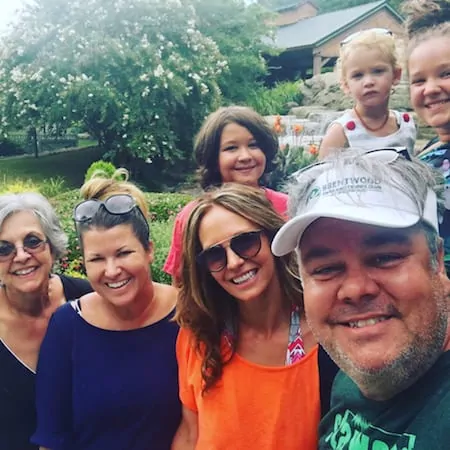 While there is so much this area has to offer in terms of family fun, I'm really glad we decided to focus this trip on one experience: a Splash Country Retreat Multi-Generational Birthday Celebration. We ended up with family members ranging in age from 1-67…and everyone had fun!
Notice the lounge chairs at the bottom of the picture above. As you can see, we had a much larger group than the typical 10 for a retreat. But there were plenty of lounge chairs surrounding our retreat (the retreat is enclosed in the rope fence you see the small children trapped behind :), so every member of our group could stay within the same area and still feel a part of the festivities, even if they weren't part of the "retreat group".
Dollywood's Splash Country Attractions
I'm not sure how it is with your family, but sometimes families with babies or older grandparents push back at going to an attraction or theme park in the heart of summer where there's going to be a lot of walking. This is why Dollywood's Splash Country was the perfect solution for our family: babies could play in the Little Creek Falls and the smaller slides and shallow pools:
Me and the tweens could hit some of the more adventurous slides like Fire River Falls: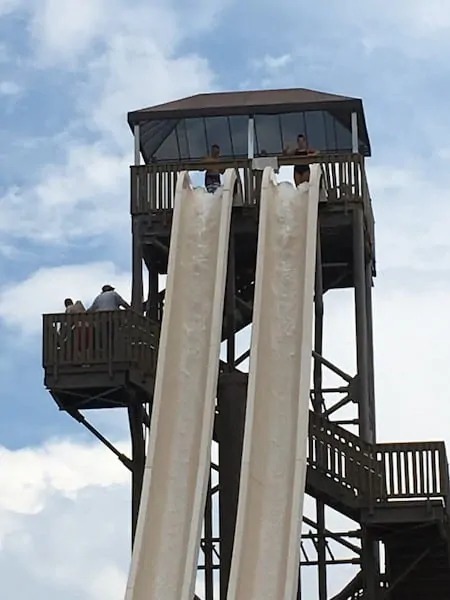 Those seeking less thrills enjoyed the family raft rides like Big Bear Plunge, and our older generation really appreciated alternating between the retreat and the lazy river:
For our celebration, it was a win/win all around.
In retrospect, I wish we hadn't waited for a special occasion to take advantage of a Splash Country retreat. But now that we have, I know it won't be our last time. And if you are visiting with just a few of you, why not try out a Canopy rental. The Canopies offer 2 chaise lounge chairs and a storage locker, not to mention the shade and piece of mind that you have your own little piece of real estate to escape to away from the hustle and bustle of other guests. A canopy can be rented for as little as $40 and this has served as a great option for our family in the past.
Dollywood's Splash Country has been rated a Top 10 Water Park by TripAdvisor. If you have or are considering purchasing a Dollywood Season Pass, it's not that much more to upgrade to a Super Pass, which gives you unlimited access to BOTH Dollywood and Dollywood's Splash Country (that's what I did :).
Plus, in case you didn't hear, you can enjoy Splash Country even longer this summer with added operating days. I've got all the details HERE.
Disclosure: I'm so grateful that Dollywood provided my family with three passes to Splash Country and the retreat for the day. We already own a Dollywood Super Pass so that we can take advantage of even more savings throughout the year and on this trip we upgraded it to a gold pass so we could also get free parking and an additional 20% off on all food and shopping in both parks. I was not instructed about what to write and all opinions are my own. I hope you enjoyed sharing our family's adventure and I hope it encourages you to book a Dollywood's Splash Country adventure of your own soon!