This post may contain affiliate links, which means we may receive a small commission when you make a purchase at NO additional cost to you. Thank you for supporting our site in this way!
Whether or not you're a child of the 80's like me who grew up in Gap jeans, Gap denim is iconic. That's why the announcement of the Gap Denim Event is HUGE!
First Ever Gap Denim Event
When I saw the email come through my inbox just now announcing the first ever Gap Denim Event, I couldn't believe it. Gap jeans sales are few and far between.
Even though Gap jeans last forever, their sales don't. So even when you find a Gap discount code, it won't always apply to your favorite Gap denim.
Online Only Jeans Event
Keep in mind, this is an online-only Gap Jeans Event. Most of us are shopping online anyway these days, but it's harder with jeans.
There is one workaround: you can buy online and then pick up curbside or in-store. That way you still fulfill the online purchase requirement, but you could try-on in-store if your local Gap store is open.
You also get free shipping on orders of $50 or more PLUS free returns. So I recommend buying several sizes and even trying different styles. Whatever you don't love, rest assured you can return for free and get a refund.
New Gap Denim
I wish I could find some of my old photos in my Gap jeans with the matching shirt and scrunchie. But what keeps me loving Gap jeans is the new Gap denim they continue to reinvent.
Case in point, look at these Sky High Wide Leg Jeans: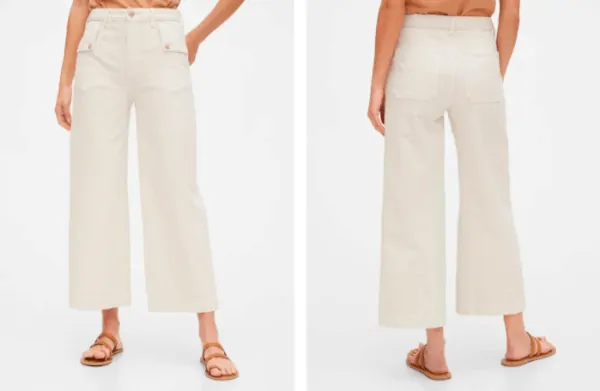 While I wouldn't recommend these if you're petite, I otherwise find them universally flattering. And this is the perfect example of Gap jeans I rarely see go on sale.
So if you're thinking this is just any other Gap sale, think again. There are So. Many. Styles that are finally on sale and I don't know when we'll see a Gap denim event like this again.
Gap Jeans Event Discount Code
Where to Shop: Gap.com
What You'll Save: $25 off Women's & Men's Jeans; $15 off Kids' & Baby Jeans
When to Shop: October 6-7
Discount Code to Use: JEANS